This gluten-free focaccia recipe was ten years in the making. Yes, I have been working to get the right gluten-free focaccia for over ten years.
I went gluten-free back in 2009 and I lost count of how many times I have tried to get gluten-free focaccia just right.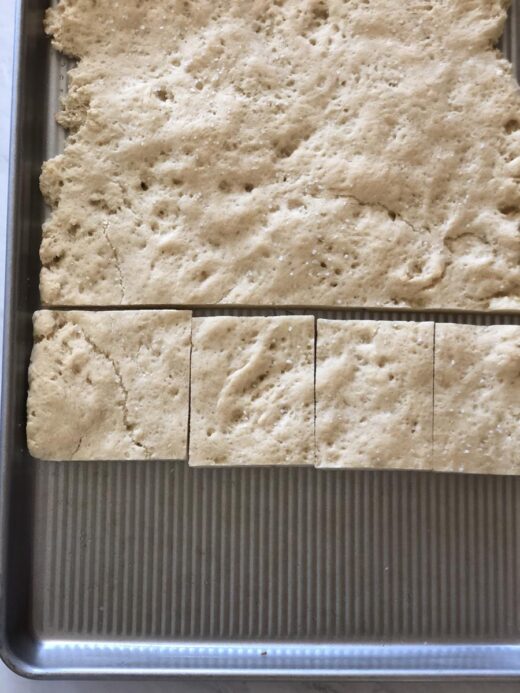 My mother-in-law makes the best focaccia. She got the recipe from an Italian friend years ago. She shared the recipe with me when I first got married and it quickly became one of my favorite breads to make.
But then I went gluten free. I tried to adapt her recipe and I never could get it right. I tried to adapt other recipes and they were not right either.
After recently seeing a recipe for focaccia in a cookbook I could not stop thinking about focaccia. I wanted some and was inspired to give a gluten free version a try again.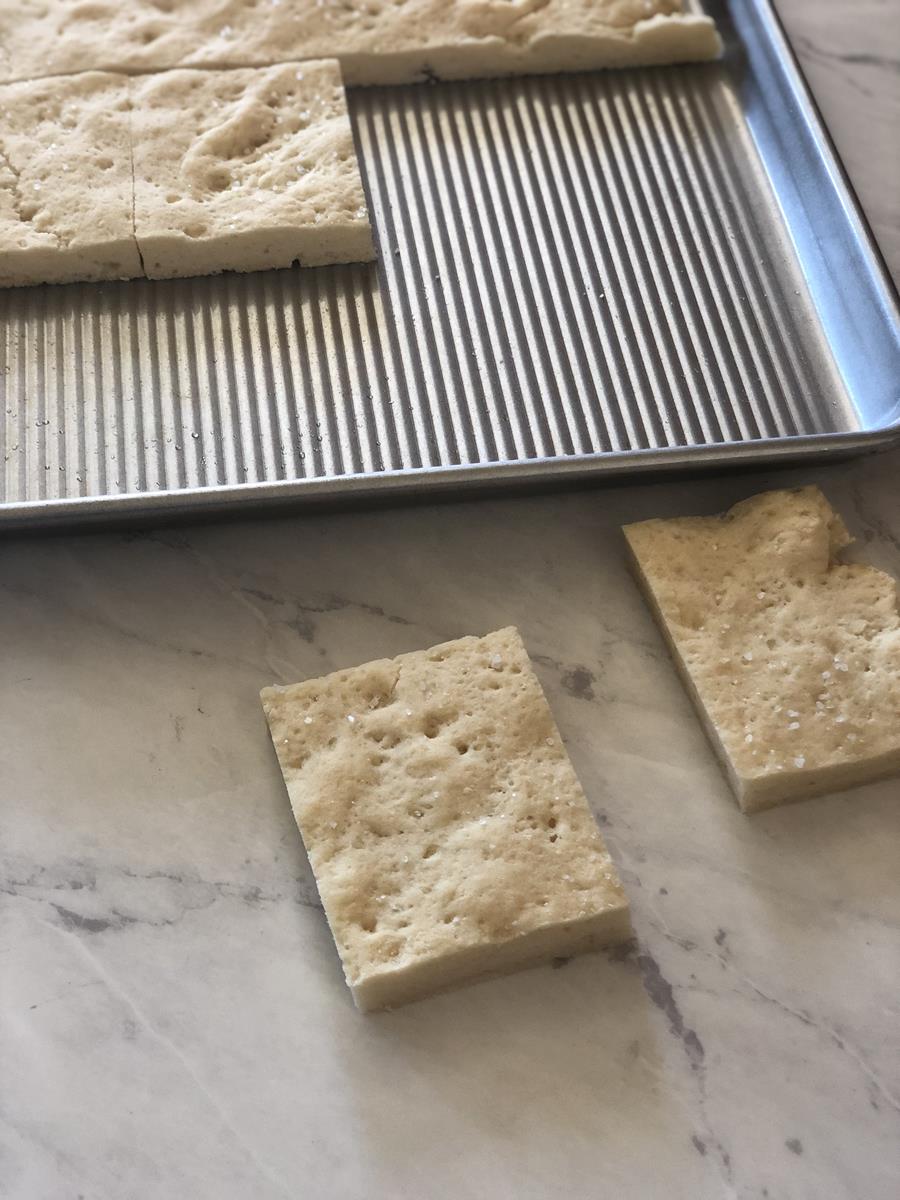 I started with my basic gluten-free deep dish pizza recipe. We love that recipe and I had never tried to make focaccia out of it. I knew the recipe would be a great place to start.
In order to get the bread just right, I changed it up slightly by using cornstarch instead of potato starch. I also increased the tapioca starch and added olive oil and salt to the recipe.
The end result was one that my family loved!
Is gluten-free focaccia the same as traditional focaccia?
Yes and no. Without the gluten you can't get the exact same texture as normal focaccia. Gluten free doughs also don't hold the fat the same, so you can't use as much olive oil on the outside of the dough that you do on the regular version.
However, this gluten-free version is similar, and even though it isn't exactly the same it is delicious!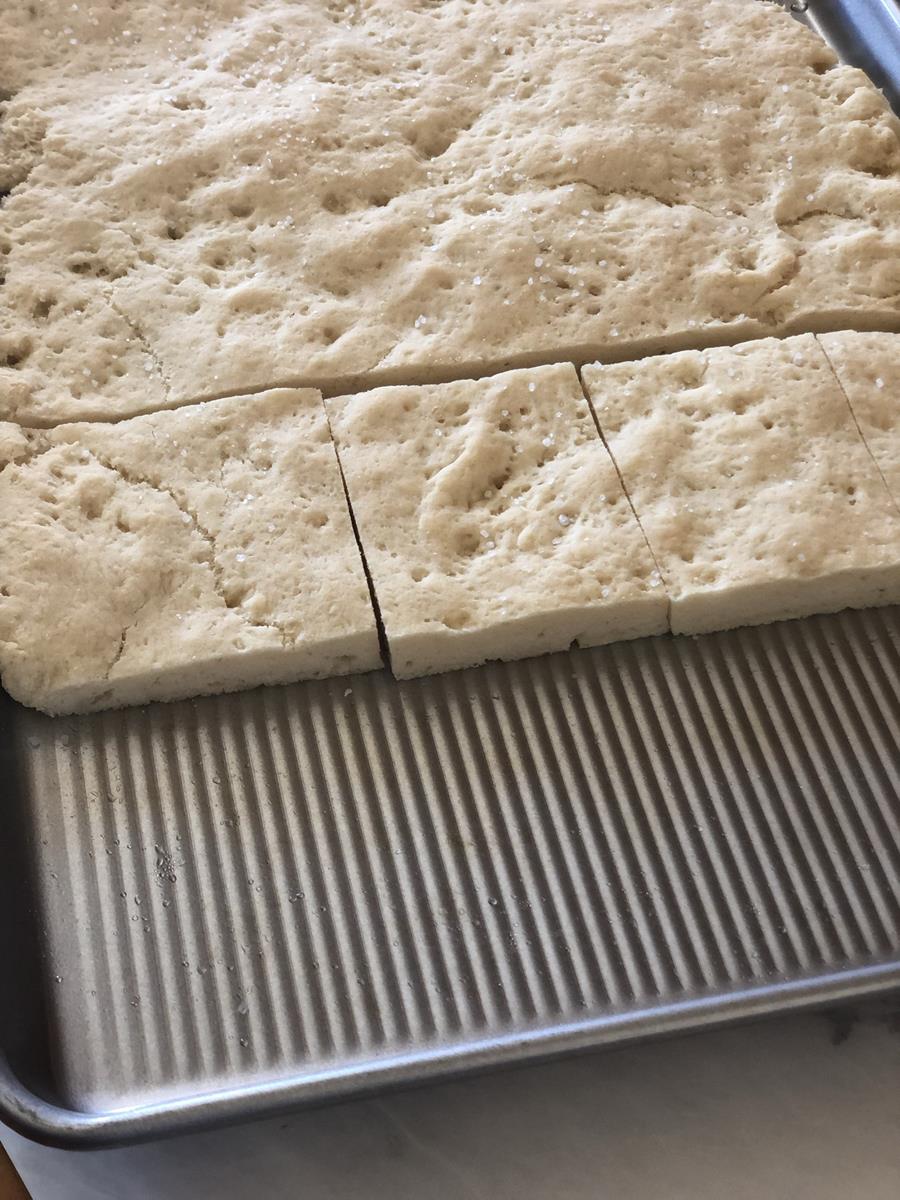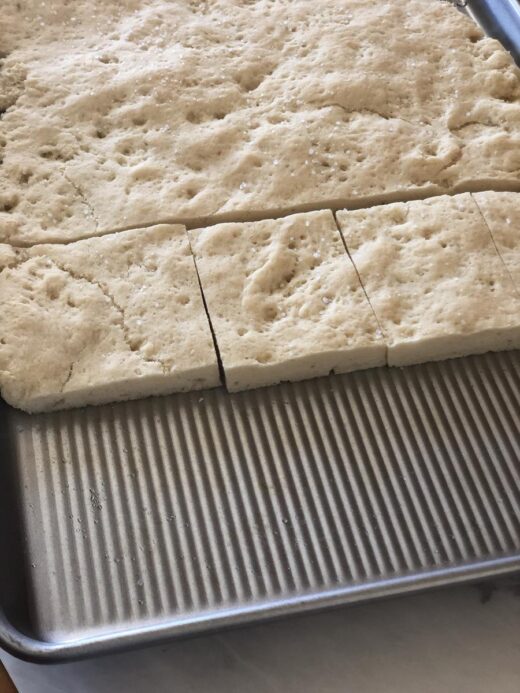 Nontraditional Ingredients
When you bake gluten-free you often have to think outside of the traditional ingredients and focus on the end result. The end result is the most important part not keeping with the traditional ingredients in the recipe.
You want the end result to be as close to the real thing. Sometimes the only way to get that is to change up the recipe using nontradtional ingredients.
That is what I did with this recipe. I realized that all my failures were with recipes that all contained traditional ingredients. All I was doing was changing up the flours.
When I started trying other ingredients in the recipe I was much happier with the results.
A traditional recipe uses olive oil in the dough and on top of the dough. When I tried that the dough was much heavier and had a different texture.
For the dough part, I found it best to use regular cooking oil like canola or vegetable. I then used olive oil on the top of the bread and for greasing the pan. That helped give it the olive oil flavor but still gave you the right texture.
My gluten free focaccia also contains sugar. Regular focaccia does not. The sugar helps the yeast. Without the sugar, the texture of the gluten free focaccia is not right.
My version of the recipe also has an egg in it. A traditional focaccia recipe doesn't. But the egg helps the texture and rise of the bread.
Gluten-Free Sandwiches
This gluten-free focaccia makes the best sandwiches. It might not make pretty sandwiches, but they are delicious.
We sliced it thinly and used it for sandwiches last week and everyone loved it! I will share the new egg salad recipe I made later this week.
This bread also works well for gluten-free panini sandwiches.
I can't wait to try it for a gluten free roast beef sandwich.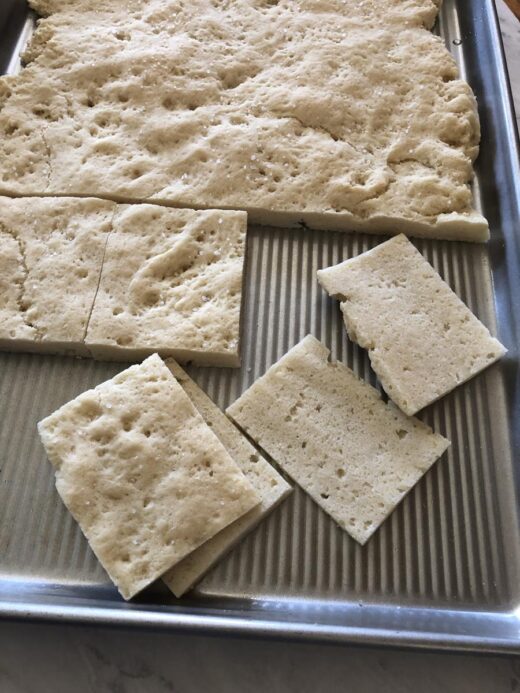 FAQS
What is focaccia?
Focaccia is an Italian flat bread baked usually in a sheet pan or flat pan. It is a yeast bread but has a different texture than normal yeast bread baked in a bread pan. It is usually made with olive oil instead of regular oil.
Can I use a blend instead of individual gluten-free flours?
I would not recommend it in this recipe. In some recipes a blend works great, but I tested this recipe with all kinds of different flours and the ratios in this recipe are what worked. The extra starch and gums made a big different in the end result.
Yield: 18 pieces
Gluten Free Focaccia Recipe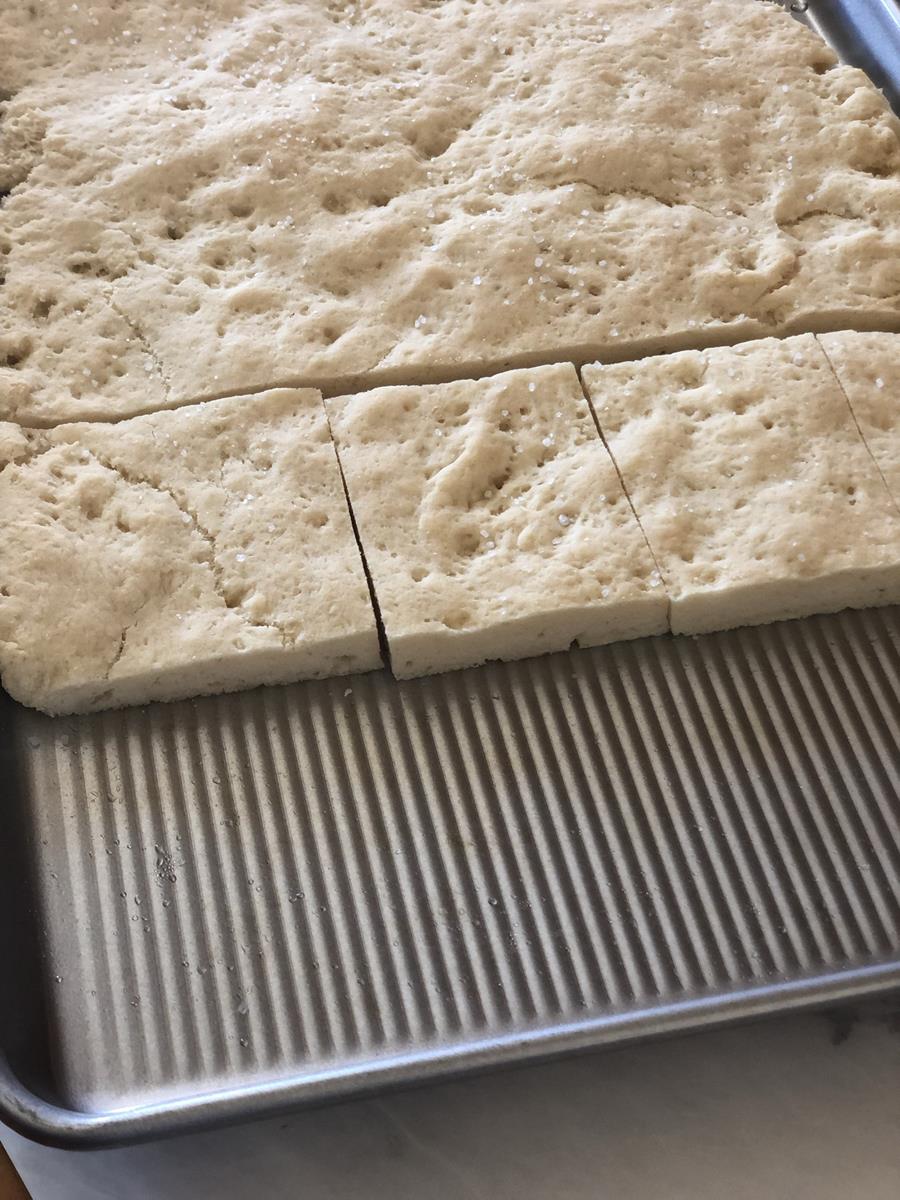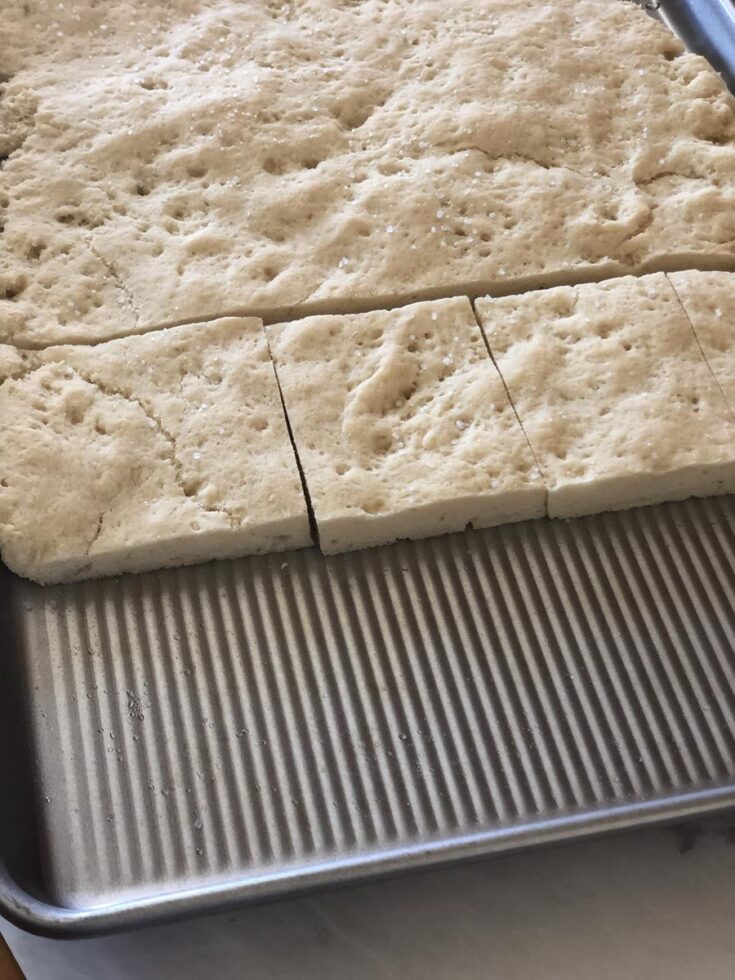 This homemade Gluten Free Focaccia recipe is easy to make and tastes great. Eat as is or slice for sandwiches.
Total Time
2 hours
25 minutes
Ingredients
2 tablespoons active dry yeast
2 cups warm water (about 110 degrees)
1/3 cup oil
1/4 cup sugar
1 egg
1 teaspoon salt
1 1/2 tablespoons xanthan gum
1 cup white rice flour
3/4 cup brown rice flour or white rice flour
3/4 cup sweet rice flour
1/2 cup cornstarch
1 cup tapioca starch
1/4 cup olive oil for pressing dough into pan
1 teaspoon ( or so ) sea salt for sprinkling on bread
Instructions
In a mixing bowl dissolve yeast in warm water. Add in sugar and let sit for 5 minutes.
In another bowl combine salt, xanthan gum, rice flours, cornstarch, and tapioca starch. Set aside.
Add oil, sugar, and egg to yeast mixture. Stir until combined.

Slowly add flour mixture to yeast mixture.
Mix using the dough hook of an electric mixer and mix for about 5 minutes or until well combined and dough forms. Scrape down sides of bowl as needed while mixing. This will not be the same texture of normal dough, but you do want to mix for about 5 minutes. If dough is too sticky add a few more tablespoons of white rice flour.
Remove bowl from mixer and cover the bowl with a kitchen towel or plastic wrap. Let dough rise for about 1 hour.
Using half the olive oil grease a 17x12 or similar sized sheet pan.
Greas your hands using more of the olive oil.
Press the dough onto the sheet pan. It doesn't have to go completely to the edges of the pan, but press it out into a rectangle as close as you can to the edges. You do not want to press the dough too thin. Thicker is better. Oil hands as needed for pressing dough out with remaining olive oil.
Sprinkle with salt.
Cover carefully with a light weight kitchen towel.
Let rise for 1 hour.
Bake at 400 for 20 minutes or until bread is lightly golden brown and done.
Cut into pieces and enjoy!
Notes
To use for sandwiches slice each piece of bread in half to make a thin pieces perfect for sandwiches.
Nutrition Information:
Yield:
18
Serving Size:
1
Amount Per Serving:
Calories:

296
Total Fat:

11g
Saturated Fat:

2g
Trans Fat:

0g
Unsaturated Fat:

8g
Cholesterol:

10mg
Sodium:

217mg
Carbohydrates:

44g
Fiber:

2g
Sugar:

3g
Protein:

4g
Nutritional values are approximate and aren't always accurate.