Finding quick and easy gluten free meals that are family friendly and don't break the budget can be overwhelming at times. But it does not have to be.
Over the last few months I have shared a few easy gluten free dinner recipes with you like gluten free slow cooker swiss steak and gluten free chili cornbread casserole. I love sharing recipes like this because they make gluten free cooking easy and family friendly. And they are meals that everyone will enjoy.
This month marks five years that I have been gluten free. One of the things that I have learned over the last five years is that gluten free does not have to be complicated or expensive. Yes, it can be both, and some gluten free recipes are those things, but when it comes to everyday gluten free cooking, it can be quick and easy and still taste great.
Over the next few months I plan to share more easy gluten free dinners that are family and budget friendly. I also plan to share some of the tips and ideas I have learned over the last five years for making gluten free quick and easy. I also want to share simple ways to adapt family favorites to gluten free.
Today I am highlighting a recipe I shared in my main section earlier this year. It is a simple ground beef stroganoff and it is gluten free.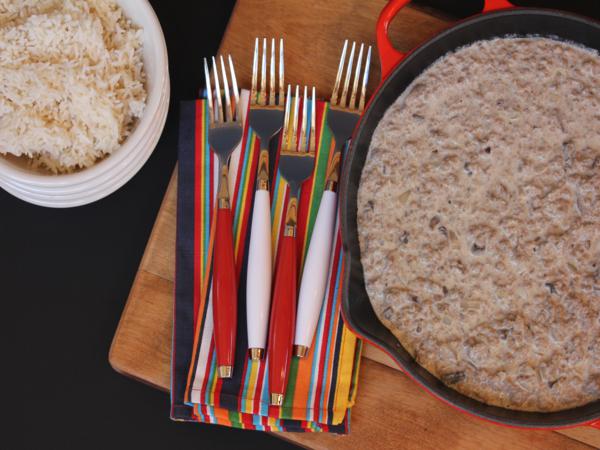 Stroganoff can be a time consuming meal to make. And most recipes that are quick and easy use short cut ingredients like canned cream soups, that are often not gluten free. This recipe for stroganoff solves both those problems. It is quick to make because it uses ground beef for the meat and it is gluten free because I make my own sauce using cornstarch.
It really is a quick and easy gluten free ground beef stroganoff.
My family loves this and I think you will too.