Old fashioned buttermilk pancake syrup makes pancakes for breakfast extra special!
On Mondays I usually share a recipe from my Cooking Collection, but today I am changing it up a little and sharing a recipe from my mom's Cooking Collection.
When I was visiting my parents over the summer I spent some time looking through my mom's cookbooks, recipe box, and my grandmother's recipe box that my mom has. I love doing this when I visit. Not only do I find recipes I want to make, but it brings back many memories to talk about with my family. So many memories are made around food.
One of the cookbooks I love looking through is one from 1981. It is a cookbook that my 1st grade class put together.
I grew up in a small town with a small school. I guess your definition of small might vary, but by small town I mean less than 2,000 people. And by small school, I mean there were less than 50 kids in the entire grade.
Yes, in the entire 1st grade for the whole town there was less than 50 kids. I think probably closer to 40. And that is about the same number that graduated each year too. Some of you probably graduated from a class bigger than the entire town I grew up in.
Small town. Small school.
But there are so many things to love about a school like that. Everyone knows everyone. And everyone knows the teachers. My 1st Grade teacher was Mrs. Nice. Her name fit her perfectly.
One of the things she did in her class was send home gifts to the parents for things like Christmas and Mother's Day. For Mother's Day each year she would have her kids bring in a recipe that they loved or wanted featured in a cookbook.
Then she would put all the recipes together and print them off so that they could be put together into a book. This was back in the day before computers, so it was actually quite a bit of work for her.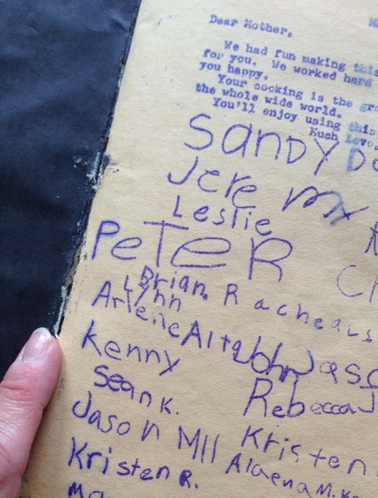 The class then put the pages together, made a nice cover, and we had a cookbook. It was a perfect present to take home for our mothers on Mother's Day.
My younger sister and I both gave my mom one of these cookbooks. My mom actually used many of the recipes from these books. And I am sure many of the other mother's did as well. It was kind of like a church cookbook, from all the local moms, but instead of a church group it came from the families of the 1st grade class.
And now it is one of my favorite cookbooks to look through. It is so fun to look through and remember all the kids I went to school with. Not only that it is also fun to look through all the recipes from the 80's.
When it comes to recipes many things seem popular and new, but in reality they have been around for years.
Over the last few years I have seen many recipes for buttermilk syrup. It was often talked about it like it was the latest and greatest thing for pancakes. But do you know what I have discovered? That just like fashion comes and goes, so do recipes.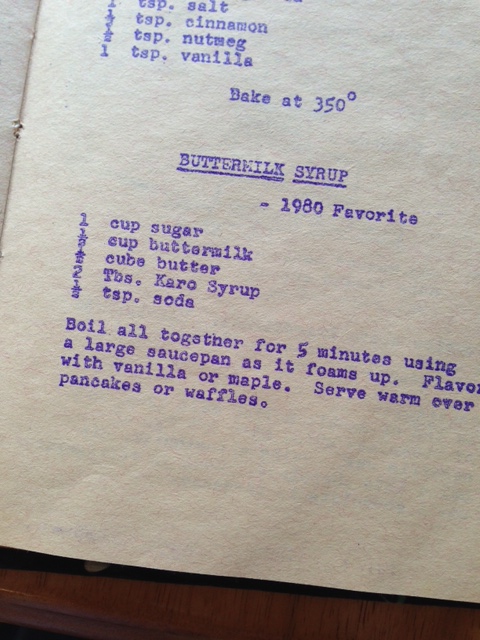 There are a few things from the 1980's that I hope never return. Leg warmers, big hair, and jelly shoes to name a few. Buttermilk syrup though is one of those things from the 1980's that I am glad is back.
I think I just totally dated myself by mentioning leg warmers and jelly shoes. Yes, I am old if I can remember wearing leg warmers and jelly shoes. And really it is not the old part that bothers me, it is the fact that I wore them that bothers me. What were we thinking……
Back to the buttermilk syrup.
A few years ago I shared a version of buttermilk syrup here on my site. And I had no idea that it was a recipe that had been around for years. I thought it was a new thing someone came up with. But I should have known that like most things it has been around for years.
It was not until this summer when I was looking through my first grade cookbook, that I realized buttermilk syrup has been around for years. It is far from the latest and greatest recipe. According to my first grade cookbook it was a 1980's favorite.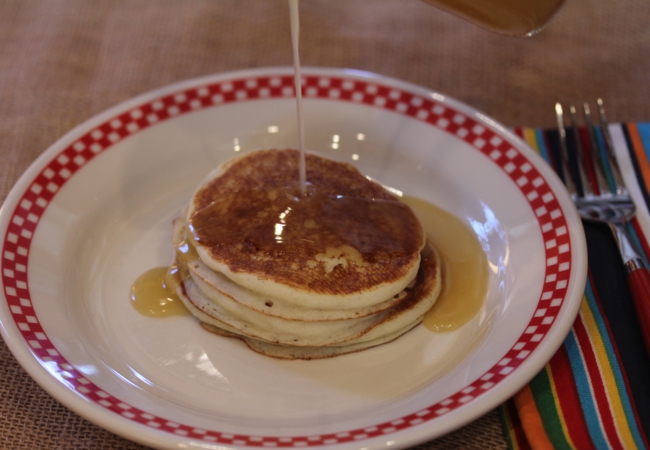 I don't remember my mom ever making this syrup, which is probably why I did not realize that it was a 1980's favorite, but I guess it was. Which means it is not new. It has been around for years. My guess is that it has been around a lot longer than even 1980.
The 1980's version that was in the cookbook had corn syrup in it, I do occasionally use corn syrup, but would rather avoid it for breakfast if we can. So, I decided to just leave it out. It turned out fine, but I think the corn syrup would give it a texture a little closer to regular syrup. So feel free to add it if you would like.
We really like this buttermilk pancake syrup. It is a nice change from your basic pancake syrup.
Have you every tried buttermilk syrup?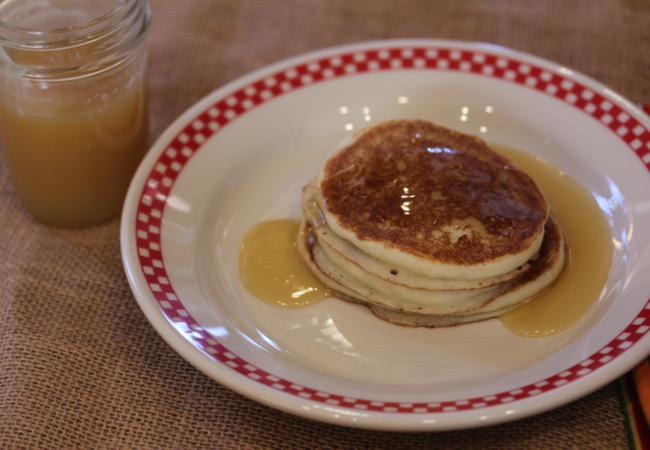 Yield: 10 servings
Buttermilk Pancake Syrup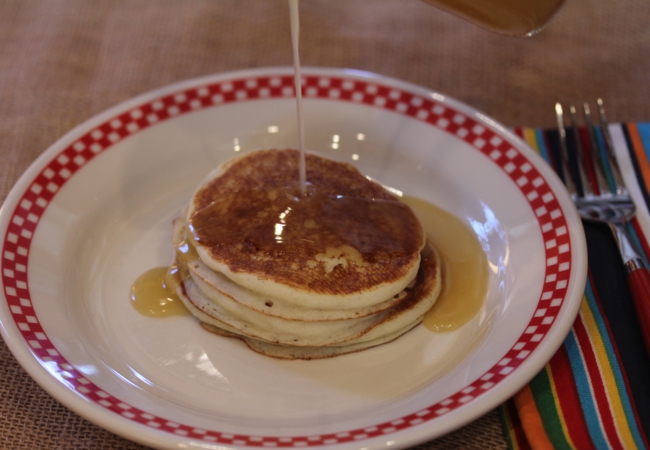 Make pancakes extra special with this old fashioned buttermilk pancake syrup.
Ingredients
1 cup sugar
1/2 cup buttermilk
1/4 cup butter
1/2 teaspoon baking soda
1/2 teaspoon vanilla
Instructions
Place all ingredients, except vanilla, in a saucepan. (This foams up while cooking, so use a pan that is large enough for this to expand and foam.)
Bring to a boil and boil for 5 minutes.
Remove from heat and add vanilla.
Serve warm over pancakes or waffles.
Refrigerate leftovers and reheat for serving.
Nutrition Information:
Yield:
10
Serving Size:
1
Amount Per Serving:
Calories:

124
Total Fat:

5g
Saturated Fat:

3g
Trans Fat:

0g
Unsaturated Fat:

1g
Cholesterol:

13mg
Sodium:

123mg
Carbohydrates:

21g
Fiber:

0g
Sugar:

21g
Protein:

0g
Nutritional values are approxomite and aren't always accurate.