This is one of those gluten free recipes that I have put off posting. I wanted to get it just right, the trouble is that gluten free pizza will never be quite right and I had to come to realize that.
You can make a really good gluten free pizza crust, but it will never be quite the same as the pizza crust we all remember. You can not get the same chewiness, the same crispiness, or the same texture without the gluten.
But you can get a good gluten free pizza crust. It can taste good and it will be good, but in my opinion a gluten free pizza crust is one of those things that will never be quite the same.
This recipe though is really good. It is our favorite gluten free pizza crust the I have tried. In fact it is so good, that I am now making it almost weekly. Our weekly pizza night is back thanks to this pizza crust.
So, although it is not quite the same, it is still very very good.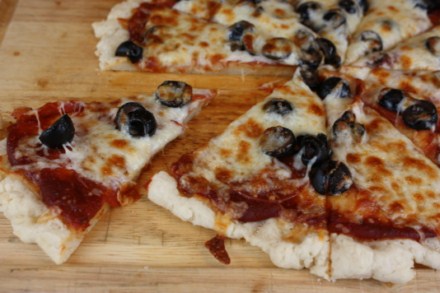 Now, I will say this pizza crust took me almost two years to get right. Pizza is a favorite in our house and I used to make it all the time.
I love to experiment with different toppings and try new things, but after going gluten free it was not quite the same. I had many failures and many crust that were okay, but nothing that was so good I wanted to keep making it.
In fact, I pretty much gave up for a while and started occasionally buying gluten free pizza crust to keep on hand for quick and easy dinners.
When I was buying pizza crusts though, I found one brand that had a really good texture. The taste was a bit ricey for us, but we loved the texture.
I read through the ingredients to see what made this pizza different and the only ingredient that seemed strange to me was sweet rice flour. Now, sweet rice flour is not strange, I use it in my cookies and cakes all the time, but I have never used it in a dough like pizza crust. I was certainly willing to give it a try though if it would help the texture of my homemade pizza crust.
So, I played around with a few recipes. Tweaked a few things and what I came up with was a gluten free pizza crust that we love.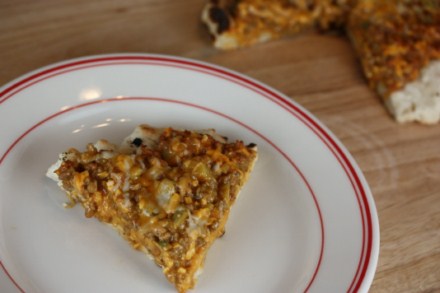 And I am loving being able to play around with all kinds of pizza toppings again. I recently made a cheeseburger pizza that we really enjoyed. (I will post the recipe soon on my main site.)
One thing about this crust though is that it is best made in a mixer. I used my Kitchen Aid and it works well. Many recipes say that you do not need to mix the dough for long because there is no gluten in the recipe, therefore no kneading is needed. Well, I agree that there is not gluten and the dough will never need kneaded like regular dough, however I disagree about mixing the dough.
Sometime I will do a whole post on my thoughts about gluten free dough and why I think it needs mixed well, but for now be sure to follow the directions and let this crust mix about 6 minutes in the mixer. This is a similar time to what I would let a regular pizza dough mix and I think it is one of the keys to getting the texture right and producing a less grainy dough.
I hope you enjoy the pizza as much as we do. Now go make some pizza.
Yield: 24 pieces
Gluten Free Pizza Crust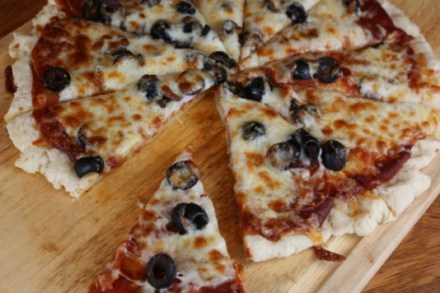 Homemade gluten free pizza can be easy and delicious with this gluten free pizza crust.
Prep Time
1 hour
30 minutes
Total Time
1 hour
45 minutes
Ingredients
1 ¼ cup brown rice flour
1 ¼ cup white rice flour
1 ¼ cup sweet rice flour
1/3 cup potato starch
1/3 cup cornstarch
3 tablespoons xanthan gum
1 ½ teaspoons salt
¼ cup olive oil
1 egg
2 ¼ cup warm water
2 ¼ teaspoons yeast
Instructions
In a small bowl combine yeast and warm water. Let sit for 5 minutes.
In the bowl to a stand mixer combine the dry ingredients.
Add yeast/water mixture and the oil and egg.
Beat on low speed and gradually increase speed to medium. Beat for about 6 minutes. The dough will turn out better if you do beat for 6 minutes. Scrape down sides as needed while the dough is mixing.
Remove the bowl from the mixture and cover the bowl with plastic wrap.
Let sit for 45 minutes to 1 hour.
Lightly oil 2 cookie sheets or pizza pans.
Wet your hands down and with wet hands spread dough out on the pans. You do not want your hands too wet, but the wetness will keep the dough from sticking to your hands as badly.
Preheat oven to 425 degrees.
Let the dough rest 15 minutes while the oven is heating.
Bake dough for 8 minutes without any toppings.
Remove from oven and top as desired and return to oven and bake an additional 8-10 minutes.
If you want a crisper crust bake the pizza directly on the oven rack for the second part of the baking.
Enjoy!
Nutrition Information:
Yield:
12
Serving Size:
1
Amount Per Serving:
Calories:

267
Total Fat:

6g
Saturated Fat:

1g
Trans Fat:

0g
Unsaturated Fat:

5g
Cholesterol:

16mg
Sodium:

278mg
Carbohydrates:

48g
Fiber:

2g
Sugar:

0g
Protein:

5g
Nutritional values are approximate and aren't always accurate.