Yes, you can have delicious thin crust gluten free pizza with this easy gluten free pizza recipe.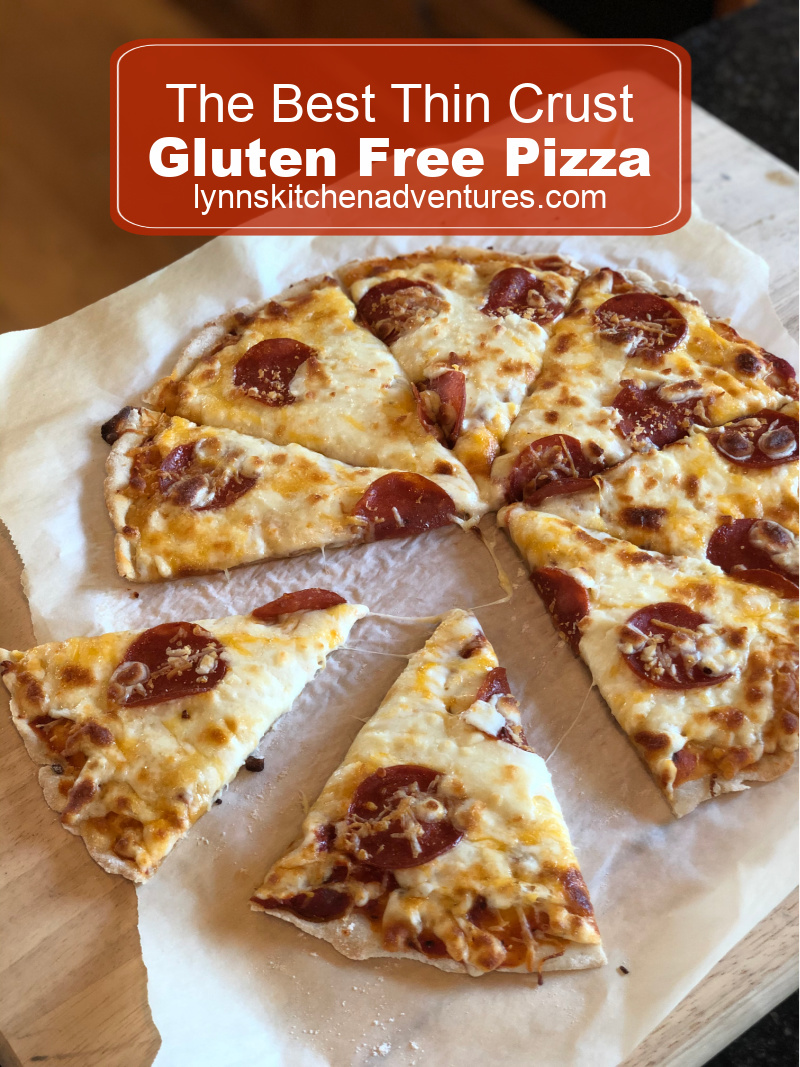 Over the last eleven years I have made so many different gluten free pizza crusts and crust recipes.
We have had a weekly pizza and movie night since my kids were little. Most of the time that means homemade pizza. And that means that I have made a lot of homemade pizza over the years.
I have made gluten free pizza from mixes. I have bought premade crusts. I have made my own using individual flours and using blends.
I have shared a basic gluten free pizza crust recipe with you and I have shared a deep dish gluten free pizza recipe with you. Today I am sharing my latest gluten free pizza recipe and that is for a thin crust gluten free pizza.
This is my son's favorite homemade pizza. He doesn't have to eat gluten free. He has had regular pizza recently. When I make homemade gluten free pizza this is the recipe he likes the most.
This recipe is the one that I have been making the most for our weekly pizza night!
Can I use a gluten free flour blend in pizza?
In this recipe you can. I have tested this recipe with both Bob's Red Mill 1-to-1 Gluten Free Blend and King Arthur's Measure for Measure Gluten Free Blend. Both work fine.
The brand of blend does make a difference. I have shared my thoughts before on using a gluten free flour in place of regular flour in a recipe.
For this pizza recipe my family preferred the King Arthur Measure for Measure slightly better. The dough was a little easier to work with than it was with the Bob's Red Mill 1-to-1 blend. However, both work just fine.
Tips for making gluten free pizza?
Mix the dough well. Many recipes say that you don't have to knead the dough since there is no gluten in it. I disagree with that. The more you mix the dough the better it turns out.
You don't knead gluten free dough because the texture is different, but you do need to mix it well. I use my kitchen aid mixer and mix it for about five minutes in total. The dough will be stickier than regular dough, but it should come together to form a dough ball.
When pressing out the dough use either gluten free flour on your hands or oil. We have used both. I like using a little bit of flour blend, but my daughter prefers oil.
Use parchment paper to line the baking sheet or pizza pan. This makes clean up easy. It also makes the pizza easier to press out. It also seems to help it cook more evenly.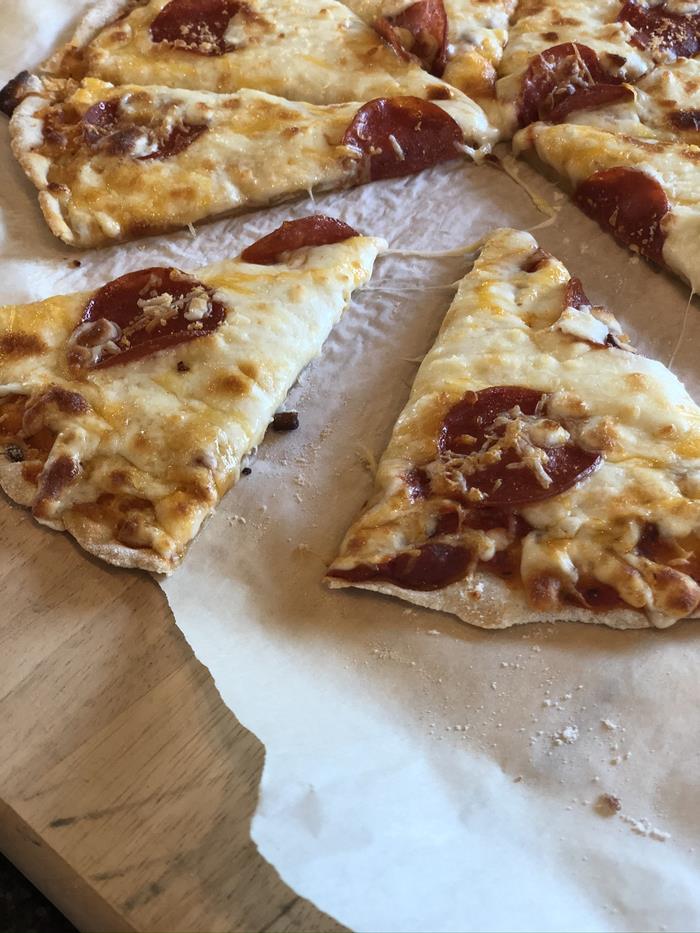 Yield: 8 servings
Thin Crust Gluten Free Pizza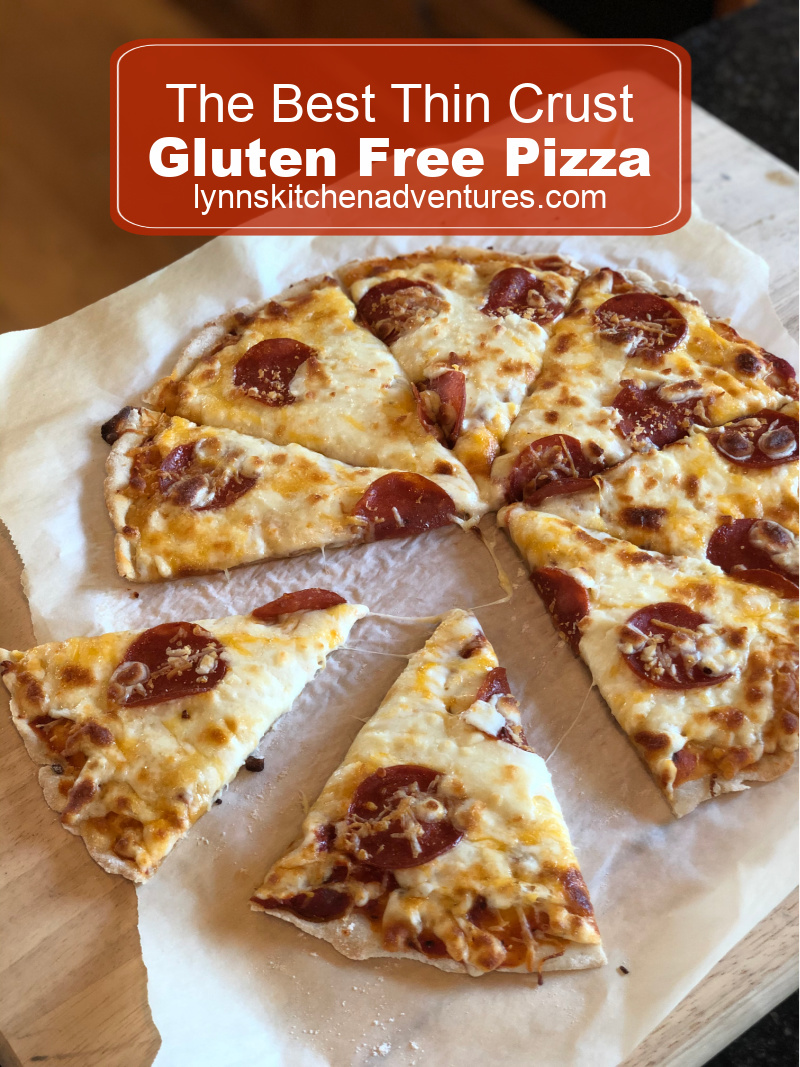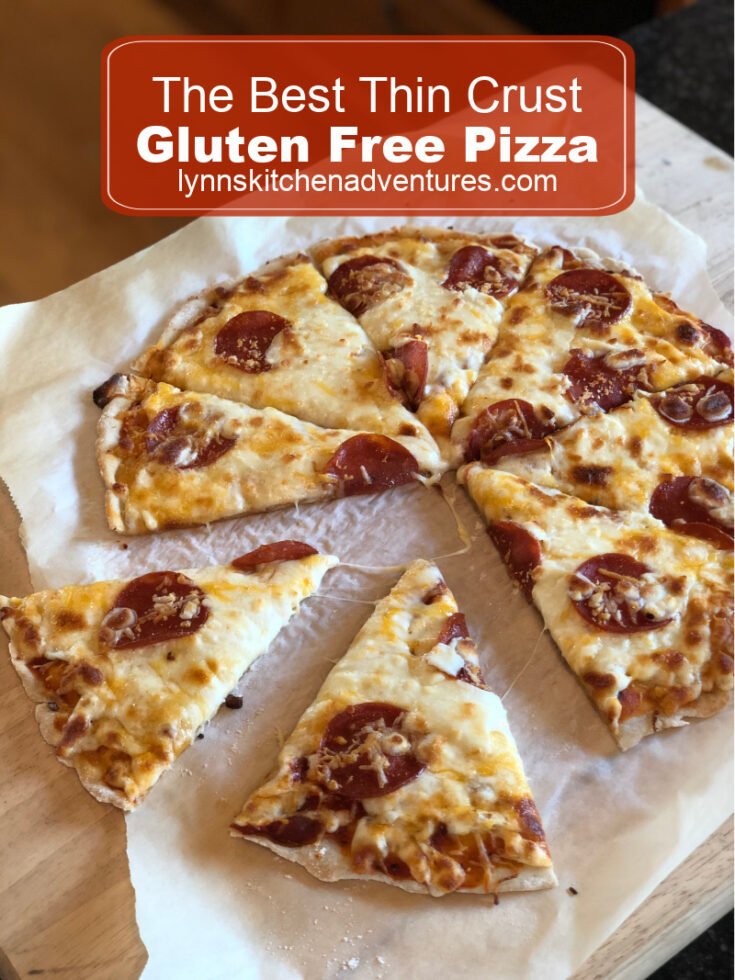 Gluten Free Pizza can be delicious with this thin crust gluten free pizza recipe.
Ingredients
1 package (1/4 ounce) active dry yeast
1 cup +1 tablespoon warm water
1 teaspoon sugar
½ teaspoon salt
3 tablespoons oil
2 ¼ - 2 ½ cups Bob's Red Mill 1 to 1 Gluten Free Flour Blend or King Arthur Measure for Measure gluten free flour
Instructions
In a bowl, dissolve yeast in water.
Let sit for five minutes.
Stir in sugar, salt, oil and 2 ¼ cups gluten free flour blend.
Beat together until it forms a dough. It will be slightly stickier than regular dough but should pull away from the bowl and form a ball of sorts. Add a little more gf flour if needed. I usually end up using about 2 ½ cups of the blend. I mix this in my kitchen Aid mixer with the dough hook. I mix for about 5 minutes total. You want a dough ball to form.
Cover and let rest about 15 minutes.
Preheat oven to 400 degrees.
With floured hands ( greased hands work too ) press dough onto a cookie sheet or pizza pan. (We like to line the pan with parchment paper, but you don't have to. )
Bake for 8 minutes. Add toppings and bake for 8-10 minutes more or until cheese, is melted and lightly browned. ( We like the texture better when it is baked without toppings and finished baking after toppings. )


Notes
This recipe may work with other gluten free blends, but I have only tried it with Bob's Red Mill 1 to 1 and King Arthurs Measure for Measure gluten free flour.