This Gluten Free Starbucks Lemon Loaf copycat is all the flavors of the famous loaf, but in a gluten free version!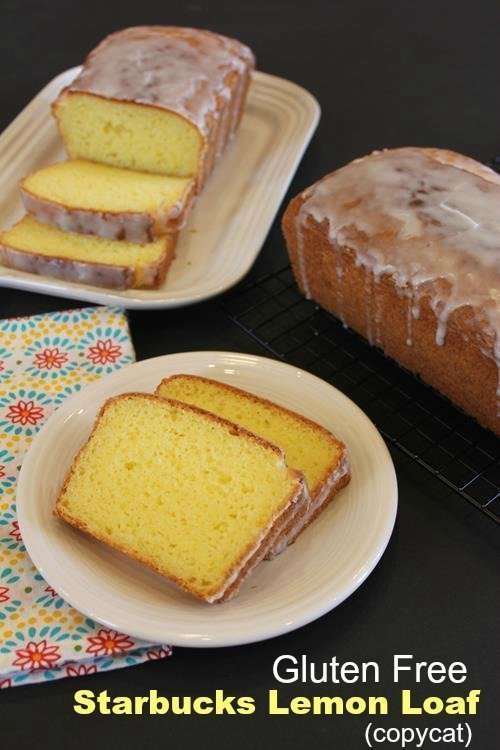 Lemon is one of my favorite flavors to work with when it comes to gluten free baking. Not only do I love the actual flavor of lemon, but the acidic nature of lemons pairs well with gluten free flours.
Citrus juice helps make the texture better in gluten free baked goods. It is also a strong flavor which helps avoid the strange taste that gluten free baked goods can often have.
Because I know lemon works so well in gluten free recipes, I have wanted to come up with a gluten free version of the famous Starbucks lemon loaf. It took some time and work, but I finally have a lemon loaf we love!
It is now one of my favorite gluten free desserts. This is so good no one will know it is gluten free!
This recipe makes two loaves. I like to make two so I can freeze one, but you can easily half the recipe if you only want one loaf. My favorite loaf pan to use for gluten free baking is USA Pan loaf pan. Nothing sticks to this pan. I have several of them and love them.
Can I used a gluten free flour blend in lemon bread?
It is no secret that I don't love gluten free flour blends, especially for desserts. I like to be able to control the amounts of the individual flours and xanthan gum. What works in a cookie or muffin, might not work in a cake or pancake. I like to control the ingredients for the best results.
This recipe is no different. I prefer it with the individual flours. However, I know many of you prefer to use a blend because it is easier. So after perfecting the recipe with individual gluten free flours, I tried it with Bob's Red Mill 1 to 1 blend.
It worked fine with Bob's Red Mill Blend. The texture was better with the individual flours, but it did work with the blend. If you have the individual flours I would suggest using them, but if you prefer a blend give it a try with Bob's Red Mill blend. The directions for doing that are in the recipe below.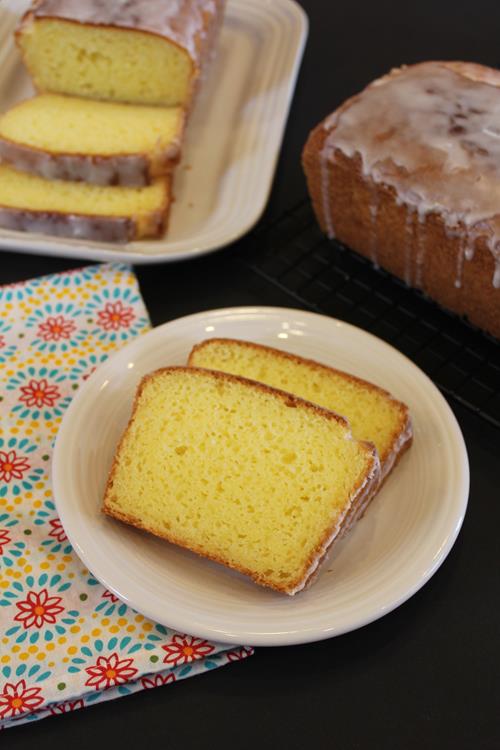 Yield: 2 loaves
Gluten Free Starbucks Lemon Loaf (Copycat)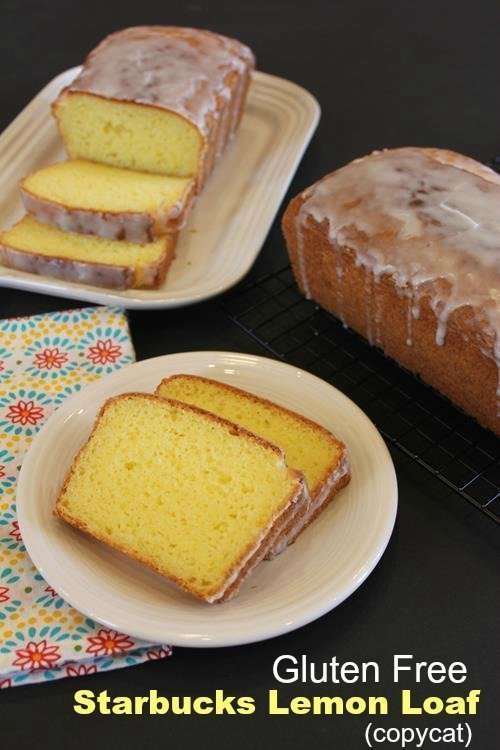 A delicious gluten free version of the famous lemon bread.
Ingredients
Bread
6 eggs
2 cups sugar
2 cups sour cream
1 cup oil
3 tablespoons lemon juice
1 tablespoon lemon extract
1 1/4 cups white rice flour
1 cup cornstarch
3/4 cup sweet rice flour
1 1/2 teaspoons xanthan gum
1 teaspoon baking soda
3 teaspoons baking powder
1 teaspoon salt
Lemon Glaze
1 1/4 cups powdered sugar
3 tablespoons lemon juice
Instructions
Preheat oven to 350 degrees.
Lightly grease 2 (8.5 x 4.5 x 2.75 inch) loaf pans and set aside.
In a bowl combine white rice flour, cornstarch, sweet rice flour, xanthan gum, baking soda, baking powder, and salt. Set aside.
In a bowl whisk together eggs, sugar, sour cream, oil, lemon juice, and lemon extract. Whisk until well combined.
Stir in flour mixture just until well combined.
Divide batter evenly between loaf pans.
Bake for 50-54 minutes or until toothpick inserted into the center of the loaf comes out clean.
Let cool in pan for 10 minutes. Remove from pan and let cool on cooling rack for about 1 hour.
Mix together powdered sugar and lemon juice for the glaze.
Drizzle half of the mixture over the loaves. Let set for 10-15 minutes to allow the glaze to soak into the bread that is still slightly warm. Drizzle remaining glaze over loaves.
Let cool completely. Slice and serve.
Notes
If using gluten free flour blend substitute 3 cups Bob's Red Mill 1 to 1 gf blend for the rice flour, sweet rice flour, cornstarch, and xanthan gum. Make according to directions.
Nutrition Information:
Yield:
24
Serving Size:
1
Amount Per Serving:
Calories:

295
Total Fat:

14g
Saturated Fat:

3g
Trans Fat:

0g
Unsaturated Fat:

10g
Cholesterol:

58mg
Sodium:

227mg
Carbohydrates:

39g
Fiber:

0g
Sugar:

23g
Protein:

3g