Earlier this summer when I visited my family in Oregon, I took the time to look through my grandma's recipe box, and I am so glad that I did.
My mom has had this box of recipes in her cupboard for years. I knew it was there. I have even glanced through it on occasion, but this time I really went through the recipes. I looked at them, laughed at a few of them, and decided that I even needed to try some of them.
This recipe box brought back memories of my grandmother and the food she used to make.
It brought back memories of her and of a different time. She may have passed away almost 20 years ago, but I felt like I was in her kitchen once again.

It was her handwriting. The handwriting I had seen so many times on the letters, cards, and notes she used to give us.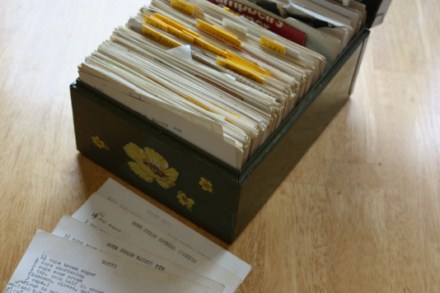 It was her famous "Rocks" cookies that were made from sour cream, back in the day when sour cream was actually soured cream.
This box not only showed me what my grandma used to cook, it gave me a peek into what many of my relatives used to cook.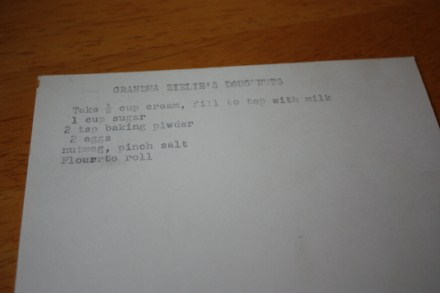 It reminded me of simple times when recipes did not need directions, because everyone knew how to cook doughnuts, no instructions were needed.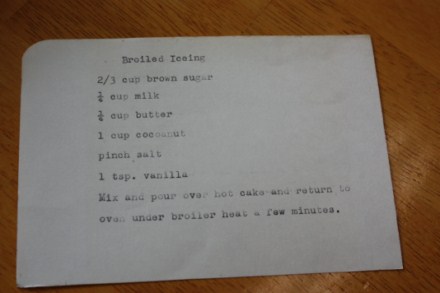 It was the fun and laughs and stories of explaining to my kids what an "old" fashioned type writer was.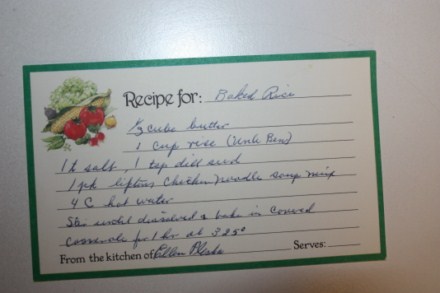 It was the reminder that nothing is really new. Baked rice in a modern cookbook is basically the same as it was 40 or more years ago.
So much has changed, yet so little has changed. It is amazing to see how many stories can be told by the story of food. A family history, a family culture, and the places they lived, can all be seen in a recipe box.
My grandma was born and raised in the Pacific Northwest in the early 1900's. She spent her life living in Oregon and Idaho. Her recipes reflect all of this.
Her recipes are filled with fruits, berries, nuts, and fish. She calls a filbert, a filbert, which definitively reflects her NW heritage, because only a true north westerner would call a hazelnut a filbert. Yes, this recipe box shows so much of who my grandmother was.
This box reflects a time that was so different than our current time, and yet so much the same.
This recipe box tells a story and although my modern recipe box may look a little different, I hope that someday it will also have a story to tell.