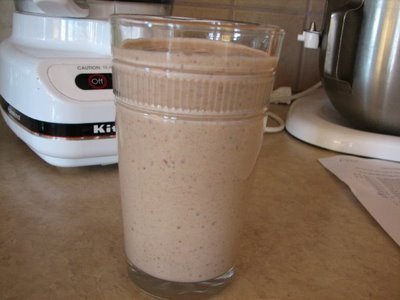 My sisters are going to think I am crazy for doing this and even crazier for posting about it. But I decided to post about it anyway. Plus they probably already think I am crazy. 🙂
I have read on several other blogs about putting spinach in smoothies. When I first read this I thought what a great idea. What a great way to get some extra greens in my diet. This would be so healthy. But then I would think yuck, gross, how terrible, I would never do that. Well, I should never have thought that.
I have been really trying to eat healthier, especially breakfast and lunch. As I have said before, I am not much of a breakfast and lunch eater. I am a snacker, but I am really trying to get better. So, I have been eating a lot of smoothies for these meals and experimenting with what I put in them. I like fixing a smoothie for myself because I can make and eat it when I want. I can sip on it as I do other things. For me it is convenient.
So, last week I had some fresh spinach that needed used up. I decided to put some in a smoothie. I really do not know why I decided to do this. I guess I was being adventurous that day. Especially since I don't like spinach. I like it fresh in salad and occasionally cooked in a pasta type dishes, but overall I really dislike spinach. So, again I am not sure why I tried this.
But do you know what? It was actually good. I really could not taste it. You could see it a little, but it really did not change the taste. It only made my smoothie healthier. I should add though that I did not use a lot.
You can probably tell that from the picture. I used maybe 1/2 cup of fresh spinach, 1/2 cup frozen strawberries, 1 frozen banana, about 1 cup yogurt, and about 1/2 cup milk. And I was really surprised at how good this smoothie was. (measurements not exact)
One tip though is to blend it really well if you put spinach in it. I don't mind getting a small chunk of banana or other fruit in my smoothies, but chucks of spinach are not so nice in my opinion.
So, now do you all think I am crazy for putting spinach in my smoothie or do you do this too?