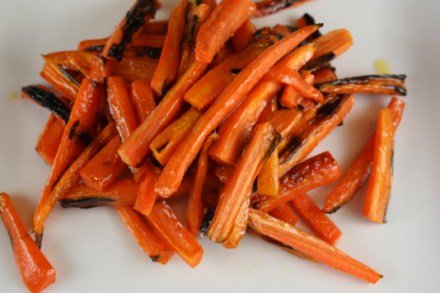 The weather in Oklahoma has been quite warm hot this year, so roasting vegetables in my oven has not been high on my list of side dishes to make.
Instead I recently decided to try grilling them. Now, I make grilled vegetables all the time, but this time I decided to grill my carrots very similar to how I roast them.
And I am so glad that I tried this. It worked well and I loved the smoky flavor that grilling the carrots gave them.
This was really simple to do and is more of a technique than a recipe. I simply cut my carrots into strips and tossed them in a little olive oil, salt, and pepper.
Then I placed them on a sheet of foil and place the sheet of foil on the grill. I let them cook over medium high heat for about 4 minutes and then I stirred/flipped them some and let them cook a few more minutes until crisp tender.
That is all. It was really easy and was a great side dish to serve with grilled meat.
Now, I think if you cut your carrots much larger you could probably place them right on the grill, but I think the foil makes it a little less messy.
Have you tried grilling carrots like this before?