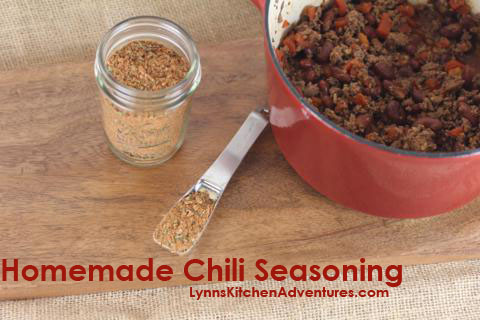 A quick look through my archives will tell you that my family loves chili. I think I have more versions of chili than any other recipe in my archives.
What can I say, we really do love chili. It is easy to make and it is a budget friendly dinner everyone loves.
Cattle Drive Chili, Shredded Beef Chili, Easy Slow Cooked Chili, Chicken Chili, and Pork Chili, we love them all. And leftovers, well they work great with potatoes or in Chili Corn Dog Pie.
Sometimes though you need something even easier than your basic chili recipe, so today I have an easy homemade chili seasoning for you.
Do you ever buy those little packets from the store for chili seasoning that makes cooking chili even easier?
Well, no more little packets from the store are needed when you make chili. Make up a large batch of this homemade chili seasoning and keep it in a jar or container in your cupboard and you can have chili on the table in no time.
One of the things I like about homemade seasonings is that I can control the ingredients. I know what goes in them. I can also make it as spicy or as mild as I want. I love being in control of my food and what goes into it.
And when I can control what goes into my food and also make dinner quick and easy, it is even better.
If you are interested in more homemade versions of your favorite foods, be sure to check out all my recipes in my homemade favorites series.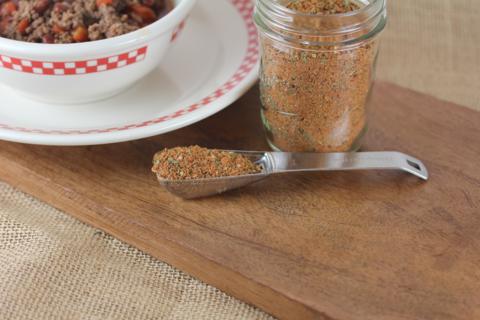 Yield: 36 servings
Homemade Chili Seasoning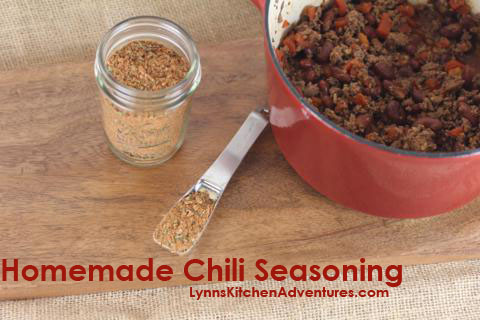 Homemade chili seasoning is an easy to make homemade version of those store bought packets.
Ingredients
1/2 cup dried parsley flakes
1/2 cup chili powder
1/4 cup dried minced onions
2 tablespoons salt
2 tablespoons cornstarch
1 tablespoon garlic powder
2 tablespoons ground cumin
1 tablespoon ground coriander
1 tablespoon dried basil
1 tablespoon dried oregano
2 teaspoons paprika
Instructions
Combine all ingredients in an airtight container and use as needed.
To make chili:
Brown 2 lbs ground beef and add 3 tablespoons of seasoning mixture and stir well.
Add 2- 14 ounce cans of tomatoes, and 2 cans kidney beans that have been rinsed and drained. Cook on low for 20 minutes. Serve and enjoy.
You can also add chopped onions when browning the meat if you like onions in our chili.
This can also be made in the crock pot. Just brown meat and add remaining ingredients. Cook on low for about 6 hours.