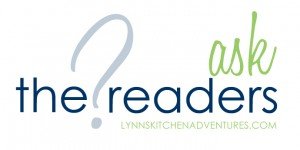 Today's question is about rice cookers and it comes from me. I love my rice cooker. I got my first rice cooker as a wedding gift and I have owned several different ones over the years.
I love it for rice, for cooking quinoa, and even for macaroni and cheese. My rice cooker gets a lot of use, which is why I am needing a new one.
I had on old Oster brand rice cooker that I loved. It was my all time favorite rice cooker, until after years of use, the nonstick finish started to chip off. They no longer make that same rice cooker.
I currently use an Aroma brand one that cooks fine, but takes forever to cook rice. I mean like 45 minutes or more to cook rice, which is longer than any other rice cooker I have owned has taken. In general it works fine, but is far from my favorite rice cooker.
I have owned enough rice cookers to know that I do not want a super cheap one. The mid-priced ones seem to do the best.
I keep wondering about the Zojirushi Rice Cooker
. The prices are really high on the Zojirushi ones, so not sure I could justify it for an appliance I use once a week or so. I mean really, why would a rice cooker cost that much?
I am thinking it must be the Vitamix of rice cookers or what Kitchen Aid is to mixers. Anyone have a Zujirushi to give thoughts on it? I am really wondering why a rice cooker would cost that much.
Can you help? Do you have thoughts on rice cookers?
If you have a rice cooker that you love I would like to hear about it? Or if you have one you do not like and would not recommend, I would like to hear that as well.
I really want to do my research before I get one this time and I know some of my readers will be curious as well. So please share your thoughts on rice cookers.