Forget buying those breakfast burritos from the freezer section at the store. It is so easy to make frozen breakfast burritos at home!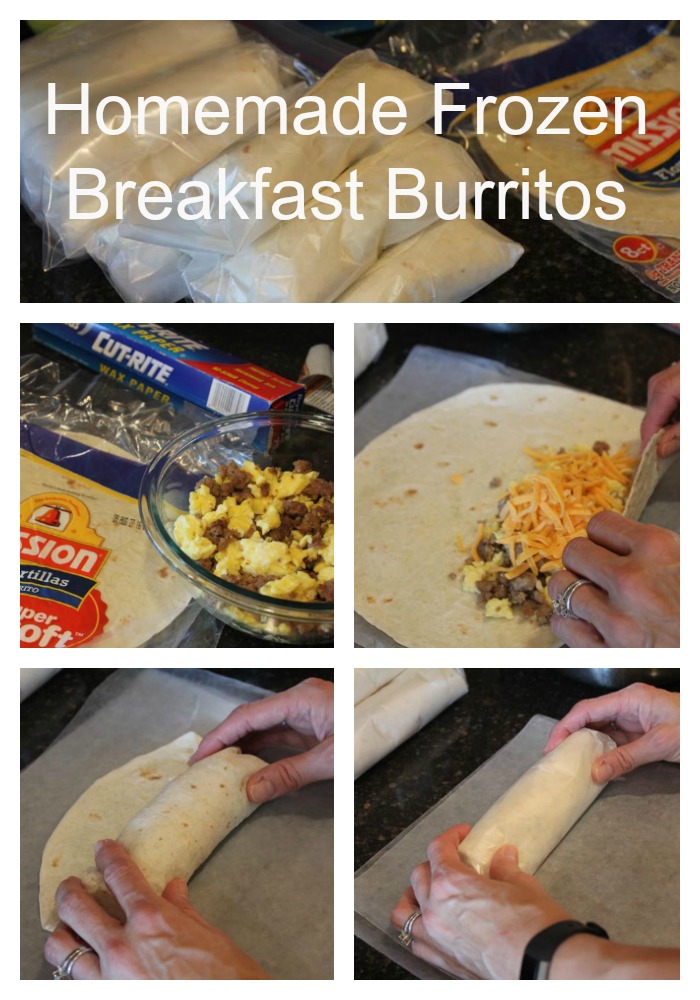 I recently made a big batch of breakfast burritos for the freezer. We love how quick and easy they have made breakfast!
I have made freezer burritos before, but it has been a few years. I have no clue why I stopped making them because my husband and son love them.
Today's post and recipe is actually a result of shopping with my son.
I have mentioned many times that I am amazed at the amount that a teenage boy can eat. I grew up with three sisters. Pretty much all teenagers eat a lot, but I am learning that teen boys take it to a whole different level.
My son has always loved his carbs, but he is realizing that a ton of carbs for breakfast only fills him up for a short time. I have known this for awhile, but the fact that he has realized this has changed breakfast at our house.
He wants protein for breakfast. A lot of protein.
He went to Costco recently with me and as we walked by the freezer section he saw the frozen breakfast foods. Normally we just keep on walking because they are not something that I buy. This time though he stopped and looked at what they had.
He saw one thing that he wanted and it was the breakfast burritos. So on an impulse the breakfast burritos went into our cart.
The main reason I said yes was that the majority of the food was pretty junky. Or at least what I would consider more of a treat than an everyday breakfast. The request for breakfast burritos seemed like a small one. I was just glad he did not ask for the highly sugary foods that they were also calling breakfast foods.
The fact that he wanted the burritos goes back to the fact that he is finally realizing that he needs protein for breakfast not sugary carbs.
After I got home I had a little bit of buyers remorse though. Not because he wanted them and I said yes, but because of the amount of money I had spent on them. They came out to over $1.50 each.
Now for some that probably doesn't seem like a lot, but I knew I could make homemade ones for much less. Not only that I could control what went into them.
So I bought the ingredients we needed and went to work on making my own. It was quick, easy, and much cheaper than the ones I bought.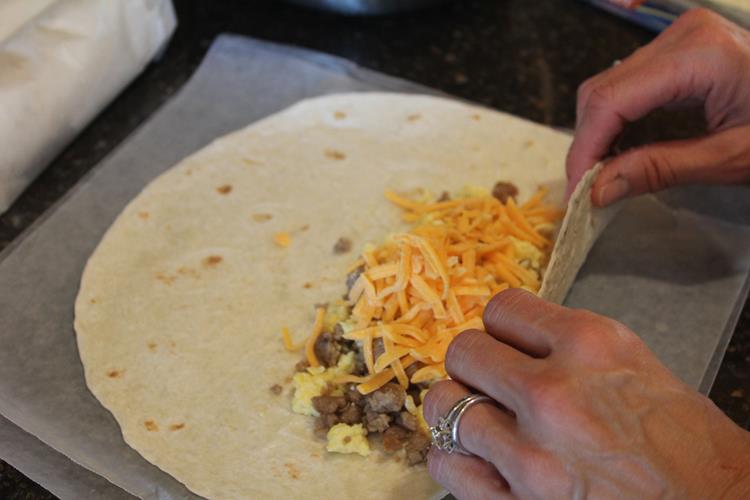 We kept ours simple with just eggs, sausage, and cheese on flour tortillas. You can also add hash brown type potatoes too if you like them in your burritos. Onions and peppers added to the meat would also be good.
My son prefers his with just meat, eggs, and cheese. Lots of cheese. So that is how I make them.
Some people add salsa to theirs, but we find that it gets soggy with salsa. My husband and son prefer to just eat it with the salsa after it is heated.
I love how easy this is making breakfast for my son. All he has to do is take one or two out of the freezer, put them in the microwave, and he has an easy and filling breakfast.
If you love breakfast burritos and have never given homemade frozen ones a try, you need to. It will make breakfast quick and easy on busy mornings.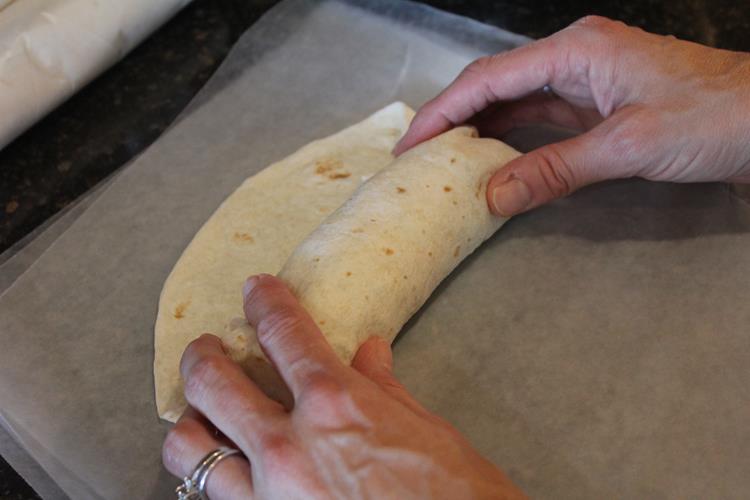 Yield: 12
Homemade Frozen Breakfast Burritos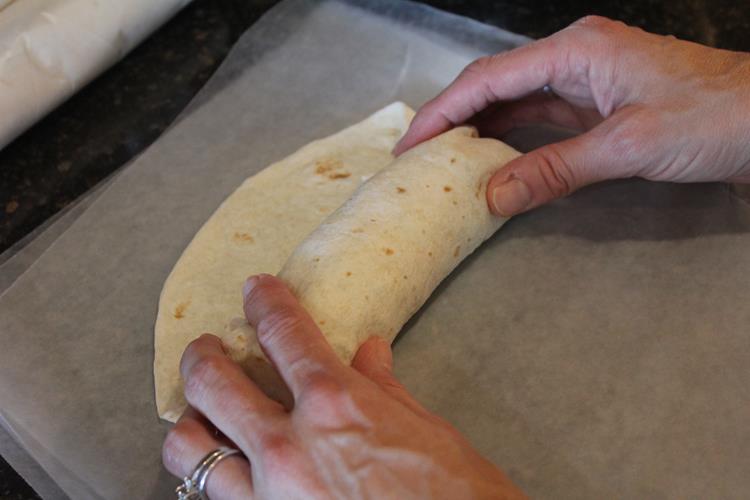 Homemade Frozen Breakfast Burritos are a great make ahead breakfast.
Ingredients
12 burrito sized flour tortillas
12 eggs
1 pound ground breakfast sausage
shredded cheese
Instructions
Cook meat until browned and crumbled. Drain off any fat from the meat. You can reserve the fat for cooking the eggs.
Crack eggs into a bowl and whisk to mix well.
Heat oil in skillet or use reserved fat from meat.
Pour eggs into skillet and cook over medium heat scrambling them as you cook them until done.
Let meat and eggs cool completely.
Once eggs and meat are cooled place about 1/2 cup of filling on each tortilla.
Place desired amount of cheese on top.
Roll tortilla over the top of the filling. Fold in sides and continue folding to make a burrito.
Place each burrito onto a piece of waxed paper or parchment paper.
Roll burrito in waxed paper and place in a zip top type freezer bag. Freeze.
Remove a burrito from the freezer and microwave for 2-3 minutes. Time will vary depending on the microwave.
Serve with salsa if desired.
Notes
Note: I like to wrap them waxed paper to keep them individually wrapped and give them extra protection from freezer burn. My husband says that it works just microwaving in the waxed paper. My son disagrees and says the texture is better when heated not wrapped in waxed paper, so he takes it off. You can experiment with it and do what you like best.