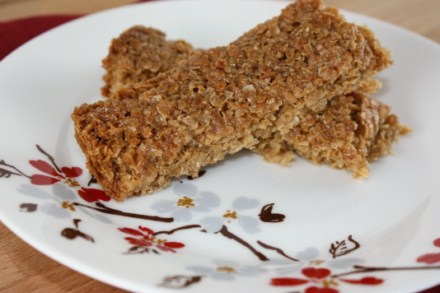 I had several people email me asking for the recipe for the granola bars that I pictured in my menu plan. I had planned on posting this in a week or two, but since you requested it, I decided to go ahead and post it now. I hope you enjoy!
My kids love granola bars, but it does not take long for a box of granola bars to disappear with three kids in the house.
I have been trying for a long time to find a homemade granola bar that we liked. I knew I could make a homemade version that was cheaper and better for you than the store bought versions. I have tried many recipes and some were good, but none were great.
I tried some recipes that were very healthy, but tasted terrible. I have made some that were so dry they fell apart. Others were so sticky that they were hard to eat. A few recipes were so sweet that they tasted more like a dessert than a snack or breakfast item. I wanted a healthy and good homemade granola bar.
I kept tweaking and trying recipes determined to find one that we liked and that was at least semi healthy. Recently, I finally developed a recipe that we liked. In fact, we liked this so much that I made them three times last week.
These are a perfect blend of crunchy, yet soft and chewy. These really are a cross between a soft and a hard granola bar. I think they are the best of both.
Now, I know that these are not the healthiest granola bars, but they are healthier than what I can buy. I know what is in these and I can control what goes into them. And yes I know they have a little corn syrup in them, but that is what helps give them the great texture that they have, and I figure it is not much.
One tip is to follow the directions on cutting and removing these from the pan. It will make them much easier to remove from the pan.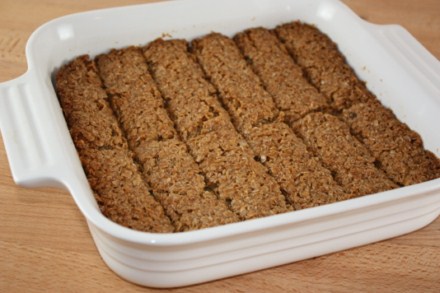 Easy Homemade Granola Bars
½ cup butter
½ cup brown sugar
2 tablespoons honey
2 tablespoons corn syrup
2  1/3 cups quick cooking oats
Grease and 8×8 pan. In a pan combine the butter, brown sugar, honey, and corn syrup. Stir constantly over medium heat until butter melts,  sugar dissolves, and mixture is smooth. Remove from heat and add oats. Stir well until oats are well coated. Spread mixture into 8×8 or similar pan. Bake at 350 for 22 minutes. Cool 5 minutes and cut into bars. Cool for about 1 hour more in the pan and then remove bars from the pan.
If you wait to cut and remove the bars from the pan until the pan is completely cooled, the bars will be very hard to remove.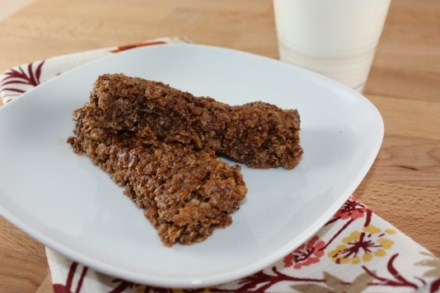 For different variations, stir in a few chocolate chips when you add the oats,
or for something even healthier, add a few raisins, when you stir in the oats.
This post linked to
Ultimate Recipe Swap
.