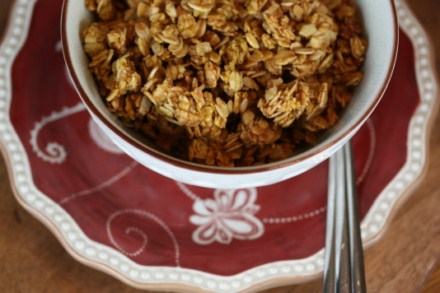 My son loves granola, which is a bit strange since he is the picky eater of the family. I can't really complain though since granola is a pretty healthy breakfast, especially when his favorite way to eat it is with yogurt.
The problem with granola though is all our food allergies. Most granola contains tree nuts and/or peanuts. My daughter is allergic to both those things, so store bought granola is not an option in our house.
Well, okay there are a few brands that make nut free granola, but they are expensive and hard to find. I have bought them, but I do not make a habit of it, especially when my 9 year old son can polish off two or more bowls for one meal.
So homemade granola is the perfect option for us. It is easy to make and I can vary the flavors. I have a plain nut free granola that we love. My kids also really enjoy my homemade strawberry granola, but since it is fall I have been experimenting with a few new flavors.
And our new favorite is homemade pumpkin granola. So easy, so good, and perfect for this time of year.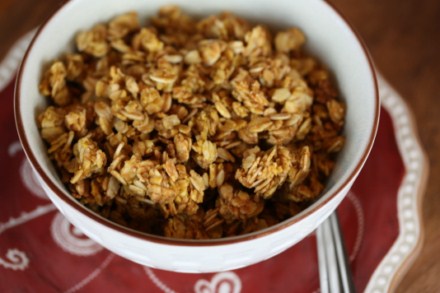 Pumpkin Granola Recipe
1/3 cup brown sugar
1/3 cup oil
½ cup honey
¼ cup real maple syrup
4 cups old fashioned oats
3 cups quick cooking oats
1 teaspoon cinnamon
¾ cup canned pumpkin
In a small saucepan mix together brown sugar, oil, honey, and maple syrup. Bring to a boil and remove from heat and add cinnamon and pumpkin. Combine well.
In a large bowl combine oats and add the sugar/pumpkin mixture.
Stir to coat well.
Spread into two 9×13 pans.
Bake at 350 degrees for 10 minutes.
Stir and turn off oven. Put the granola back into the oven for 3-4 hours. This will finish cooking the granola.
Remove from oven after 3-4 hours and let cool.
Store in an airtight container or jar.