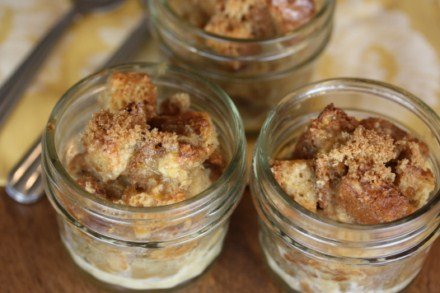 My eleven year old daughter loves anything banana. Bananas are one of her favorite foods to eat and we go through a lot of them. I am always coming up with new ways to use them.
I recently had some bananas and some bread that needed to be used. One of my favorite ways to use up extra bread is to make bread pudding. We love my chocolate bread pudding and also my apple bread pudding,  so I decided to give banana bread pudding a try.
What I came up with was a dessert that my daughter and everyone else loved.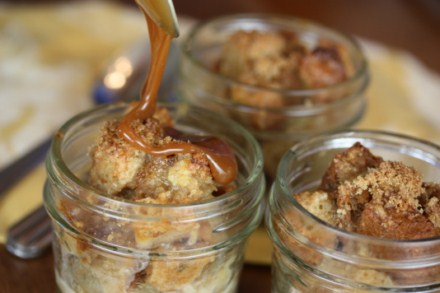 And it was even better with a little caramel sauce drizzled over the top. Drizzle the caramel over it when it is still warm and it will melt down into the bread pudding and be soooo good!
Banana Bread Pudding
¾ cup milk
½ cup heavy cream
3 eggs
¾ cup brown sugar, plus more for sprinkling on top
pinch salt
2 teaspoons vanilla extract
3 ripe bananas, mashed
10 ounce of bread cut into cubes (this is about ½ loaf) I used gluten free bread and it worked fine.
Optional- Caramel sauce (I used ice cream topping)
Preheat oven to 325.
In a bowl mix together the milk, cream, eggs, brown sugar, salt, and vanilla. Stir in bananas.
Carefully stir in bread.
Place mixture into small ramekins or small jars.
Place jars in a pan that has been filled with about ½ inch of water. You are creating a water bath.
Place in the oven and bake for 35-38 minutes.
Drizzle with caramel sauce if using.
Cool slightly before serving.
This can also be made in a larger pan, like an 11×7 and put in a water bath using a larger pan.