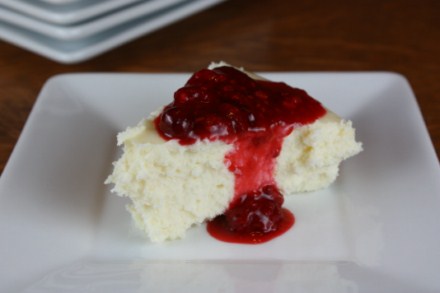 Homemade fruit sauces are so easy to make.
They are very versatile and can be used on anything from pancakes, waffles, and french toast, to desserts like my mom's easy cheesecake or the white chocolate cheesecake pictured above. ( The recipe for the white chocolate cheesecake will be posted soon. It was one of the best cheesecakes that I have ever made)
I love to make homemade fruit sauces because the taste and texture is so much better than the canned versions that you can buy. It really does make a difference to make your own.
My favorite sauce to make is the raspberry sauce I am sharing today.
A  homemade sauce like this can turn a simple breakfast or dessert into a special one.

Homemade Raspberry Sauce
12 ounces of frozen raspberries
1/4 cup sugar (a little more if you want it sweeter)
1/4 cup water
1 tablespoon cornstarch
Combine raspberries and sugar in a pan.
In a small bowl combine water and cornstarch until combined and add to raspberry/sugar mixture.
Cook over medium low heat, stirring often until the raspberries have cooked down and the sauce is thickened. This will take 7-10 minutes.