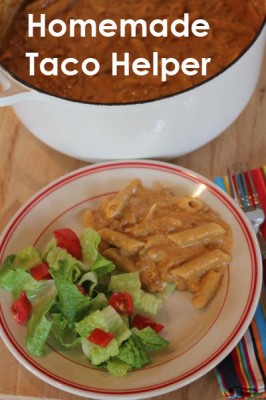 Today I am sharing another homemade version of those famous boxed meals. I know I have said it before, and I will probably say it again, if you have not tried a homemade version of those boxed dinners, you need to.
The homemade versions are so good. One of the best things about them is that you control the ingredients.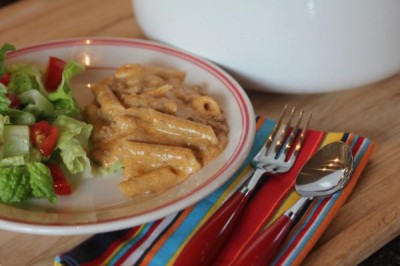 And they are a quick and easy dinner. We all need more of those for those crazy busy days.
This homemade taco hamburger helper meal is sure to please your family. If they love the boxed stuff, I am sure they will love the homemade helper meals.
If you are looking for more homemade helper style meals be sure to try my Homemade Tuna Helper, Stroganoff Style Helper, and my Cheeseburger Helper.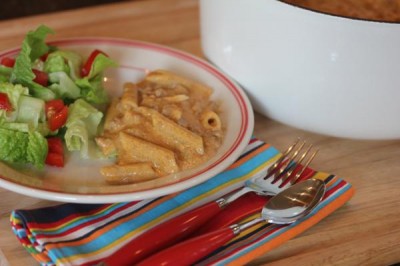 Homemade Taco Hamburger Helper
1 lb ground beef
3/4 cup water
1 3/4 cup milk ( If you are using gluten free pasta it might need a little more milk/liquid)
8 ounces tomato sauce
1 package taco seasoning or homemade taco seasoning 
2 cups uncooked penne or macaroni noodles
1 cup sour cream ( optional, but makes it nice and creamy)
1 ½ cups shredded cheddar cheese
Salt to taste
In a large sauce pan brown the ground beef. Drain any fat from the meat.
Add the water, milk, tomato sauce, and taco seasoning to the meat and bring to a boil.
Add the pasta.
Reduce heat to low. Cover and cook for 17-20 minutes. Test at 17 minutes to see if the pasta is done. If pasta is not done, cook a few minutes longer.
When the pasta is tender and done, stir in shredded cheese and sour cream if using.
Let sit 5- 10 minutes before serving and it will thicken more.