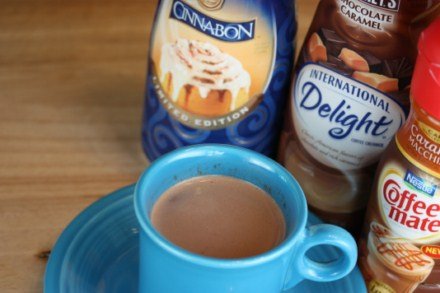 When my sister was visiting last month she mentioned that she loves to put coffee creamer in her hot chocolate. And as soon as she told me this I said something like, but you don't like coffee. To which she replied, they don't all taste like coffee. This was news to me, because I just assumed coffee creamers tasted like coffee.
You see, I hate coffee, I mean really dislike it, so I had no clue what was available as far as coffee creamers go, but I knew I had to find out.
Well, was I shocked when I started looking around the dairy section and realized how many different creamers were available.
And all I can say is that we still love my flavored hot chocolate mix, but WOW coffee creamers in just your basic hot chocolate is so good.
Really hot chocolate may never be the same again with all these options.
Have you tried the flavored coffee creamers in you hot chocolate?