I love the Artisan Bread in Five Minutes a Day
cookbook. I know I have said that several times before, but I really do use this bread a lot. I think this dough is so easy, yet so versatile. It is so nice to know that I have dough waiting in the refrigerator when I need it.
By the way the authors of Artisan Bread in Five Minutes a Day
have a new cookbook coming out. I can't wait! It is called Healthy Bread in Five Minutes a Day. From what I have read it contains recipes using whole grains, fruits, and vegetables, but also has some gluten free recipes in it. I might be needing lots of gluten free recipes soon, so that part of it sounds very interesting. I can't wait to see this new book. It sounds very interesting and if it is anything like the other book it will be good.
Now, back to the whole reason for this post and that is to show you how I store my Artisan Bread In Five dough. I store my dough like this in the refrigerator.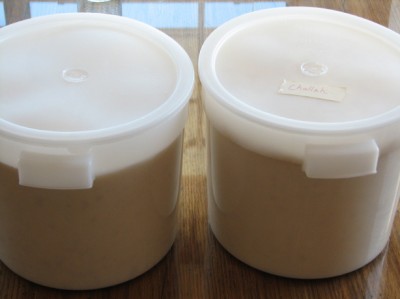 These work great. They are a good size and work perfectly because they have lids on them. I think any container like this would work well, but I like the buckets. I think buckets or containers with lids work better than bowls for this dough.
If you make this dough a lot, I recommend getting something like these buckets. I got these from a friend who owns a pizza restaurant, but you can get similar things elsewhere. I have seen these exact same buckets at a restaurant supply store. These buckets actually work great for lots of things. Right now I have black beans stored in one.
For more tips on how to store the this dough see the Artisan Bread In Five site. The authors also post a lot of ideas and tips for using the dough on their site. I visit the site regularly to find ideas.
Does anyone else like this bread dough as much as I do? Have you tried it?
This post linked to Works For Me Wednesday.