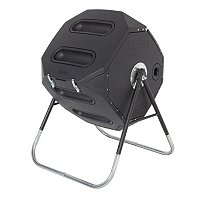 I am a wimpy Gardener and I don't mind admitting it.
I have wanted to start a compost pile for years. I know the benefits of it. It is like gold to a garden and the soil, but I have been too wimpy to start one.
You see we live on forty three acres, in the country, in NE Oklahoma. We regularly find snakes on our property. Yes, some of them are good snakes, but in my opinion any snake that is close to 6 feet long is not a good snake.
Along with the "good" snakes we often see rattle snakes, copper heads, and water moccasins on our property. And yes, many of these are in the 5- 6 foot range.
And besides the snakes we have lots of other creatures living on our land. Think skunks, raccoons, opossums, rats, armadillos, and all kinds of other things. Life in the country is wonderful, but I will admit I could do without some of the creatures that live around us.
This is why I have not been excited about starting a compost pile that will attract even more of these animals to our property and house. I mean why would I want to give them a reason to visit more often then they already do.
So, when I recently saw a composter at Sam's Club, I knew I had found my solution. I had thought about buying one before, but seeing it in person at Sam's made me decide I really needed wanted one.
Yes, I could be tough and strong and have a compost pile near my back door or garden like brave women before me have done. In fact many of you probably do have one like that, but I am a wimp when it comes to this and I am fine admitting that. As long as I live in the country, in Oklahoma, the land of snakes and many creatures, I will proudly use my wimpy composter.
But I would feel better if you all tell me I am not the only one out there that is a wimpy gardener.