I cannot believe that I have not shared my Broccoli Bacon Salad recipe with all of you.
I have been making this salad for years and my family loves it. When I went to make this salad recently I searched my site for the recipe and realized that I have never shared this recipe with you.
Today I am going to fix that, because you all need to try my Broccoli Bacon Salad. It is perfect for a summer picnic or cookout, but we enjoy this anytime. It is really good.
Now, I will say that a lot of people make versions of broccoli salad, but these salads often contain crasins or raisins, at least that is how people in Oklahoma often serve it.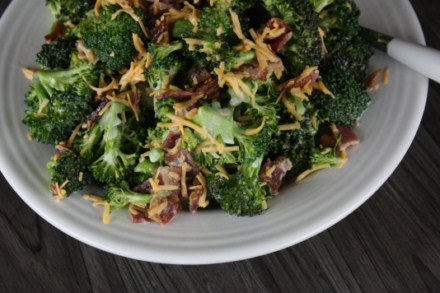 Well guess what, I am not a fan of fruit mixed with my vegetables. I never have been and I never will be. I like fruit and I like vegetables, I just don't like them mixed together.
Remember that carrot salad that was so popular years ago. I grew up seeing that at almost every picnic, church dinner, or family gathering that I went to and I dreaded being served it.
I apologize to all my aunts and friends that used to make that salad. I am sure it was really good, I am just not a fan of carrots and raisins served together in the same salad.
The same goes for my broccoli salad. I love broccoli and I love craisins and raisins, but please don't mix them together.
Is anyone else with me on this one? Please tell me I am not alone.
And for those of you that love fruit mixed in with your broccoli salad go ahead and put some in here, just don't tell me about it. 🙂
Broccoli Bacon Salad
6 sliced of bacon, cooked and crumbled
2 heads of fresh broccoli, washed and cut into bite sized pieces
1 cup shredded cheddar cheese
¼ cup red wine vinegar
1/8 cup of sugar
2 teaspoons black pepper
1 teaspoon salt or to taste
2/3 cup mayonnaise
1 teaspoon lemon juice
In a large bowl combine bacon, broccoli, and cheese. Set aside.
In a small bowl combine remaining ingredients. Add to broccoli mixture.
Stir to combine well. Cover and refrigerate for several hours.
Serve and enjoy!