Homemade refried beans can be made quick and easy using an Instant Pot! Instant Pot refried beans are easy, delicious, and so much cheaper than buying them in a can!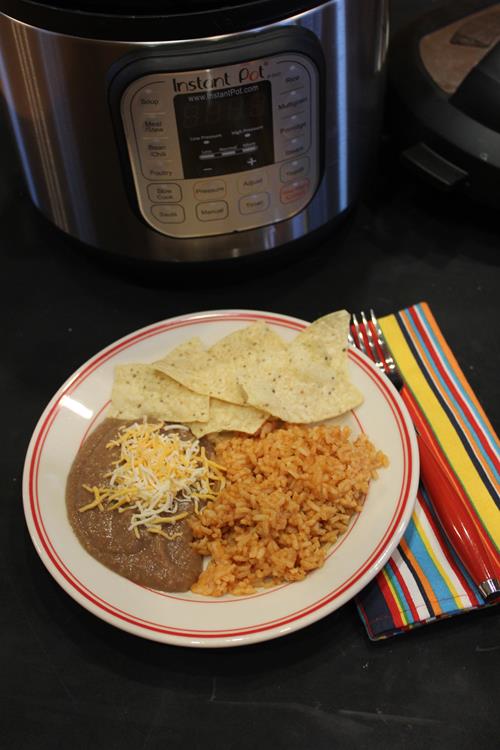 Homemade refried beans are one of my favorite things to make homemade. Not only do they taste great, they are much cheaper than buying them from a can.
They are also one of my favorite things to keep in the freezer. It is so easy to make a big batch of homemade refried beans and freeze them in small containers. Then you can enjoy homemade refried beans anytime you need them.
When I make refried beans I usually make my homemade slow cooked refried beans. I love making them in the slow cooker and have been making them that way for years.
I have been trying to use my Instant Pot more though so I decided to give refried beans a try in it and I loved the results.
I bought my Instant pot back in March, but I have been a bit slow at experimenting with it. I am regretting that. Now that I have started using it more, it is quickly becoming one of my favorite kitchen appliances. Things like cooking dried beans are the main reason why. It is so quick and easy! If you are curious this is the Instant Pot that I have.
Let me say this though. There is something that bothers me about many Instant Pot recipes. Many are deceiving when it comes to the time it says it takes. I have seen so many recipes that say 5 minute dinner in the Instant Pot. Or something like it only takes 10 minutes in the Instant Pot. Those things are usually deceiving.
You may be asking why it is deceiving.
Most recipes that say that do take that amount of cooking time, but it is not allowing for the coming to pressure or releasing pressure. A recipe may take only 10 minutes of actual cooking time, but it takes time to build up enough pressure to actually cook. Then you have to release the pressure.
Even if you do it manually it takes a few minutes. So if a recipe says 10 minutes cooking time, that does not mean that your dinner will be on the table in 10 minutes. You need to allow more like 30 minutes for the whole process. I wish more recipes were honest about that part. Not all Instant Pot recipes are as quick as they claim.
Now that we have that out of the way, let me say that cooking dried beans in the Instant Pot is so quick and easy! Not 10 minutes, but so much quicker than any other way I have cooked them. Not only that they are soft and delicious.
What I love about cooking dried beans, including these refried beans, in the Instant Pot is that they are quick and easy, even if I forget to soak the beans.
I can't tell you how many times I have planned on making homemade refried beans and realized that I forgot to soak the beans. Now you can still make beans without soaking, but it usually takes a long time. Not in the Instant Pot though.
The actual cooking time is 30 minutes. When you add in the coming to pressure and releasing pressure you still have homemade refried beans, without soaking, in less than 1 hour. That is pretty good!
And they taste great!
If you have an Instant Pot and have not made refried beans in it, you need to. They are so good! We love them served with Mexican Rice for an easy meatless meal.
Tools that Make This Recipe Easier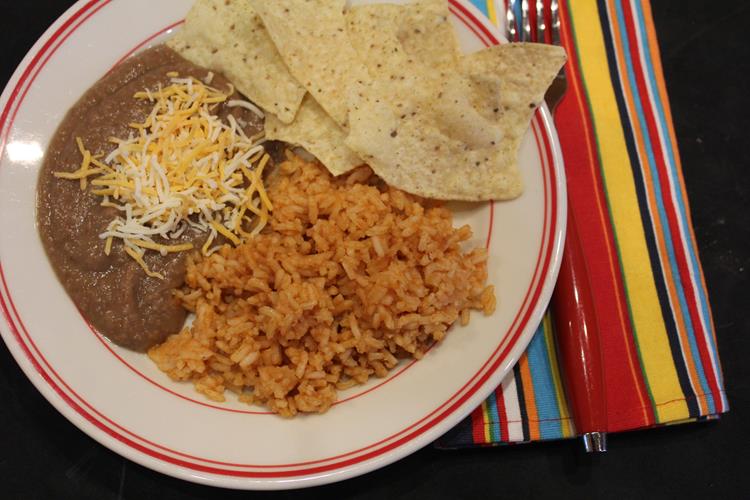 Yield: 10 servings
Instant Pot Refried Beans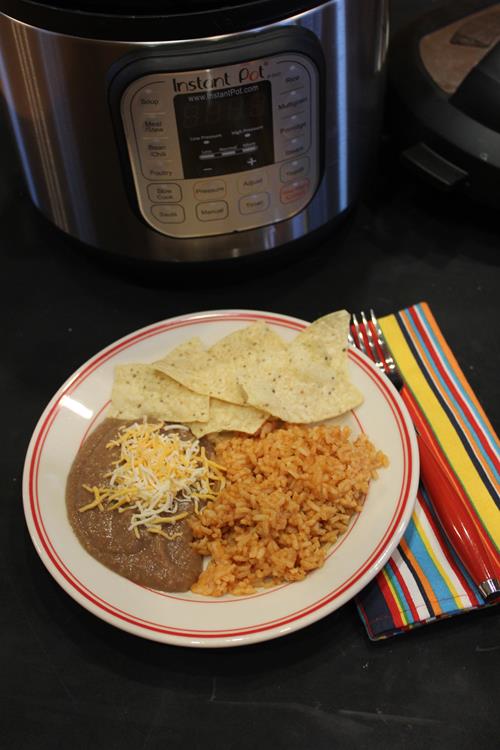 Homemade refried beans are easy when you make them in the Instant Pot.
Additional Time
8 minutes
Ingredients
2 cups dried pinto or black beans
1 onion, peeled and chopped
1/2 jalapeno, seeded and chopped ( if you like it spicy leave the seeds in or use the whole jalapeno)
2 cloves minced garlic
1 teaspoon cumin
4 cups water
2- 14 ounce cans chicken broth
1 tablespoon bacon grease ( Optional, but really good)
Instructions
Place beans in a colander and rinse them well and discard the liquid.
Place beans and remaining ingredients in Instant Pot.
Place the lid on the Instant Pot and lock it into place. Be sure the valve is set to sealing.
Cook on manual for 30 minutes.
Let pressure release naturally. Do not use the quick release.
When the pressure has released remove the lid.
Remove about 3 cups of liquid from the pot. Reserving to use if needed.
Puree beans using an immersion blender or let cool slightly and blend in a blender. Blend until desired consistency adding some of the reserved liquid if needed (If using a blender be carefully blending hot ingredients.)
Beans will appear a little soupy, but they will thicken.
Serve with your favorite Mexican meal or freeze for future use.
Nutrition Information:
Yield:
10
Serving Size:
1
Amount Per Serving:
Calories:

94
Total Fat:

2g
Saturated Fat:

1g
Trans Fat:

0g
Unsaturated Fat:

1g
Cholesterol:

3mg
Sodium:

330mg
Carbohydrates:

15g
Fiber:

5g
Sugar:

1g
Protein:

5g
Nutritional values are approxomite and aren't always accurate.