The theme of Works For Me Wednesday is kitchen management. I think this is a great theme because I love talking about the kitchen.
I have a pretty small kitchen. It is very open so it does not feel small, but it is. It does not have much cabinet or counter space. To help solve this I have a few furniture pieces that are both decorative and functional. This is my favorite of those pieces.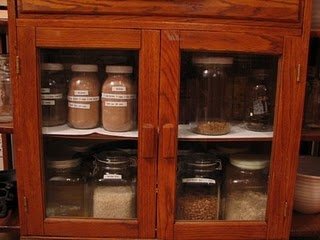 It is an antique piece. We picked it up at an auction and it fits the space perfectly. But it has glass doors on it, so whatever is inside has to looks nice and neat. I have tried storing several things in it over the last few years, but I think I have found my favorite. A few months ago I put all my rice, beans, granola, home made brownie mix, and pasta in jars and placed them on the shelves. I than labeled the jars, I love my label maker. Well, it is actually for my husband's office but I love to use it. Now, I think everything looks very neat and tidy.
I love the way this looks and how functional it is. It works for me.