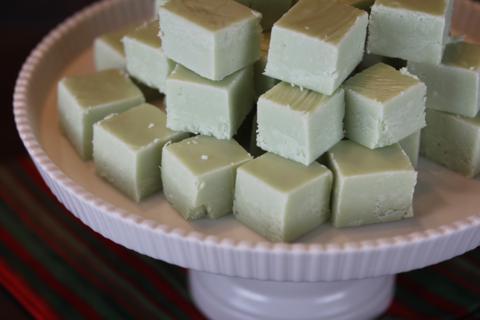 For years my sisters have been telling me that I needed to try lime fudge. They both make it and love it. I love chocolate and chocolate fudge is a favorite of mine, so to be honest lime fudge has not been high on my list of things to try.
However this year, I was looking for a few new recipes to try for our office party, so when I saw an old Southern Living recipe for Key Lime Fudge, I knew it was time to try it.
And the results were delicious and everyone loved it. I wish I would have tried this a long time ago.
The recipe calls for key lime juice and that is what I used, but I really think any lime juice would do here, it would just give you a little different flavor.
I also added green food coloring to this so that it was green and looked more festive, but you can leave that out if you prefer not to use food coloring.
I think this would be fun to give as a gift with coffee fudge and maybe a few other kinds of candy. Place them on a nice holiday plate or platter and it is a gift everyone will love.
Do you have a favorite kind of fudge to make this time of year?
Key Lime Fudge
1- 5 ounce can evaporated milk
1  2/3 cups sugar
1/2 teaspoon salt
12 large marshmallows, cut up (or use 120 mini marshmallows)
2 cups white chocolate chips
2 tablespoons key lime juice
In a pan combine the first three ingredients and bring to a boil. Boil for 8 minutes stirring constantly.
Remove from heat and add marshmallows, white chocolate chips, and lime juice. Stir until white chocolate and marshmallows are completely melted and smooth.
Poor into an 8×8 pan that has been lined with foil.
Cool completely and cut into squares.
Enjoy!