King Ranch casserole is a recipe that has been around for years. This King Ranch Chicken Soup is that classic casserole put into soup form. It is delicious!
This recipe for King Ranch Chicken Soup could also be titled, "The Soup That Looked Nothing Like The Picture In The Magazine!"
Just keeping it real for you all…Life is not Pinterest perfect. We often want it to be, but it is not.
We see pictures on Pinterest, on social media, and in magazines and we expect our house and food to look the same. When it doesn't we are often disappointed and wonder what we are doing wrong. Comparing ourselves to pictures on social media is a dangerous thing to do. But we all fall into that trap.
I have had these pictures on my computer since the fall and had planned on sharing the recipe for a Cooking Through My Collection recipe.
The soup was delicious. My family loved it. I have made it several times. But every time I try to get good pictures they look nothing like the soup recipe did in Southern Living Magazine.
I fell into the trap of comparing myself with a magazine.
The reality is that Southern Living has a whole team of people working on their recipes. They have rooms full of props to use in pictures and they have professional photographers working for them.
Often times the recipes we see on Pinterest take hours to do. People make the food in the morning, spend hours taking photos and getting the props just right, and then they spend time editing them.
You know what? Most of my pictures are taken just minutes before my family eats them. I don't have a lot of time for props. I don't have time to make the photo just right. I can edit my photos, but there is only so much editing you can do to make a photo look better.
My meals are never going to compare to those pictures. And they don't have. Sometimes I just need to remind myself of that and maybe you do too.
Now for the recipe. This is a simple soup. It is all the flavors of the King Ranch Casserole, but in a soup form. Recipes like this are why I love Southern Living magazine and cookbooks. They are simple, classic, and delicious!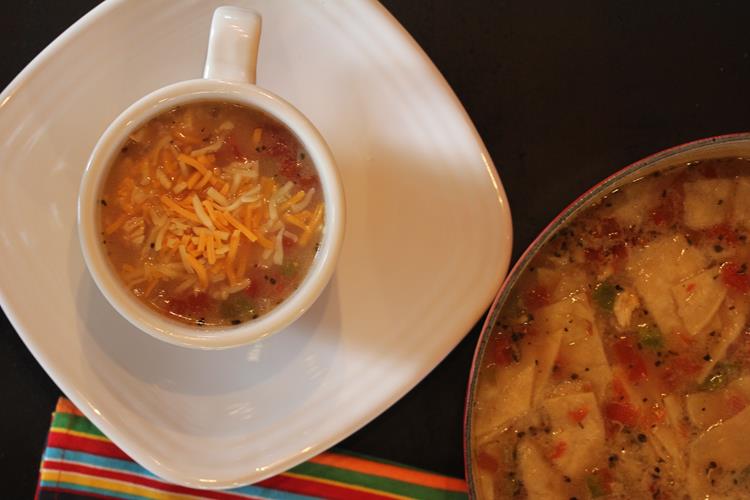 Yield: 12 servings
King Ranch Chicken Soup
King Ranch Chicken Soup is a soup version of the classic King Ranch Chicken Soup.
Ingredients
2 tablespoons butter or oil
1 onion, chopped
1 green pepper, chopped
1 clove garlic, minced
2- 10 ounce cans diced tomatoes with green chilies ( I used Rotel)
1- 10¾ once can cream of mushroom soup ( I used a gluten free cream of mushroom soup)
1- 10¾ ounce can cream of chicken soup ( I used a gluten free cream of chicken soup)
5 cups chicken broth
4-5 cups cooked and shredded chicken
1 teaspoon dried oregano
1 teaspoon ground cumin
1 teaspoon chili powder
8- corn tortillas cut in half and then into ½ inch strips
shredded cheese for serving
Instructions
In a large pan or dutch oven melt butter (or heat oil) over medium-high heat.
Add onion and peppers and cook until tender. This will take 4-5 minutes.
Add garlic and cook 1 minute more.
Add tomatoes, cream of mushroom, and cream of chicken soup. Stir well.
Stir in broth, chicken, oregano, cumin, and chili powder.
Cook over medium-high heat for about 5 minutes. Stirring occasionally.
Stir in tortilla strips. Cook 2 minutes.
Serve with cheese sprinkled on top.
Nutrition Information:
Yield:
12
Serving Size:
1
Amount Per Serving:
Calories:

708
Total Fat:

36g
Saturated Fat:

9g
Trans Fat:

0g
Unsaturated Fat:

23g
Cholesterol:

180mg
Sodium:

2854mg
Carbohydrates:

32g
Fiber:

3g
Sugar:

3g
Protein:

63g