Every year I asked my husband what dessert he wants for his birthday. Just about every year he says that same thing, your peanut butter pie. I started making this pie at least ten years ago. The recipe originally came out of a Debbie Fields cookbook from the early 1990's. I have tweaked it a little bit over the years, but it is the same basic recipe.
Part of what makes this recipe so good is the crust. It is made out of peanut butter cookies. I always make my own, because I never buy store bought peanut butter cookies. You could use just a graham cracker crust, but like I said I think the peanut butter cookies are what make it so good.
Well, the cookies plus the cream and cream cheese. This is NOT a healthy recipe. This is not something I make all the time. But it is a great pie to make for a special treat.
This pie takes a while to chill so plan a head. The recipe has several steps.
Peanut Butter Chocolate Mud Pie
Crust
2 cups peanut butter cookie crumbs
2 tablespoons sugar
4 tablespoons butter, melted
Combine together and place in a pie plate. Freeze crust for 1 hour.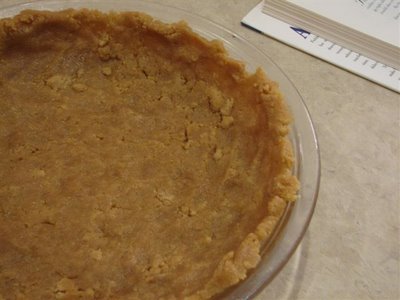 Filling
1 1/2 cups heavy cream, chilled
12 ounces cream cheese, softened
3/4 cup sugar
1 cup creamy peanut butter
1 tablespoon vanilla extract
Place heavy cream in a bowl. Beat until stiff peaks form. Place cream cheese and sugar into a seperate bowl and beat until smooth using a mixer. Scrape down the bowl and add peanut butter and vanilla. Beat until combined. Fold in 1/2 of whipped cream gently but thoroughly. Then fold in the remaining whipped cream until completely combined. Spoon filling into frozen crust. Spread evenly. Cover and refrigerate for 2 hours.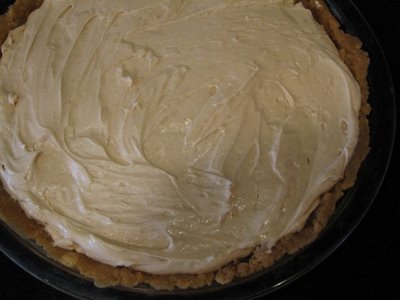 Chocolate Cream Topping
3/4 cups chocolate chips
2 tablespoons heavy cream
Melt chocolate and cream in microwave. Stirring every 30 seconds until melted. Drizzle over pie. Chill for 2 more hours and serve.
For more Finer Things In Life see
Finer Things Friday
.