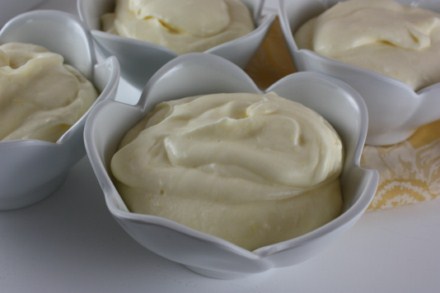 I love anything lemon, from lemon bars and lemon pie to lemon curd,  I love them all.
So, when I saw a recipe in Martha Stewart's Dinner at Home
(which is a great cookbook) for lemon mousse, I knew that I had to try it.
I marked this recipe months ago, but just recently took the time to make it. This was so good and I will admit that I ate way too much of it. It is a perfect summer dessert.
If you love lemon like I do, you should give this one a try.
Lemon Mousse
4 large eggs
2/3 cup of sugar
2/3 cup fresh lemon juice (from 2 to 3 lemons)
1 cup heavy cream, well chilled
Mix together eggs, sugar, and lemon juice in a saucepan.
Cook on medium-low, stirring constantly, until slightly thickened. This will take about 2 minutes.
Turn up heat to medium and continue to cook, stirring constantly, until mixture is thick enough to coat the back of the spoon. This will take about five minutes.
Cover with plastic wrap, pressing it onto the surface of the mixture ( this will prevent a film/skin from forming) refrigerate until well chilled, about 1 hour.
Whip cream until soft peaks form.
Gently fold cream into lemon mixture.
Cover tightly with a plastic wrap, and refrigerate at least 30 minutes before spooning into dessert cups.
Enjoy!
This post linked to
Foodie Friday
and
Tempt My Tummy Tuesday
.