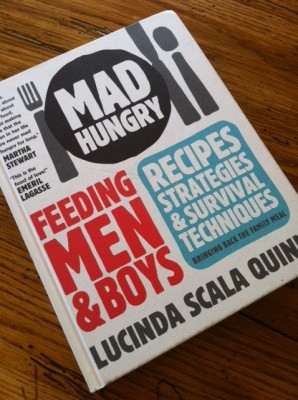 The first recipe for my new weekly series Cooking Through My Collection comes from the book Mad Hungry
. I actually featured this cookbook shortly after I first started sharing recipes from my collection, but I love this cookbook so much I knew I wanted to feature it again now that my series is weekly.
If you are not familiar with the book Mad Hungry
it is written by Lucinda Scala Quinn, who is the Executive Director of Food and Entertaining at Martha Stewart Living.
Now, some of you may be thinking that if she works for Martha Stewart, the cookbook must be on the gourmet and fancy side, but that is why I love this cookbook, it is not gourmet at all.
Lucinda Scala Quinn may work for Martha Stewart, but she is also a busy mom to three boys. She is busy like most of us. She knows that it is often a struggle to get a dinner on the table that your whole family will love. So overall this book has pretty basic recipes that call of pretty basic ingredients.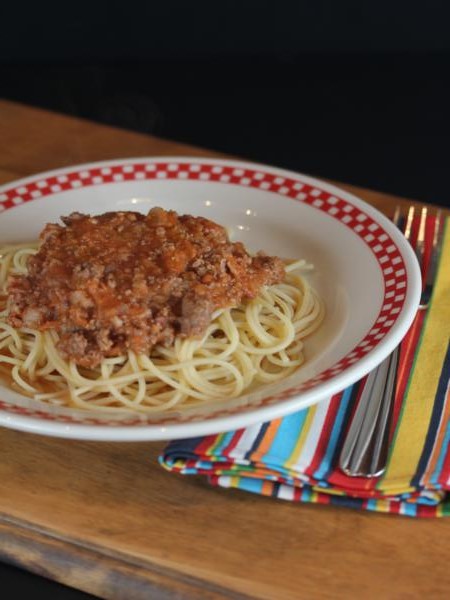 The recipe I am sharing from the book today is for Spaghetti Bolognese. I have made spaghetti bolognese before and my family really enjoys it. That is except me. I like it ok, but not a lot. I like red sauce, and I like white sauce, but when they are combined together, like they kind of are in a bolognese sauce, it is not my favorite.
So, now you are probably wondering why I am sharing the recipe. It is because my family really enjoyed it, so it is a good recipe and well worth sharing. Often times traditional bolognese cooks for hours, but this version is quick to make, yet still has the great flavor of bolognese. One other nice thing about this is that the leftover sauce freezes really well.
My goal for this series is to follow the recipe exactly and I am really going to try to do that. For this one though I did change two things slightly. The recipe calls for pencetta and I forgot to buy it the week I had planned to make this. I have a freezer full of pork, so I just used bacon.
Yes, I know bacon and pancetta are not the same, but they are close enough and it worked fine in this recipe. I do think pancetta would give it even more of a traditional flavor.
I also left out the celery the recipe called for. Celery is one of those foods that I really do not like. I am sure it would be really good in this if I liked celery, so I made sure to include it in the recipe below.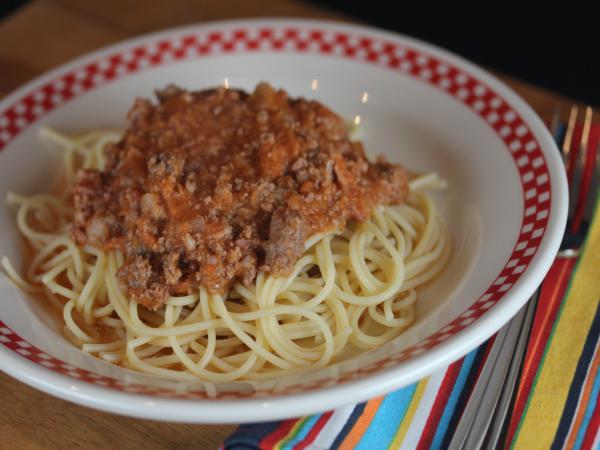 Yield: 8 servings
Mad Hungry's Spaghetti Bolognese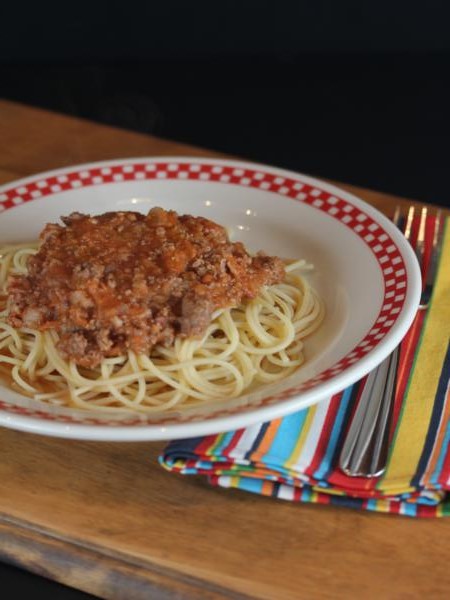 Mad Hungry's Spaghetti Bolognese sauce is an easy and delicious pasta dinner!
Ingredients
1 tablespoon extra virgin olive oil
1/2 cup finely diced onion
1 carrot, peeled and finely diced
2 celery stalks, finely diced
4 ounces pancetta or bacon, finely diced
1 lb ground beef or a combination of ground beef and ground pork ( I used a combination)
salt
1/2 cup red or white wine ( I used red)
1-28 ounce can tomatoes, put in a blender and use the pulse a few times to chop slightly
1/2 cup milk or cream
ground black pepper
1/4 teaspoon crushed red pepper flakes
1 pound spaghetti
1 1/2 tablespoons butter
1/2 cup grated Parmesan cheese
Instructions
Heat oil in pan with onion, carrot, and celery. Saute until lightly caramelized.
Add pancetta (or bacon if using) and ground meat. Cook until meat is done and browned. This will take 10-12 minutes. Drain off any fat.
Add salt.
Pour wine into beef mixture deglazing the pan. Cook for about 2 minutes or until wine is almost evaporated.
Add tomatoes, cream, and peppers.
Simmer for 30-40 minutes or until sauce has thickened.
While sauce is simmering cook spaghetti according to directions on the package.
Stir butter into the sauce.
Serve sauce over noodles and top with parmesan cheese.
Nutrition Information:
Yield:
8
Serving Size:
1
Amount Per Serving:
Calories:

523
Total Fat:

31g
Saturated Fat:

12g
Trans Fat:

1g
Unsaturated Fat:

16g
Cholesterol:

104mg
Sodium:

490mg
Carbohydrates:

25g
Fiber:

3g
Sugar:

4g
Protein:

31g
Nutritional values are approximate and aren't always accurate.