It is no secret how much I love America's Test Kitchen and their cookbooks. I really like how they explain the science behind food.
Their new cook book The Complete America's Test Kitchen TV Show Cookbook is fast becoming my new favorite cookbook.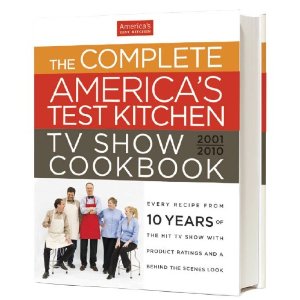 I checked this cookbook out from the library a few months ago and immediately loved it. I started looking through it and within no time I had over twenty recipes that I wanted to try.
I ended up buying this book because I knew I would use it all the time and that it would be a great book to add to my collection
I love watching the America's Test Kitchen on TV, but I do not like the fact that they do not share the recipes with you. They require you to pay to subscribe to their site if you want access to the recipes from the show. This always bothered me and I rarely watch the show because of it.
This cookbook gives me the recipes from the shows that I have always wanted to try. From their baked ziti, hungarian stew, and chicken kiev to their raspberry squares, key lime pie, and chocolate bundt cake, this book includes recipes from the last 10 years.
I have already tried and enjoyed several of the recipes in this book, including the key lime pie, which I will post soon.
Not only do they include the recipes in this book, they have a whole shopping guide section that is full of product reviews.
Now I will admit is not a cheap cookbook. This is a bit of an investment, however this book has 646 pages. It is a large cookbook full of information and recipes.
I think The Complete America's Test Kitchen TV Show Cookbook
is well worth the investment.
Has anyone else seen this cookbook? What did you think?