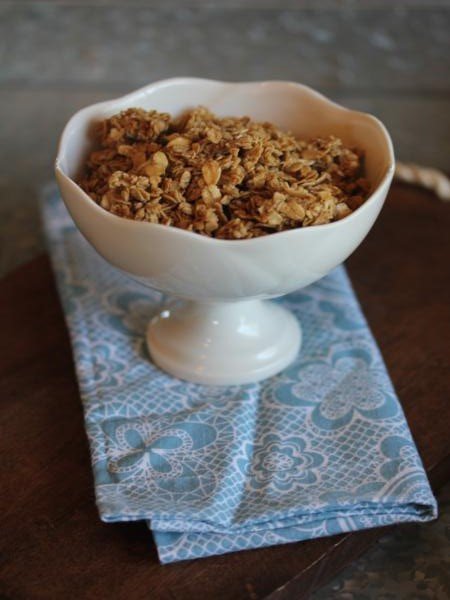 Homemade granola is so easy to make and is so much cheaper and healthier than what you can buy. At our house we make large batches of homemade granola several times a month. We love it and eat it for breakfast once or twice a week.
Homemade granola also makes a fun and delicious food gift. If you make up a batch of this maple cinnamon granola, along with some chocolate granola, coconut granola, and peanut butter granola, and put them in some cute holiday bags or tins, you would have an inexpensive, yet fun food gift. I think anyone would love homemade granola for a gift.
We love the flavor of maple and cinnamon in this homemade granola. We can't have nuts in our house, but if you can have nuts I think some pecans or walnuts would be delicious added to this.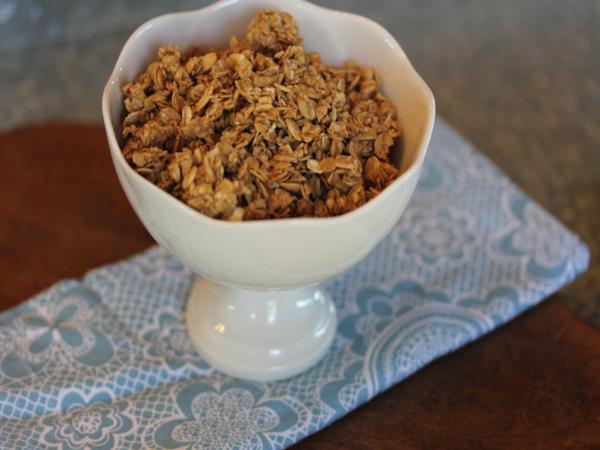 Maple Cinnamon Homemade Granola
1/3 cup brown sugar
1/3 cup oil
2/3 cup real maple syrup
2 teaspoons vanilla
3 cups old fashion oats (I used Gluten Free)
4 cups quick oats (I used Gluten Free)
1 cup coconut, nuts, etc. (optional)
1 1/2 teaspoon cinnamon
In a small saucepan mix together brown sugar, oil, and maple syrup. Bring to a boil. Remove from heat and add vanilla and cinnamon.
In a larger bowl combine oats, sugar/syrup mixture, coconut, nut, etc..
Stir in till oats are well coated and everything is combined.
Spread into 2- 9×13 pans.
Bake at 350 degrees for 10 minutes.
Stir, turn off oven, put the granola back into the oven for 3-4 hours. The heat left in the oven will finish cooking this.
Remove from oven after 3-4 hours. Let cool and store in a air tight container.