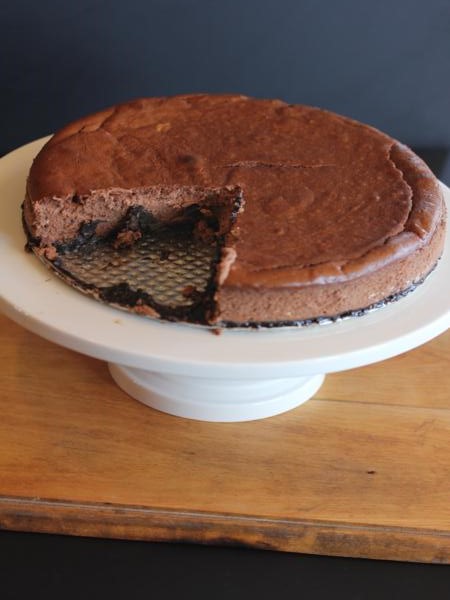 I love making cheesecakes around the holidays, so when I saw a recipe for a chocolate cheesecake in the Martha Stewart Cakes cookbook, I knew I had to give it a try gluten free.
I knew this recipe would be easy to adapt to gluten free because as long as the chocolate was gluten free, the filling would be gluten free. That left only the crust to adapt.
In the past I have had issues with gluten free crusts on my cheesecake. They texture is just not the same, so I have gone to making my cheesecakes crustless and my family does not mind at all. In fact, several in my family prefer the crustless version. So, I usually stick to crustless cheesecakes.
For this recipe though I decided to adapt the crust and use gluten free cookies instead of the regular cookies the recipe called for. Well, I should have gone with crustless for this.
The taste and texture were just off and I ended up scraping the cheesecake off the crust when I served it. The crust was really not good at all. Which is not the recipe's fault, it just didn't work with gluten free cookies.
Now for the filling. I debated on whether or not to share this recipe. I made this as one of our Thanksgiving desserts last week and it was good. Everyone ate it and enjoyed it, but it was not the best cheesecake I have ever made. And although it was good, it is not a recipe I would make again. So, it was really not a recipe I wanted to share.
The chocolate cheesecake I keep going back to is my crustless chocolate cheesecake. If you want a rich and delicious cheesecake that is gluten free, I encourage you to make it for the holidays. It is my all time favorite chocolate cheesecake recipe and is much better than the one I tried from the Martha Cookbook.
If you have made a gluten free cheesecake I would love to hear what you use for the crust. Have you found a gluten free crust that works well for cheesecake or do you just do crustless ones like I do?