Peanut butter and chocolate are combined into a delicious brownie with Martha Stewart's Peanut Butter Brownies Recipe.
This recipe for Martha Stewart's Peanut Butter Brownies will make our list of favorite recipes from my Year of Martha Stewart Cooking Challenge. I am sharing the regular version and how I made them gluten free.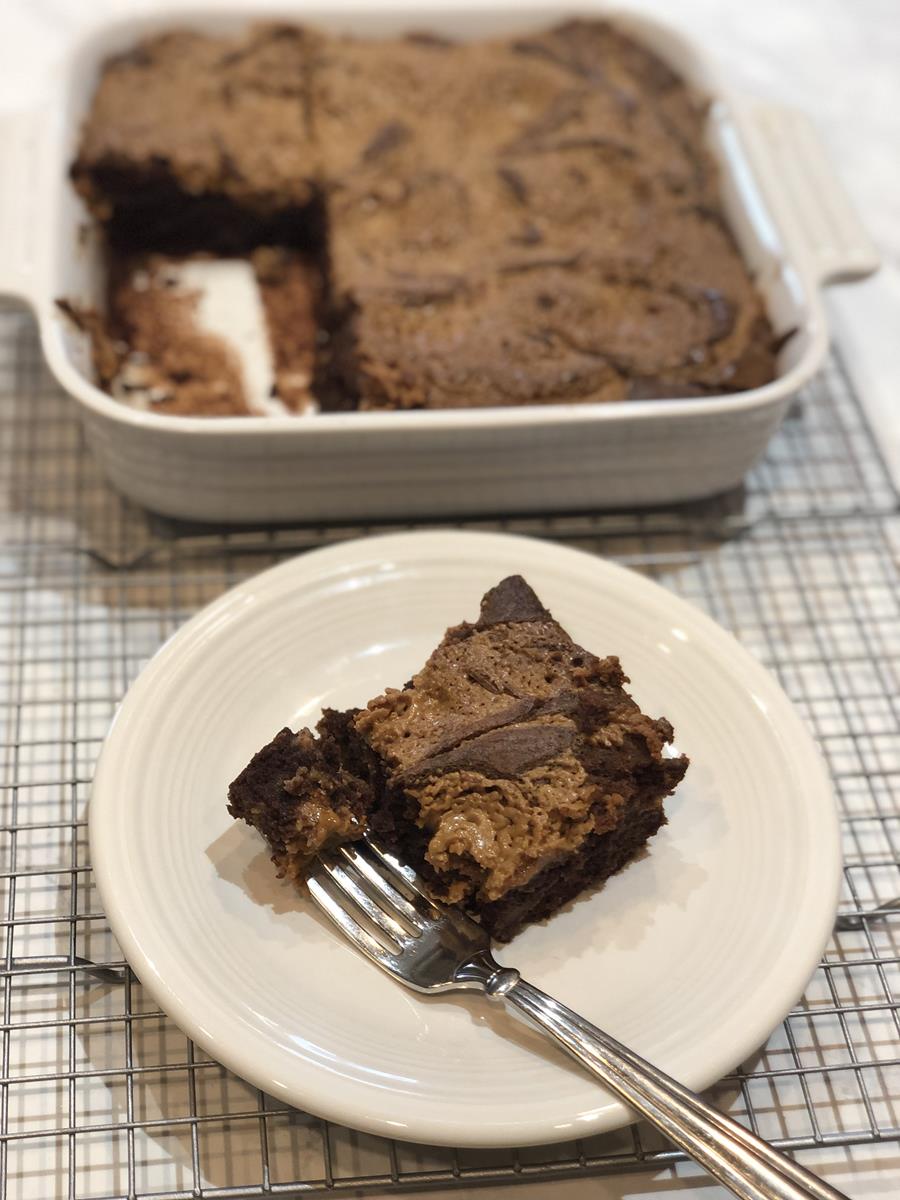 We have reached a strange stage at our house. My peanut allergy daughter is all grown up. And we are learning to navigate keeping our kitchen safe when she eats with us and how to also eat a few nuts and peanuts when she isn't here.
It is not an easy line to walk. As I get more experienced at it, I might share some tips and ideas. If you have walked this road I would love to hear how you have navigated it.
She was recently gone on a trip and I knew that she wouldn't not be eating with us for over a week. I took the opportunity to buy a jar of peanut butter and I asked my son what I should make. He said peanut butter brownies.
I instantly knew that I wanted to try Martha Stewart's Peanut Butter Brownies. I made a batch on a Sunday afternoon and they made the perfect weekend treat.
And then I cleaned the kitchen from top to bottom.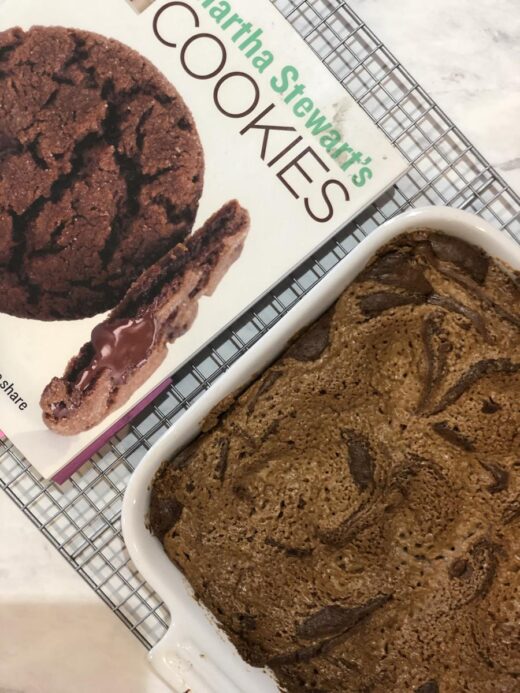 Martha Stewart's Cookies Cookbook
Martha Stewart's Peanut Butter Brownie recipe comes from her Martha Stewart Cookies cookbook. It is one of my favorite Martha Stewart cookbooks. There are so many great cookie recipes, along with brownie and cookie bar recipes, in this cookbook.
Martha Stewart's Cookies cookbook is an older cookbook. It was published in 2008, but it is still a great cookbook.
I bought this cookbook shortly after it was published which was before I started eating gluten free. I have made so many recipes from this cookbook over the years and have had great success at adapting them to gluten free.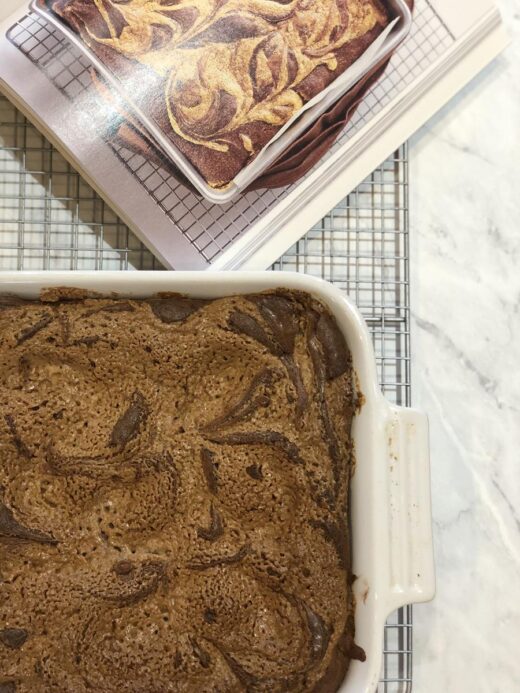 Peanut Butter Brownies
My peanut butter brownies are not nearly as pretty as Martha's but they were so good! If you love the combination of peanut butter and chocolate you need to make these.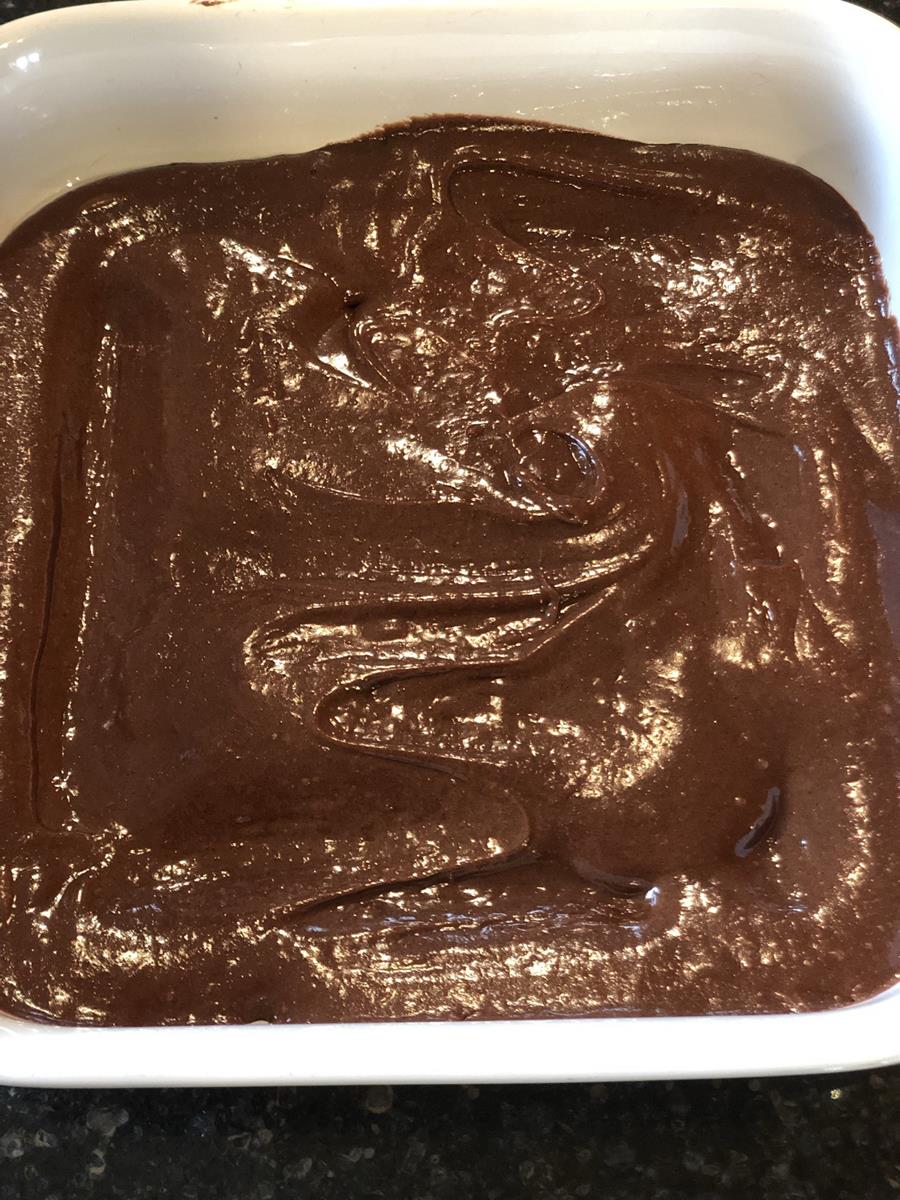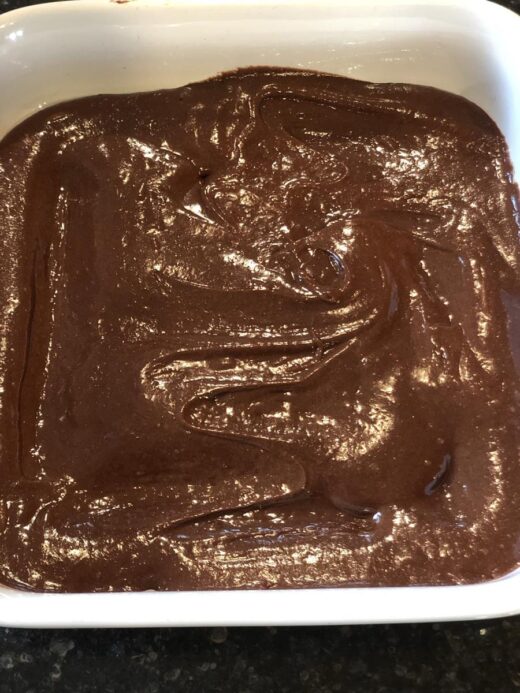 What makes these brownies so good is the layers of brownie and peanut butter filling.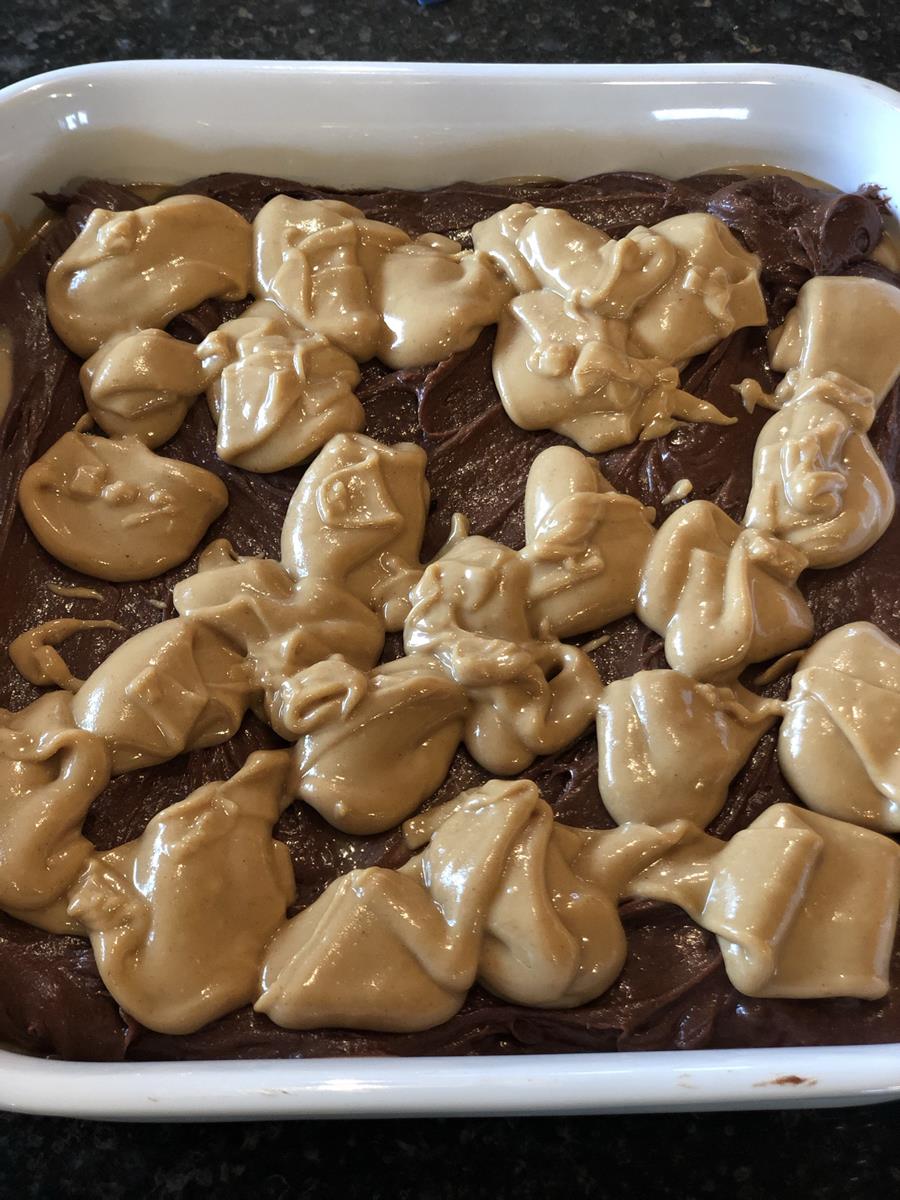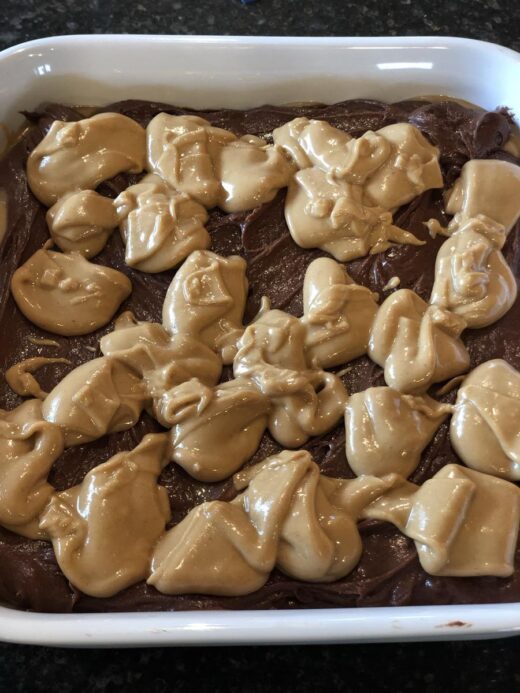 The bottom is a brownie layer. That you drop some of the peanut butter filling on top.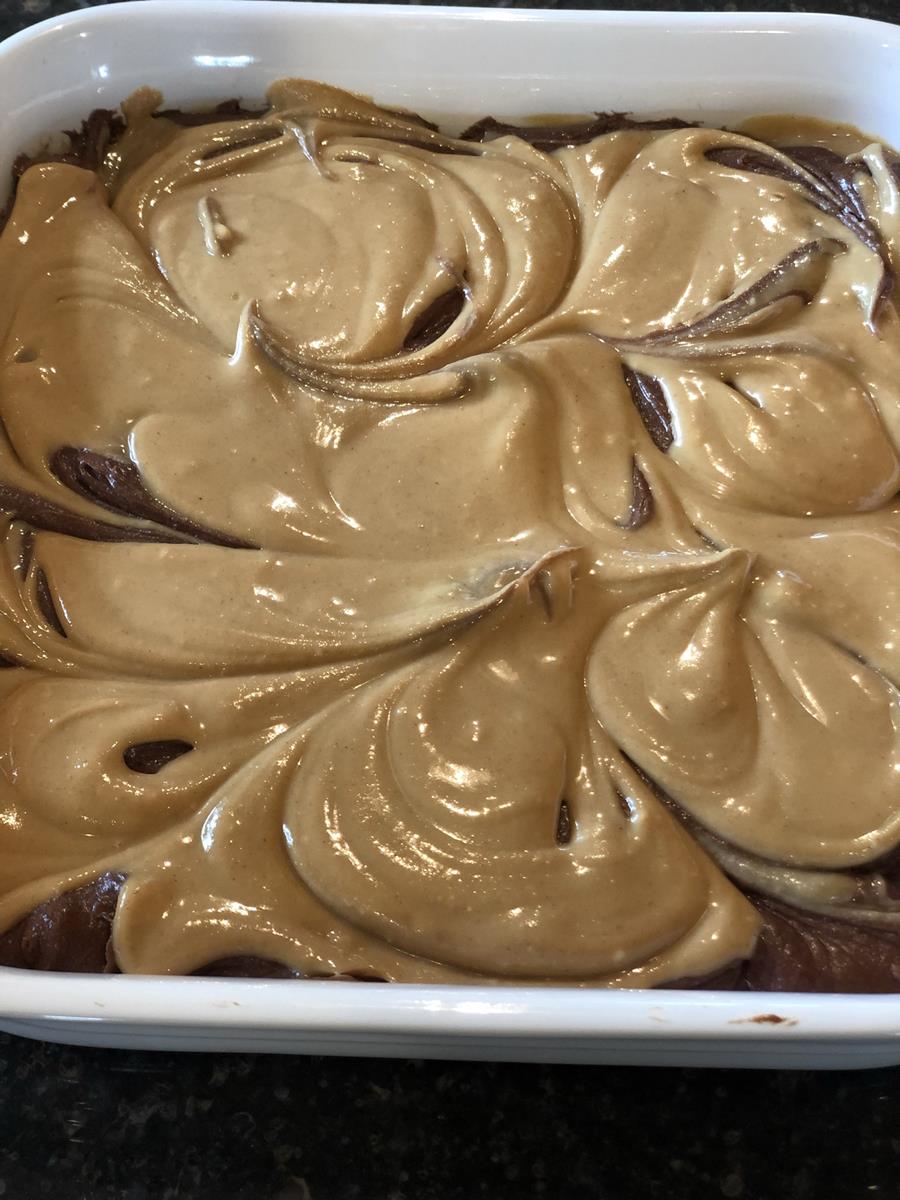 Then more brownie batter. More peanut butter filling and you swirl it around.
Once you bake it, it gives you a delicious swirled chocolate peanut butter brownie.
Can I make peanut butter brownies gluten free?
Yes, Martha Stewart's Peanut Butter Brownies worked great gluten free. I used Bob's Red Mill 1 to 1 Gluten Free Flour blend and they were delicious. My husband and son said that they could not tell that they were gluten free.
Other gluten free blends may work, but your results may vary. I have only tested them with Bob's Red Mill 1 to 1 Blend.
What I Changed
The recipe calls for 2 ounces of unsweetened chocolate. I didn't have unsweetened chocolate so I used dark chocolate. It worked fine.
The recipe calls for lining the pan with parchment paper when baking. I didn't care about lifting the brownies out of the pan for a prettier brownie when cut, so I skipped that step and just baked them in greased pan.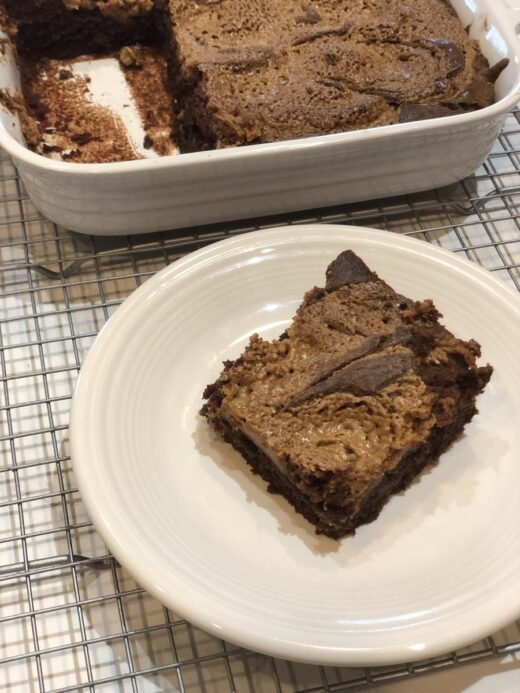 Yield: 12 brownies
Martha Stewart's Peanut Butter Brownies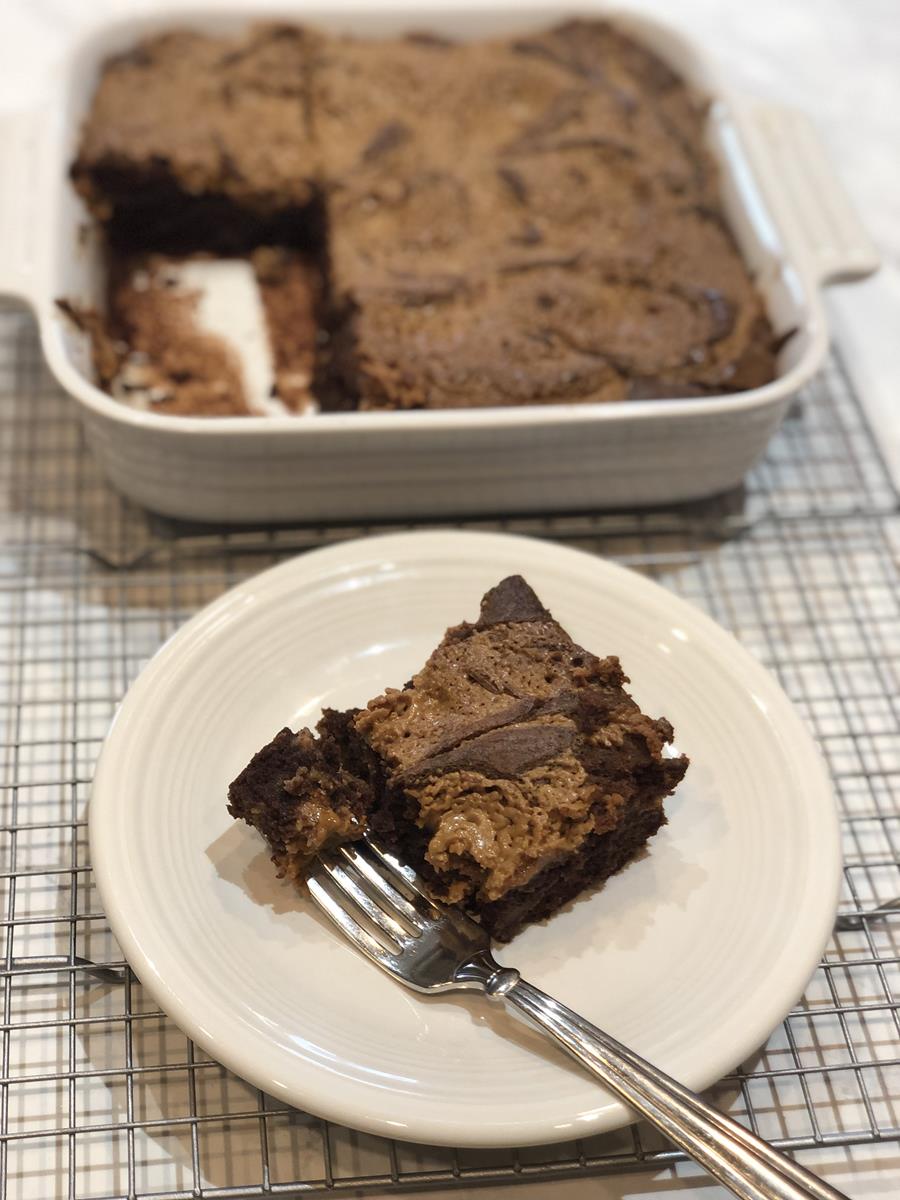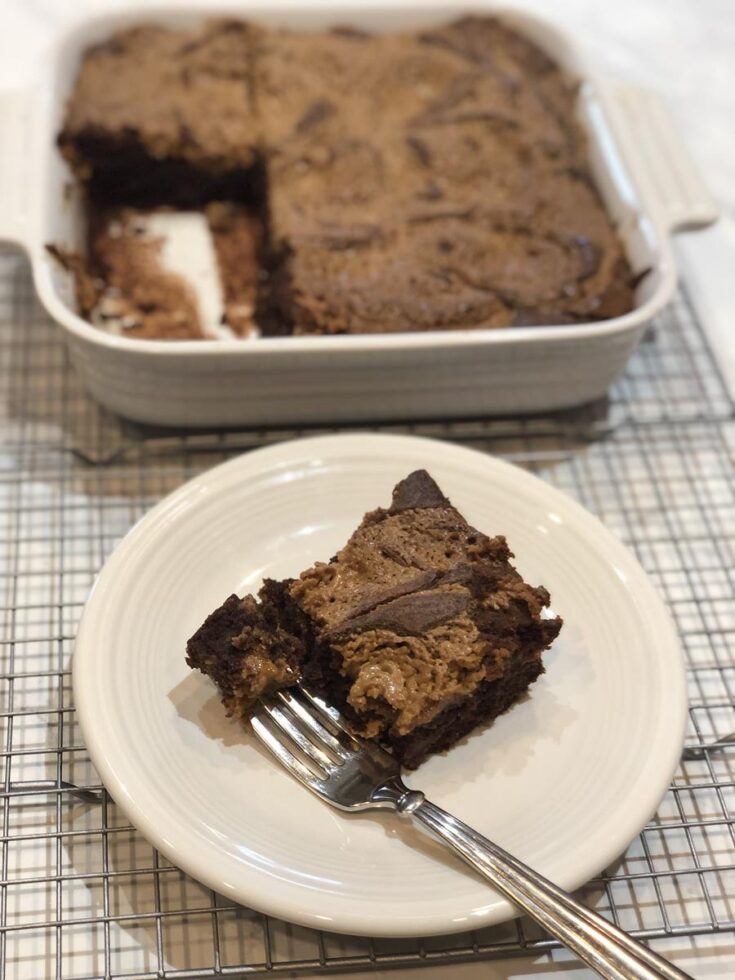 The perfect combination of peanut butter and chocolate.
Ingredients
Brownie Batter
1/2 cup butter
2 ounces unsweetened or dark chocolate coarsely chopped
4 ounces semisweet chocolate, coarsely chopped, ( or use chocolate chips)
2/3 cup all purpose flour or Bob's Red Mill 1 to 1 Gluten Free Blend for gf version
1/2 teaspoon baking powder
1/4 teaspoon salt
3/4 cup sugar
3 eggs
2 teaspoons vanilla
Peanut Butter Filling
4 tablespoons butter, melted
1/2 cup powdered sugar
3/4 cup creamy peanut butter
1/4 teaspoon salt
1/2 teaspoon vanilla
Instructions
Preheat oven to 325.
Line an 8x8 or 9x9 pan with parchment paper or grease pan well. Set aside. The parchment paper allows you to easily remove the brownies from the pan, but greasing the pan also works fine.
For the batter melt butter and chocolate in a bowl over a pan of simmering water or melt in the microwave for 30 seconds at 50% power, stir, and repeat until chocolate and butter are melted. Set aside to cool slightly.
In a bowl whisk together flour, baking powder, and salt. Set aside.
Whisk sugar into the chocolate mixture.
Add eggs and whisk until smooth.
Stir in vanilla.
Add flour mixture and whisk or stir until well combined. Set aside.
For the peanut butter filling stir together melted butter, powdered sugar, peanut butter, salt, and vanilla until smooth.
Spread about 1/3 of the brownie batter into the prepared pan.
Drop dollops of peanut butter filling onto brownie batter spacing about 1 inch apart using about 1/2 the filling total.
Carefully drizzle/pour remaining brownie batter on top.
Drop dollops of remaining peanut butter filling on top.
With a knife gently swirl peanut butter filling into the batter by running the knife through the layers.
Bake for 40-45 minutes or until a toothpick comes out with a few crumbs but not wet batter. You want these done, but you do not want to overbake them.
Let cooler at least 15 minutes before cutting.
Nutrition Information:
Yield:
12
Serving Size:
1
Amount Per Serving:
Calories:

448
Total Fat:

33g
Saturated Fat:

17g
Trans Fat:

1g
Unsaturated Fat:

13g
Cholesterol:

98mg
Sodium:

358mg
Carbohydrates:

35g
Fiber:

2g
Sugar:

26g
Protein:

7g
Nutritional values are approximate and aren't always accurate.