This week for my Martha Stewart Cooking Challenge we are making Martha Stewart's Slow Cooker Scalloped Potatoes.
Want to know something about me? I love potatoes. I love them baked, fried, mashed, roasted, scalloped, and more.
I love potatoes just about anyone way you serve them.
I think this probably has to do with me growing up in the Pacific Northwest. Did you know that Idaho and Washington grow the most potatoes of any of the states?
I grew up in Oregon, which borders both those states. That means I pretty much grew up in or at least near potato country. And since I grew up near potato country I grew up eating a lot of potatoes.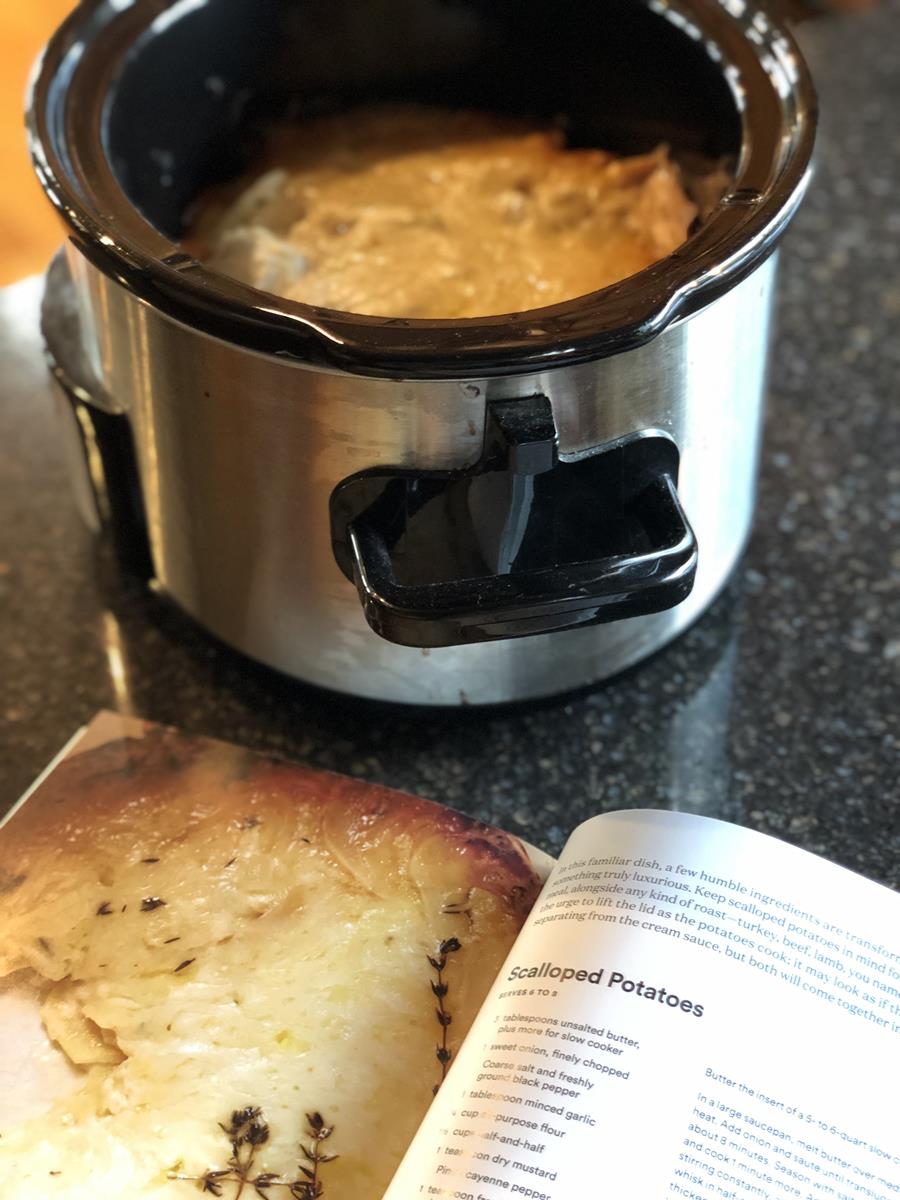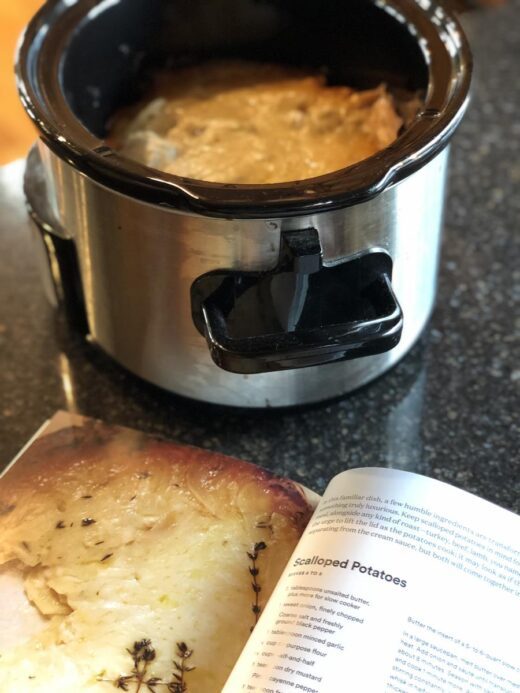 Martha Stewart's Scalloped Potatoes
Not everyone in my family loves scalloped potatoes as much as I do, so I don't make them often.
When I saw Martha Stewart's Slow Cooker Scalloped Potato recipe in her Slow Cooker cookbook though I knew that I had to try them.
One of the ingredients that caught my attention in the recipe was Gruyere cheese. The Gruyere cheese is one of the reasons we love Martha Stewart's Slow Cooker Macaroni and Cheese, so I was excited to try it in scalloped potatoes.
What I Changed
I pretty much made this recipe as directed. But I did not have fresh thyme so I left that out.
I also had trouble getting my potatoes paper-thin as Martha says to do. I am not the most patient person when it comes to slicing potatoes. I should have used my food processor, but I didn't.
What I Will Change Next Time
Overall I loved these potatoes, but I will make one change next time I make them.
Martha Stewart's recipe for Slow Cooker Scalloped potatoes calls for one kind of cheese. It is Gruyere cheese.
I thought it gave it great flavor, but it was a little strong. I also thought that it needed a little more cheese flavor.
Next time I make them I will reduce the Gruyere cheese and add some sharp cheddar or white cheddar. I think another flavor of cheese will add an extra depth of flavor that will make them even better.
My potatoes also got done quite a bit before the recommended cooking time in the recipe. I think this will just vary depending on your slow cooker though.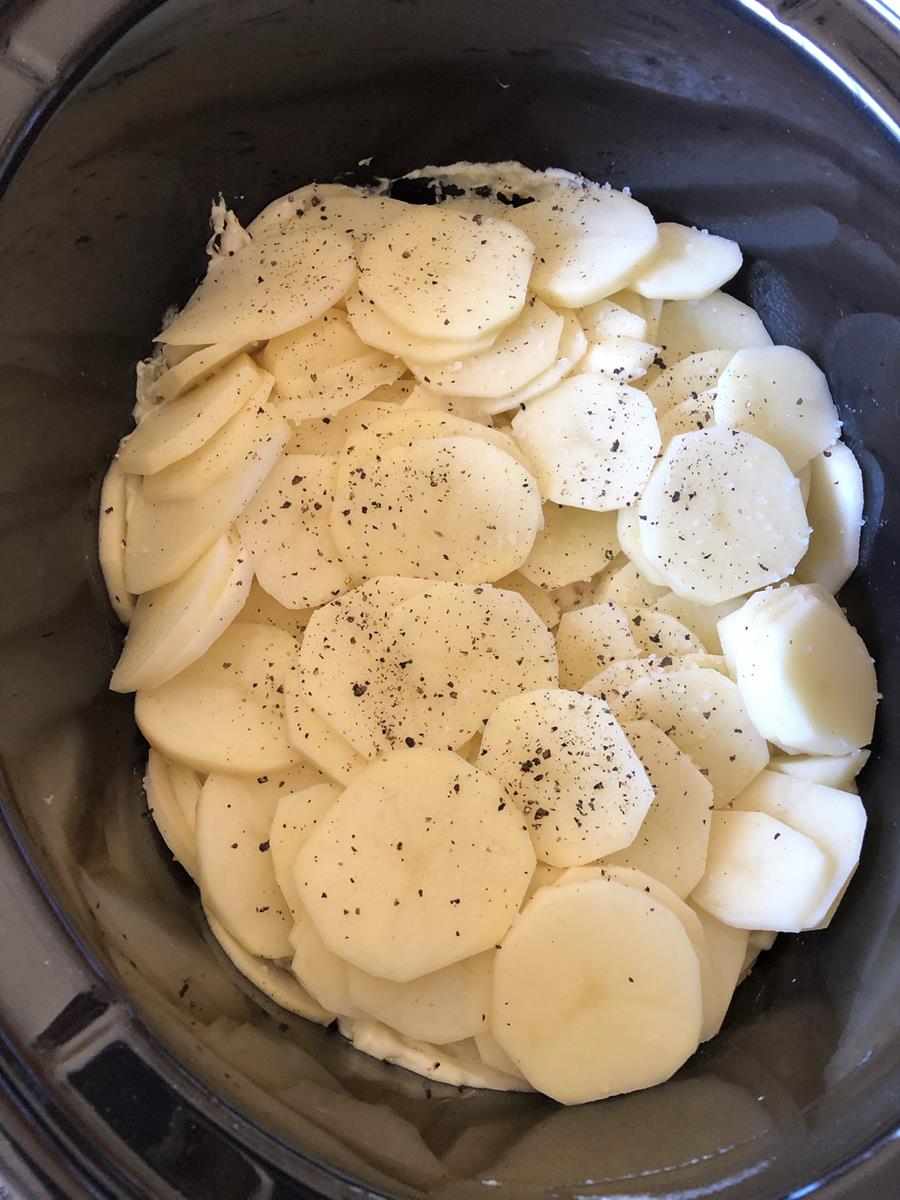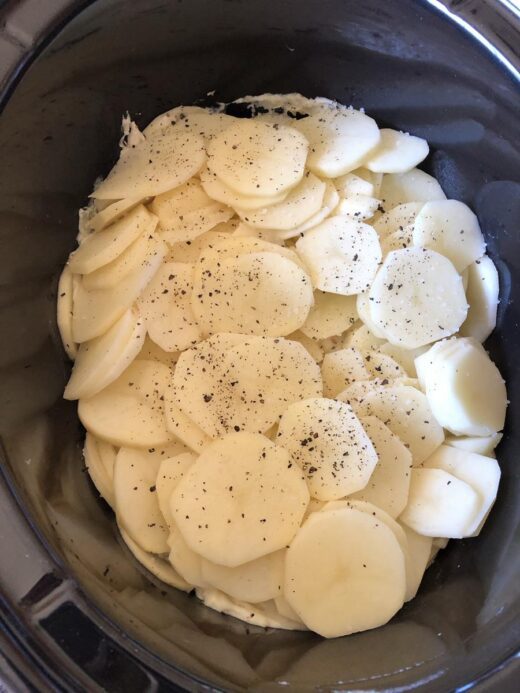 Ingredients
butter
onion
salt
pepper
garlic
flour or Gluten Free Flour Blend like Bob's Red Mill 1 to 1 Gluten Free Blend
half and half
ground mustard – like the dry mustard
cayenne or red pepper
Gruyere cheese
sharp cheddar or whit cheddar ( for extra cheese flavor )
Yukon gold potatoes
Yield: 8 servings
Martha Stewart's Slow Cooker Scalloped Potatoes
Martha Stewart's Slow Cooker Scalloped potatoes are and easy and delicious slow cooked side dish.
Total Time
6 hours
15 minutes
Ingredients
3 tablespoons butter
1 onion, chopped
salt
pepper
1 clove garlic, minced
1/4 cup all purpose flour or Gluten Free Flour Blend like Bob's Red Mill 1 to 1 Gluten Free Blend
1 1/2 cups half and half
1 teaspoon ground mustard - like the dry mustard
pinch of cayenne or red pepper
4 ounces of Gruyere cheese grated
4 ounces sharp cheddar or white cheddar, grated
8 Yukon gold potatoes, peeled and sliced thinly
Instructions
Butter or grease the inside of a 5 or 6 qt slow cooker.
In a sauce pan melt butter.
Add onion and saute over medium heat until onion is tender.
Season with a little salt.
Add garlic and cook 1 minute.
Add flour and cook stirring constantly for 1 to 2 minutes.
Gradually whisk in half and half.
Stir or whisk until sauce comes to a boil and thickens. This will take a few minutes.
Add ground mustard, about 1/2 teaspoon salt, 1/4 teaspoon black pepper, and red pepper.
Add 1 cup cheese and whisk until melted and combined.
Season potatoes with a little salt and pepper.
Layer half of the potatoes in the bottom of the slow cooker.
Pour half of the cheese sauce over the potatoes.
Place remaining potatoes on top of cheese sauce.
Pour remaining cheese sauce on top.
Sprinkle with remaining cheese.
Cook on low for 5-6 hours or on high for 3 - 3 1/2 hours. Time may vary depending on the slow cooker.
Remove lid and let rest for about 15 minutes before serving.
Notes
The original recipe called for 8 ounces of Gruyere cheese. We thought it needed more cheese flavor so we use 4 ounces Gruyere and 4 ounces of white or sharp cheddar. You can do either.
Nutrition Information:
Yield:
8
Serving Size:
1
Amount Per Serving:
Calories:

437
Total Fat:

20g
Saturated Fat:

12g
Trans Fat:

1g
Unsaturated Fat:

7g
Cholesterol:

60mg
Sodium:

365mg
Carbohydrates:

49g
Fiber:

4g
Sugar:

5g
Protein:

16g
Nutritional values are approximate and aren't always accurate.
More Recipes from my Martha Stewart Challenge