Martha's Chocolate Pudding Cake is an old-fashioned dessert that your family is sure to love!
I first posted about Martha Stewart's Chocolate Pudding Cake back in July of 2008.
This recipe is a family favorite that has been buried in my site archives for years. I thought it was time to bring it back and feature it for this week's recipe for my year of Martha Stewart Cooking Challenge.
Is chocolate pudding cake and chocolate cobbler the same?
This recipe has many names. No matter what you call it, it is delicious!
I have heard this called chocolate pudding cake, chocolate cobbler, fudge cake, brownie pudding cake, and many other things. They all produce a cake with a pudding layer that is rich and delicious.
Pudding cakes are old-fashioned recipes that have been around for years.
I love this recipe because it makes a dessert that is part cake and part pudding. It is pretty easy to put together and contains ingredients that I usually have in my pantry.
This recipe came from Martha Stewart years ago. I saw it on her TV show, back in the early days of her show. It was probably around 2003 or 2004. I have never seen this recipe in one of her cookbooks or magazine.
I tried Martha's Chocolate Pudding Cake shortly after I saw her making it on T.V. and I have been making it ever since.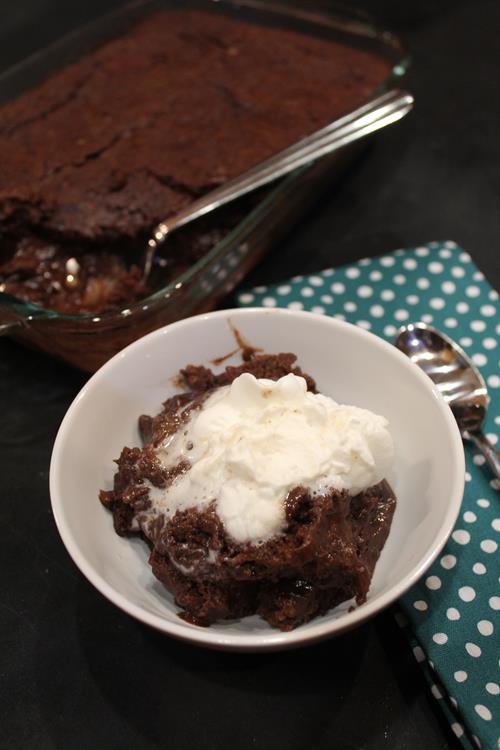 I have used the recipe so much that I laminated it so that nothing would happen to it. I lost it one time and I was so sad. I tore my kitchen, recipe box, and a stack of recipes apart. It was nowhere to be found.
I went to the Martha Stewart website to print off the recipe again. I could not find it on her site either. They no longer have it posted. I was so disappointed.
Thankfully I eventually found the recipe. I had put it in a pile where it did not belong. I didn't want to lose the recipe again, so I knew I needed to post it here. That way I will never lose it again.
This recipe is easy, but be sure to read this recipe all the way through before you start it. It is easy but it does have a few steps.
Can I make chocolate pudding cake or chocolate cobbler gluten-free?
Yes, you can. If you are gluten-free be sure to check out my gluten-free chocolate pudding cake recipe. It is based on this recipe but is gluten-free. It is so good no one will know it is gluten-free!
You can also use a gluten-free blend like Bob's Red Mill 1 to 1 blend, but I prefer the individual gluten-free flours for this one.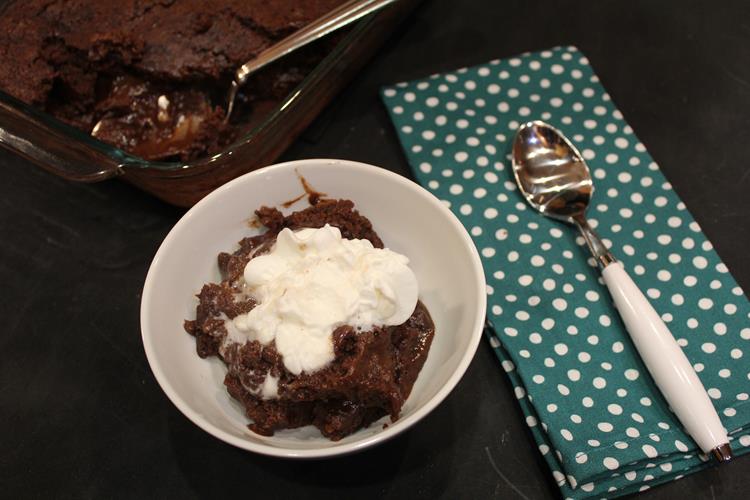 Yield: 8 servings
Martha's Chocolate Pudding Cake
Martha Stewarts Chocolate Pudding Cake is an easy old fashioned dessert using ingredients that you probably have on hand
Ingredients
1 Cup Flour ( or Bob's Red Mill Gluten Free Flour Blend for gf version)
1/3 cup cocoa
1/2 teaspoon baking powder
3/4 teaspoon salt
2 eggs
1 cup sugar
3/4 cup milk
4 tablespoons butter, melted and cooled
2 teaspoons vanilla
Pudding layer that you pour on top
1/3 cup cocoa
1 cup brown sugar
1 1/2 cups boiling water
Instructions
Preheat oven to 350 degrees.
Stir together flour, 1/3 cup cocoa, baking powder, and salt. Set aside.
In a medium bowl whisk together eggs, regular sugar, milk, butter, and vanilla.
Add to flour mixture and stir until combined.
Spread evenly into a greased 11x7 Pyrex or similar-sized dish. Set aside.
In a medium bowl whisk together the remaining 1/3 cup cocoa, brown sugar, and boiling water. Carefully pour evenly over the batter.
Bake for 30-35 minutes. It is a little hard to tell when this is done. You want the top of it to look cake-like but the bottom of it will be like pudding. 30 minutes it what it takes in my oven.
This is best when it is warm served with vanilla ice cream or whipped cream. But it is really good no matter what. The combination of cake and warm pudding is just too good.
Nutrition Information:
Yield:
8
Serving Size:
1
Amount Per Serving:
Calories:

351
Total Fat:

8g
Saturated Fat:

4g
Trans Fat:

0g
Unsaturated Fat:

3g
Cholesterol:

64mg
Sodium:

313mg
Carbohydrates:

65g
Fiber:

2g
Sugar:

47g
Protein:

5g
Originally posted July 2008. Updated March 2021.