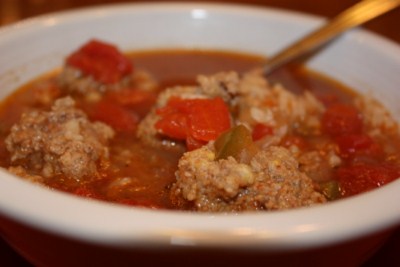 I made this soup several years ago, we loved it, and I forgot about it. It got buried at the bottom of a pile of recipes, and I just recently found it again. I knew I needed to make it again. This time I tweaked a few things and made it even better.
My husband loves this soup. It is a bit unique, because it is a meatball rice soup, yet it has a Mexican  flavor to it. We like this soup because it is so different from other meatball soups.
My husband likes soups, but he prefers a heartier, more filling soup, and this recipe is just that. This is a  filling and hearty soup.
This recipe also makes quite a bit. It does thicken up the next day, because the rice absorbs some of the liquid, but it is still very good. We can easily get two meals out of this. We eat it for dinner and then lunch the next day.
This soup has quite a few ingredients, but it is not a hard soup to make.

Mexican Meatball Soup
1 lb lean ground beef
1 lb ground sausage
1 egg
½ teaspoon salt
¼ teaspoon pepper
¼ teaspoon garlic powder
½ cup cornmeal
6 – 14 ounce cans of beef broth (or use homemade broth)
1 – 8 ounce jar of salsa
1 onion, chopped
2- 14 ½ ounce cans of diced tomatoes
½ teaspoon dried basil
½ teaspoon dried oregano
½ cup white rice, uncooked
In a large pan mix together, beef broth, salsa, onion, tomatoes, basil, and oregano. Bring to a boil and then turn down to low and simmer 20 minutes.
In a separate bowl, mix together, ground beef, sausage, egg, salt, pepper, garlic powder, and cornmeal. Mix well and form into tiny meatballs. Add rice and meatballs to soup. I use my small cookie scoop like this to make them.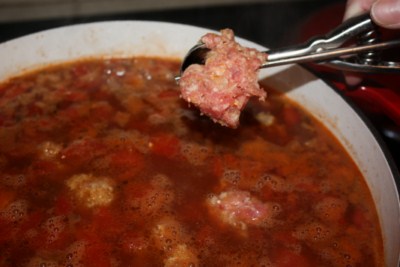 Do not stir this soup for 20 minutes after adding meatballs or they will fall apart. Stir occasionally after the first 20 minutes.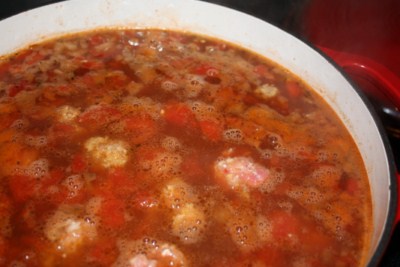 After adding meatballs and rice, cook for about 1 hr or until meatballs and rice are done.
Serve and enjoy!