Microwave Peach Cobbler is a classic peach cobbler recipe made quick and easy by cooking it in the microwave!
This microwave peach cobbler is perfect for those hot summer days when you need a dessert, but don't want to turn on your oven.
I will fully admit that in general I do not use my microwave a lot. We use it for reheating and that is about all.
Growing up we had a friend who used the microwave for all kinds of things. She would make full meals using nothing but her microwave.
We were always amazed by what she could cook in her microwave. I on the other hand have never done much in my microwave besides reheating food.
It is not that I am anti microwave, I just haven't taken the time or had the desire to learn how to do much cooking in it. My view on that might be changing though with this peach cobbler.
I recently had a bunch of fresh from the orchard peaches. I knew I wanted to use some in a dessert, but it was super hot here.
When the temperature rises to triple digits, or close to triple digits, the last thing I want to do is to use the oven.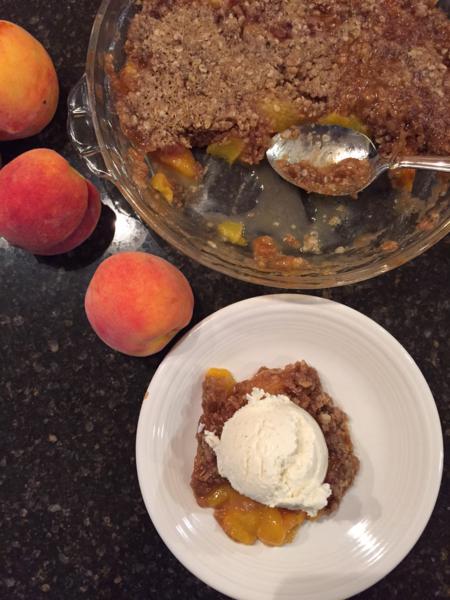 I was determined to make a peach dessert though and went looking for something I could make that did not use the oven. I kept seeing recipes for microwave apple crisps and cobblers. They all looked easy and delicious. I was pretty sure I could adapt the recipes for a peach cobbler and decided to give it a try.
What I came up with was delicious!
The topping it more like a crisp than a cobbler because the topping is not a batter like many cobblers have on them. It contains oatmeal more like a crisp would. So crisp might be a more accurate name for this. Whatever you call it, it is really good.
This recipe won't replace my regular peach cobbler. I still love the oven version, but for a quick and easy summer dessert that does not heat up the kitchen this is definitely a winner.
This would be delicious with my no churn peach ice cream!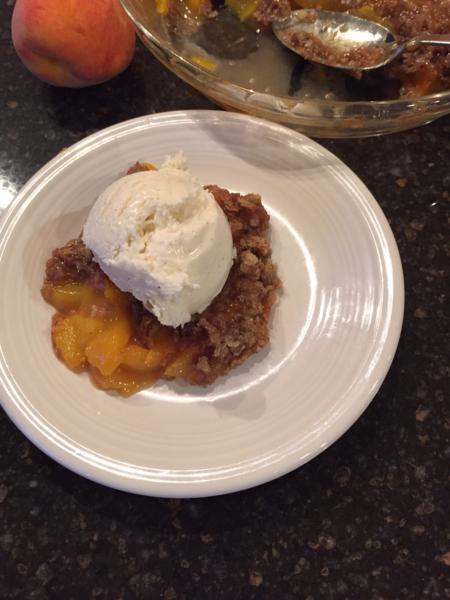 Yield: 6 servings
Microwave Peach Cobbler
This simple microwave peach cobbler is quick, easy, and delicious!
Ingredients
6 peaches, peeled and sliced
¾ cup brown sugar
½ cup quick oats ( I use gluten free quick oats)
½ cup flour ( I use a gluten free flour blend)
1 teaspoon cinnamon
½ cup butter, melted
Instructions
Place peaches in a deep dish pie plate that is microwave safe.
In a bowl combine brown sugar, oats, flour, and cinnamon. Mix in butter until well combined. Mixture will be crumbly.
Sprinkle over peaches.
Microwave on high for 15 minutes or until peaches are soft and cooked.
Serve warm with ice cream or whipped cream.
Originally posted August 2015. Updated July 2020.