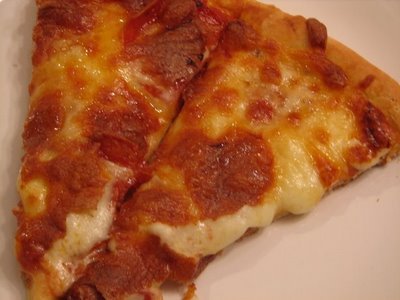 I had a comment left in my last post, about pizza sauce, asking what pizza crust I like. Well, this is a little harder. If you have read my blog you realize that I like variety and change in my cooking. This applies to my pizza crust as well. I am always looking for a better crust recipe.
I recently tried one my sister gave me that I hope to post on soon. It was good but I want to make it a few more times before I post about it. But I do have two recipes that I continually find myself going back to. They are my go to pizza crust recipes. So here they are:
The first one originally came from a Taste of Home cookbook. I changed it by adding some whole wheat but if you want just use all regular all purpose flour. That is what the original recipe called for. The rest is the same. I like this recipe because it is quick and easy. It gives you a thicker, more bread like crust.
My version:
https://www.lynnskitchenadventures.com/2008/03/whole-wheat-pizza-crust.html
Here is the original Taste of Home recipe.
https://www.tasteofhome.com/Recipes/Old-World-Pizza
This second one is becoming my favorite. It is an allrecipes recipe and is rated 4 1/2 stars by over 1,500 people. If you are not familiar with all recipes, that means it is rated really high. This crust gives you a thinner, crisper crust. This one takes a little more work to make, but is worth it.
https://allrecipes.com/Recipe/Jays-Signature-Pizza-Crust/Detail.aspx
If you are in a hurry and need pizza for a quick meal, try the first one. If you have time to make the second one I would recommend you try it. In the meantime, I will keep searching for the perfect pizza crust.