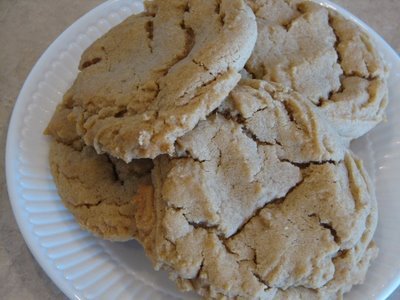 Today I thought I would post a few random thoughts and links. I hope you enjoy.
1. My husband is in the middle of trying to move his office to a new location. The last two weeks I have taken the construction workers a few things to eat. I have taken my chocolate chip cookies twice, peanut butter cookies once ( did not make them whole wheat I used all reg. flour), and brownies once. Construction workers can make cookies disappear in no time, but it does not seem to motivate them to work faster. 🙂
2. Mexican construction workers are especially surprised when you bring them cookies. They seemed to really appreciate the thought of someone taking time to do something for them.
3. My husband's 91 year old grandfather loves cookies. In fact the other day I took him some peanut butter cookies. He ate at least eight in one afternoon. I guess if you make it to 91 you should be allowed to eat whatever you want, whenever you want it.
4. A few years ago my kids were little. I was dealing with a baby, a two year old, and a four year old. Many days I felt like I was going crazy staying at home all the time. I longed for a change of scenery. I wanted out of the house. I was busy, but busy only at home. Now my kids are 6, 8, and 11 my days are busy, but in a different way. The last few weeks have involved piano lessons, make up piano lessons from days we missed in December, knitting class for the girls, trips to the library, grocery shopping, shoe shopping, Drs. appointments, and helping my husband out at the office more than usual. I am finding myself longing for a few of those quiet days of staying at home.
5. Speaking of shoe shopping, I had to buy my six year old son new shoes this week. He is now a boys size 4. Do you know what that means? In the next size or two he will wear a man's shoe! Did I mention he is six? I think maybe he is going to be tall!
5. Here are a few recipes that I want to try soon. An interesting fish soup. I think this would make a great dinner. And some banana pancakes, my daughter would love these for breakfast.
6. If you love kitchen gadgets check out this post.
7. The story of the airplane landing in the Hudson River is amazing. One of the things that caught my attention when reading about it was the pilot. This man knew how to do his job. He took his job very seriously. He was not about to slack on his responsibilities. Not only that this man knew how to be a man. The whole thing is an amazing story.