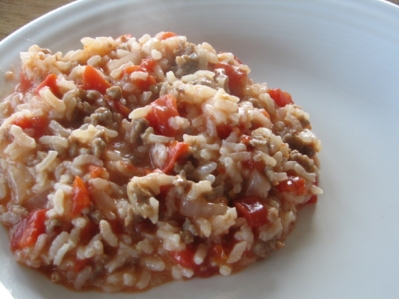 Several years ago Martha Stewart's Everyday Foods had a recipe for oven risotto. I have made it many times and I really like it for a side dish. It is really good for how easy it is.
I recently was looking at the Martha Stewart website and they had a recipe for a regular risotto with tomatoes and sausage. I thought why not combine the two recipes and make a main dish oven risotto with sausage and tomatoes.
I tweaked the recipe and came up with a really good risotto that you can use as a main dish.
I hope you enjoy it.

Oven Risotto With Sausage and Tomatoes
1 tablespoon olive oil
1/4 cup finely chopped onion
3/4 cup Arborio rice
1/4 cup dry white wine (optional, I use chicken broth)
2 to 2 1/4 cups hot water
1/2 cup homemade or low sodium canned chicken stock
3/4 teaspoon coarse salt
1/8 teaspoon freshly ground pepper
1 tablespoon unsalted butter
1/4 cup freshly grated Parmesan cheese
1/2 pound of sausage browned
1 14 ounce can tomatoes, drained
Preheat oven to 425 degrees. In an ovenproof saucepan or Dutch oven, heat oil over medium-high heat.
Add the onion and cook, stirring, until translucent, 2 to 3 minutes.
Add the rice and cook, stirring to coat the grains with oil, about 1 minute.
Stir in the wine and cook until it has completely evaporated, about 1 minute.
Stir in 1 1/2 cups water, the stock, salt, and pepper.
Bring to a boil and add sausage and tomatoes.
Cover, transfer to the oven, and bake, until most of the liquid has been absorbed by the rice, 20 to 25 minutes.
Remove from oven. Stir in 1/2 to 3/4 cup water (the consistency of the risotto should be creamy), the butter, cheese, and parsley.
Serve immediately.