Oatmeal Chocolate Chip Cookies are a delicious cookie that your family is sure to love! It is full of oatmeal and chocolate and is so good.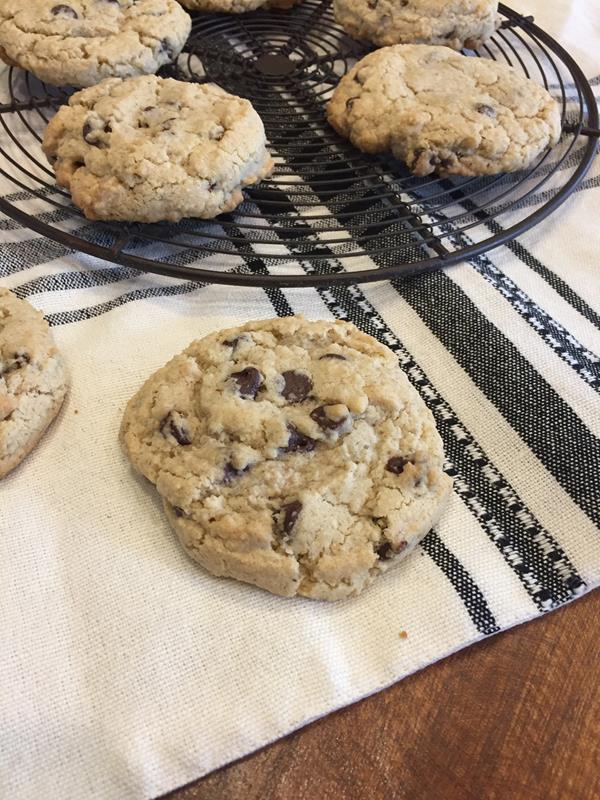 Cookies are one of my favorite things to make. I love to make them and I love to eat them.
I recently wanted to make some cookies to put in the freezer because I know we have a busy couple of weeks coming up. I wanted something different than what I usually make, but I wanted a recipe that I knew would turn out and that we would like.
I decided to make a recipe that came from my older sister. I have made them before, but it has been quite a few years. I had actually forgotten about the recipe, because it was buried in my recipe box. I am so glad that I found it again, because we love these cookies.
My sister has made this recipe for years. She used to make them all the time. I don't know where she got the recipe, but she labeled it Mrs. Fields Chocolate Chip Cookies.
Well, I think these cookies are very good, but I really don't think they taste like a Mrs. Field's cookie. I just call them Oatmeal Chocolate Chip Cookies because that is what they are. However these oatmeal cookies are a little different.
My kids love these oatmeal cookies because they like the texture of them. You grind the oatmeal in the blender to make it fine like flour. This helps you get the flavor and benefit of oatmeal with out the texture of it. It is a great trick and makes these cookies slightly different than your normal oatmeal cookies.
These are a great cookie to make and stock the freezer for school lunches and after school snacks!
If you like this cookie recipe you might also enjoy these.
Tools That Make Cookie Making Easier
Yield: 50 cookies
Oatmeal Chocolate Chip Cookies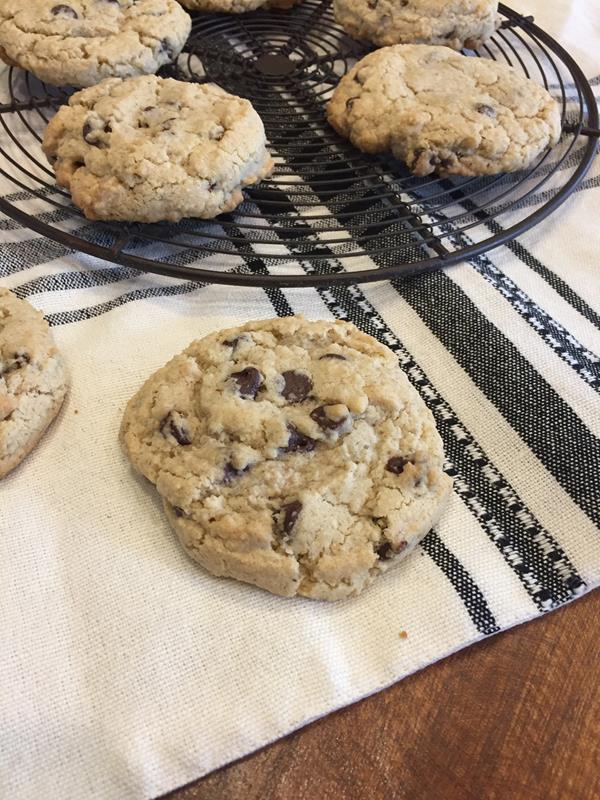 Oatmeal Chocolate Chip Cookies are a simple and delicious oatmeal cookie!
Ingredients
1 cup butter
1 cup sugar
1 cup brown sugar
2 eggs
1 teaspoon vanilla
2 cups flour ( Or use Bob's Red Mill Gluten Free 1 to 1 Flour Blend)
1 teaspoon baking powder
1 teaspoon baking soda
1/2 teaspoon salt
2 1/2 cup oats, ground in the blender (measure then grind) I use gluten free oats
2 cups chocolate chips
1 1/2 cups chopped nuts ( I leave these out)
Instructions
Preheat oven to 375 degrees.
In a mixing bowl mix together butter and sugars until light and fluffy. This takes 2-3 minutes.
Add eggs and vanilla and mix until well combined.
Add dry ingredients including oatmeal and mix to combine well.
Stir in chocolate chips and nuts.
Bake at 375 degrees for 10-11 minutes.
Let cool on cookie sheet for several minutes. Remove to cooling rack to finish cooling.