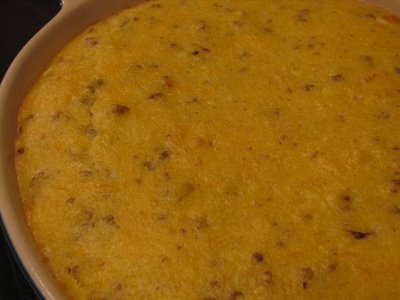 My family likes grits. I am still learning to like grits. I grew up in Oregon where grits are a pretty foreign food. Or at least they are foreign in the small town that I grew up in. But after living in Oklahoma for fourteen years I am learning to enjoy grits. That is if they are cooked certain ways. I like my crockpot grits, which we eat often for breakfast. The other way I like grits is when they are loaded with cheese. Cheese makes everything taste better as far as I am concerned. I like to make this recipe for a quick and easy dinner. It contains sausage so it makes a nice meal served with some fruit or vegetables.
For this recipe you need to use old fashioned grits not the quick instant kind. We like these stone ground ones that Bob's Red Mill makes.

Baked Cheese Grits
1 small onion, chopped
3 cups water
1 cup heavy cream
½ teaspoon Tabasco sauce
½ teaspoon salt
1 cup plus 2 tablespoons grits (not the instant or quick grits)
2 cups shredded cheddar cheese
3 eggs, lightly beaten
1 pound of sausage
Heat oven to 350 degrees. Grease an 11×7 pan. In a pan cook onion and sausage until sausage is done and onion is softened. Add water, cream, Tabasco, and salt and bring to a boil. Whisk in grits and reduce heat to low. Cook, stirring frequently until thick and creamy, about 12 minutes. Off the heat stir in cheese and eggs. Pour into greased pan and smooth top. Bake for 15-20 minutes or until lightly browned. Let rest five minutes before serving.

Adapted from Cook's Country
I am not sure of the exact cost of this meal but I think it is pretty frugal probably about $5. For more ideas see
$5 dinners
.