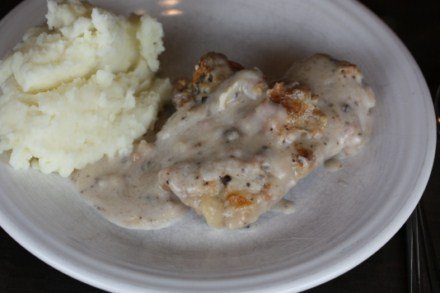 My husband loves pork chops. They are one of his favorite cuts of meat to eat. Over the years I have cooked pork chops many different ways and these oven fried pork chops are one of our favorites. We love these!
And our favorite way to eat them is with buttermilk mashed potatoes. The gravy that this recipe makes works perfectly with a side of mashed potatoes and the buttermilk in both recipes go very well together.
Oven Fried Pork Chops
1/4 cup butter, melted
4 or 5 pork chops ( I brine mine first and it really makes them better, so I would not skip this step.)
1/2 teaspoon salt
1/2 teaspoon pepper
1 1/2 cups buttermilk, room temperature, and divided
3/4 cup flour ( I now use a gf flour blend or Bob's Red Mill gf biscuit mix)
1  can cream mushroom soup  ( or make your own)
Preheat oven to 425 degrees.
Pour melted butter into 9×13 pan and set aside.
In a shallow dish or on a plate combine salt, pepper, and flour.
In a separate shallow dish place 1/2 cup buttermilk (Save the other cup of buttermilk for later use.)
Dip pork chops in buttermilk until completely wet and then dredge in flour mixture until completely covered on both sides.
Place in the pan with the melted butter.
Bake for 25 minutes.
In a bowl combine the remaining cup of buttermilk and the soup. Pour over pork chops and bake for another 10 – 15 minutes or until the pork chops are done.
Enjoy!