Last week I shared that I have had difficulty adjusting to Sunbutter, but that I am really trying to embrace it.
Well, today's recipe is my first attempt to really try to love it, and I have to admit it was a great place to start. I mean how can you not like something once it is covered in chocolate. 🙂 I could get used to eating Sunbutter this way.
My daughter that has the peanut butter allergy really misses peanut butter cups and I can understand why. They really are so good. I used to make a homemade version of peanut butter cups that we loved. (And if you are gluten free, but can have peanuts, go make yourself some. They are a perfect gluten free treat.)
Because we loved the old recipe so much I decided to try replacing the peanut butter with SunButter. I figured it was an easy recipe to make and I would not be out much if we did not like it. Well, the did not liking it was not a problem. My family loved these.
My daughter with the peanut allergy was thrilled that I made them and that they turned out so well. After she tried them I really realized how much she misses peanut butter and how my not liking things like SunButter has been so wrong.
My not embracing something has made her life a little tougher and I am going to change that. Even if I don't like SunButter, I need to start doing more with it. And like I said the other day, it may not be the same, but it is still a very good product.
Yield: 12 servings
Chocolate SunButter Cups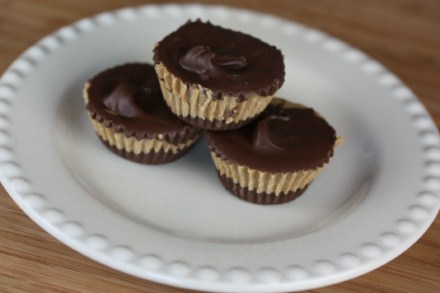 Chocolate Sunbutter Cups are a delicious homemade peanut butter free candy.
Additional Time
30 minutes
Ingredients
4 ounces white chocolate, chopped ( Be sure it is nut/peanut free safe)
1/2 cup creamy SunButter
12 ounces semisweet chocolate, chopped (or use chocolate chips) (And again be sure it is nut/peanut free safe chocolate)
Instructions
Line two 12-cup mini muffin pans with paper liners; set aside. In a microwave-safe bowl, combine white chocolate and SunButter. Microwave, until almost melted, 1 to 1 1/2 minutes, stirring halfway through. Set aside to cool slightly.
Meanwhile, place semisweet chocolate in another microwave-safe bowl. Microwave, stirring every 30 seconds until melted, 2 to 3 minutes total.
Dividing evenly, use a spoon to layer semisweet chocolate and SunButter mixture into liners, beginning and ending with chocolate. Place muffin pans in freezer or refrigerator until SunButter cups are firm, usually15- 30 minutes. Store in refrigerator and bring to room temperature before serving. These are best at room temperature.