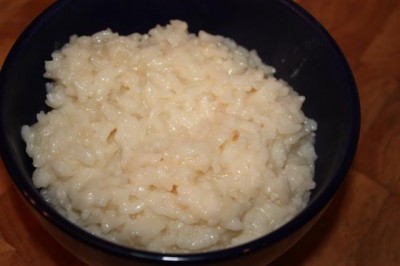 My family loves risotto. I have made it many times on the stove top, but it is time consuming and it is not something you can walk away from. You have to watch it constantly, because of this I rarely made risotto
That was until several years ago when I saw an oven version of risotto in the Martha Stewart Everyday Foods magazine. I knew this was something I wanted to try because making it in the oven would make it so much easier. I would not have to watch it constantly. I instantly loved this idea. It is so good and so easy.
I have made this recipe many times since then. I also have several versions of it including my sausage tomato version. Next week I will post my sweet potato version. I made that version recently and even my son, who is a picky eater, liked the sweet potato version.
I use this oven risotto as a meatless meal. I serve it with a salad and/or a vegetable and it makes a nice meal that my whole family enjoys.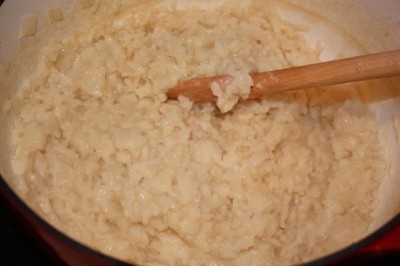 Oven Risotto
2 tablespoons  oil
1/4 cup finely chopped onion
3/4 cup Arborio rice
1 1/2 to 2 cups hot water
3/4 cup chicken broth
3/4 teaspoon salt
1/8 teaspoon ground pepper
1 tablespoon unsalted butter
1/4 cup freshly grated Parmesan cheese (this is the real stuff, the stuff in the green can will NOT work here)
Preheat oven to 425 degrees. In an ovenproof saucepan or Dutch oven, heat oil over medium-high heat. Add the onion and cook, stirring, until translucent, 2 to 3 minutes. Add the rice and cook, stirring to coat the grains with oil, about 1 minute.
Stir in 1 1/2 cups water, the stock, salt, and pepper. Bring to a boil. Cover, transfer to the oven, and bake, until most of the liquid has been absorbed by the rice, 20 to 25 minutes.
Remove from oven. Stir in 1/4 to 1/2 cup water (the consistency of the risotto should be creamy), the butter, and the cheese. Serve immediately.
For more frugal meals see $5 Dinners.