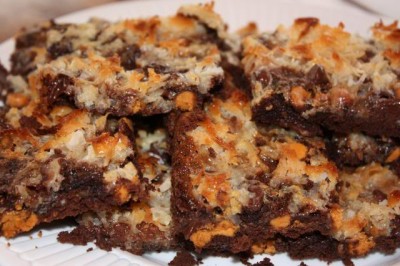 This recipe is so good and so easy. It is similar to the magic cookie bars or seven layer bars that many of us have made for years, but this version uses a cake mix for the base. I made this for our last staff lunch and everyone loved them.
This is a great dessert to make when you are in a hurry. This is also one of those desserts that I love because I usually have all the ingredients in my pantry.
You can change this up a little by using different chips or leaving out the coconut or nuts. You really just follow the basic idea of it. I think my family actually likes this version better than the one with graham cracker crumbs that I make.

Magic Cake Bars
1 package of devils food cake mix
1/2 cup butter (cut into small chunks)
1 cup butterscotch chips
1 cup chocolate chips
1 cup coconut
1 cup chopped pecans
1 can (14 ounce) sweetened condensed milk
Place cake mix in a bowl and cut in butter until the mixture is crumbly. Press into a 15×10 jelly roll type pan. Sprinkle the chips, coconut, and nuts on top. Pour sweetened condensed milk evenly on top. Bake at 350 for 23-25 minutes. Cool for at least 30 minutes and cut into bars.