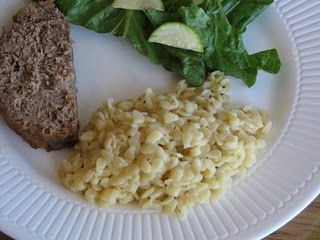 I have seen several different recipes lately for Orzo with Parmesan. I decided to fix it for a side dish, since I had not made it in a long time. I really enjoy orzo. The first time I ever had it was at my in laws house. It was when my husband and I were dating. I really enjoyed the version my mother in law made. She gave me the recipe but I misplaced it and she can't find her recipe either. Maybe someday I will come across it again. But this one is also very good.
Parmesan Orzo
1 cup uncooked orzo pasta
2 tablespoons butter
1 can (14 1/2 ounces) chicken broth
1/2 cup grated Parmesan cheese ( the real stuff from the dairy section, not the stuff in the green can)
1 teaspoon dried parsley
1/8 teaspoon pepper
You can add other spices like basil if you would like. We like it pretty simple.
In a large skillet saute orzo in butter for about 3 minutes or until lightly browned. Stir in broth and bring to a boil. Reduce heat, cover, and simmer for 10 – 15 minutes or until all the liquid is absorbed. Stir in cheese, parsley, and pepper. Serve.