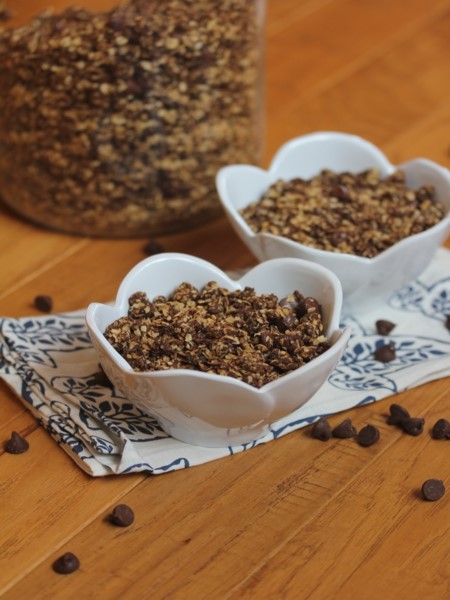 Homemade granola is a favorite breakfast at our house. Our new favorite flavor combination for homemade granola is peanut butter chocolate granola.
For this recipe I basically took my chocolate granola and added peanut butter.
Peanut butter and chocolate is a classic combination, so I knew it was perfect for homemade granola. Because of the peanut butter in this the granola does not crisp up quite the same as some of my other homemade granola recipes, but it is still delicious.
If you have never made homemade granola I highly recommend giving it a try. It is so easy to make at home. And because you make it at home you can control the ingredients and you now what is in it.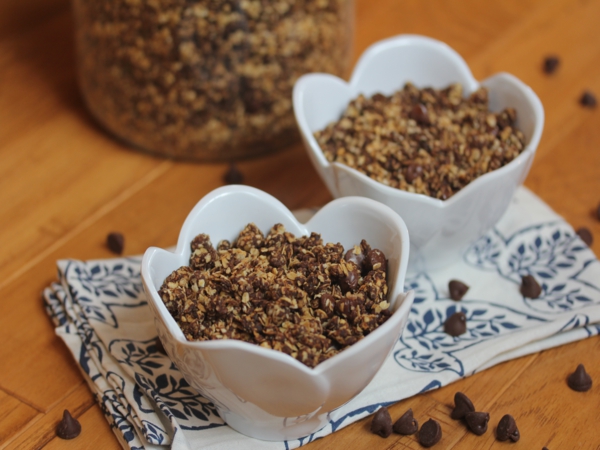 Peanut Butter Chocolate Granola
1/3 cup brown sugar
1/3 cup oil
½ cup honey
1 cup peanut butter ( I use Sunbutter or Wow Butter in place of the peanut butter)
½ cup cocoa
3 cups old fashioned oats
4 cups quick cooking oats (you can use all old fashioned oats, but we like the texture with both kinds)
1 cup chocolate chips
In a small sauce pan combine brown sugar, oil, honey, and peanut butter. Bring to a boil. Remove from heat and whisk in cocoa.
Place oats in a large bowl and stir in sugar/cocoa mixture. Stir until well combined.
Spread into 2 9×13 pans.
Bake at 350 degrees for 10 minutes.
Remove from oven and stir in chocolate chips.
Turn off oven and return granola to oven. (Yes you turn the oven off and place granola back in it. This helps the granola to finish cooking without over cooking it.)
Leave in oven for 1-2 hours.
Remove from oven and let cool.
Store in sealed containers or jars.