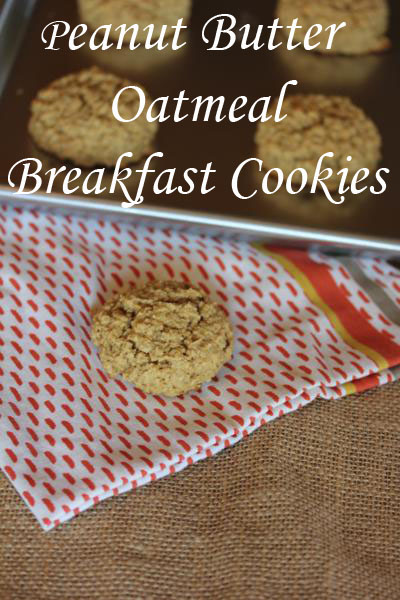 Cookies for breakfast? Yes, please!
Really what kid, or adult for that matter, would not like a cookie for breakfast? Cookies for breakfast are sure to please almost anyone. And the good thing is these are not really cookies in the sense of a dessert type cookie.
Sure these would work for a healthy type dessert if you wanted them to, but really these are a hearty oatmeal like cookie that works perfectly for breakfast. I think these would work well in lunch boxes as well.
The oatmeal and peanut butter in these make them hearty and delicious. My kids love these. You can eat these as is or heat them up slightly in the microwave. Either way they are great.
These also freeze well, so they are perfect for making a large batch and keeping in the freezer for busy mornings.
If you are gluten free just use gluten free oats. And if you deal with peanut or nut allergies you can easily use any nut butter or peanut butter substitute for these. Since my daughter has a peanut allergy, we use Sunbutter or WOWBUTTER
, both work well.
If you want to make these even more special add in 1/2 cups chocolate chips for a Peanut Butter Chocolate Oatmeal Breakfast Cookie. Chocolate makes everything better!
Peanut Butter Oatmeal Breakfast Cookies
3 cups quick cooking oats- I use gluten free oats
1/2 cup brown sugar
1/2 cup milk
2 tablespoons butter, melted
2 eggs
2 teaspoons baking powder
3/4 teaspoon salt
2 teaspoons vanilla
1/2 cup peanut butter or peanut butter substitute
1/2 cup chocolate chips, optional
Mix all ingredients together and stir well.

Drop by the spoonful onto a cookie sheet and flatten slightly. 

Bake at 350 for 11-12 minutes. 

Let cool on cookie sheet for about 5 minutes then remove to wire rack to cool.