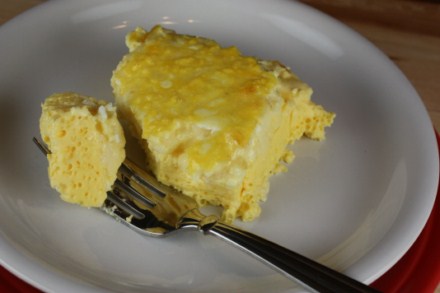 I recently has some pepper jack cheese that I needed to use up. I had used some of it in quesadillas, but I decided to use the rest of it in an  oven omelet for breakfast.
Oven omelets are so easy. They are not exactly like a regular omelet, but they make a quick and easy breakfast and we love them.
I usually use cheddar cheese in oven omelets, but the pepper jack cheese worked perfectly in this.
Pepper Jack Oven Omelet
10 eggs
¼ cup water
¼ cup sour cream
1 cup pepper jack cheese, shredded
Salsa-optional
Beat eggs and add remaining ingredients. Mix well.
Pour into a greased 8×8 pan.
Bake at 375 for 25 minutes or until done.
Server with salsa
Enjoy!
You could also add some cooked bacon, or even sausage or ham to this.