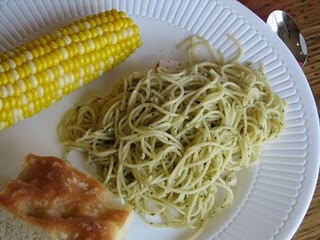 I have a large basil plant growing in my garden. Having fresh herbs is great. This year I only have basil but it is doing so good it is making up for not having any other herbs.
One of the things I like to use my basil in, is pesto. We love pesto. It is so easy to make and it so flavorful. Most pesto recipes call for pine nuts. I like mine with walnuts though. I just like the flavor better. I also usually have some walnuts in the freezer, pine nuts are not something I keep on hand. I use my food processor to make this but I think a blender would work also. Last night I added some leftover cooked chicken that I had.
So here is the pesto version we like.
Walnut Basil Pesto
1 cup lightly packed fresh basil
1/4 cup walnuts
1/4 cup grated fresh parmesan cheese
2 garlic cloves, minced
1/4 cup olive oil
8 ounces of spaghetti or angel hair pasta, cooked
Place basil, walnuts, parmesan cheese, and garlic in a food processor. Chop until pretty fine. It should be like a paste. Slowly pour in oil. Mix in processor until combined. Stir into hot, cooked pasta. This also makes a great sauce for a chicken pesto pizza.
Recipe adapted from a Pampered Chef recipe.